When it comes to exceptional timepieces, Junghans stands as the epitome of German watchmaking excellence. With a history dating back to 1861, Junghans has consistently produced watches that seamlessly blend precision, refinement, and aesthetic appeal. In this post, we'll introduce you to five stylish Junghans watches that deserve a place in your collection.
Top 5 Stylish Junghans Watches:
1. Junghans Meister Chronoscope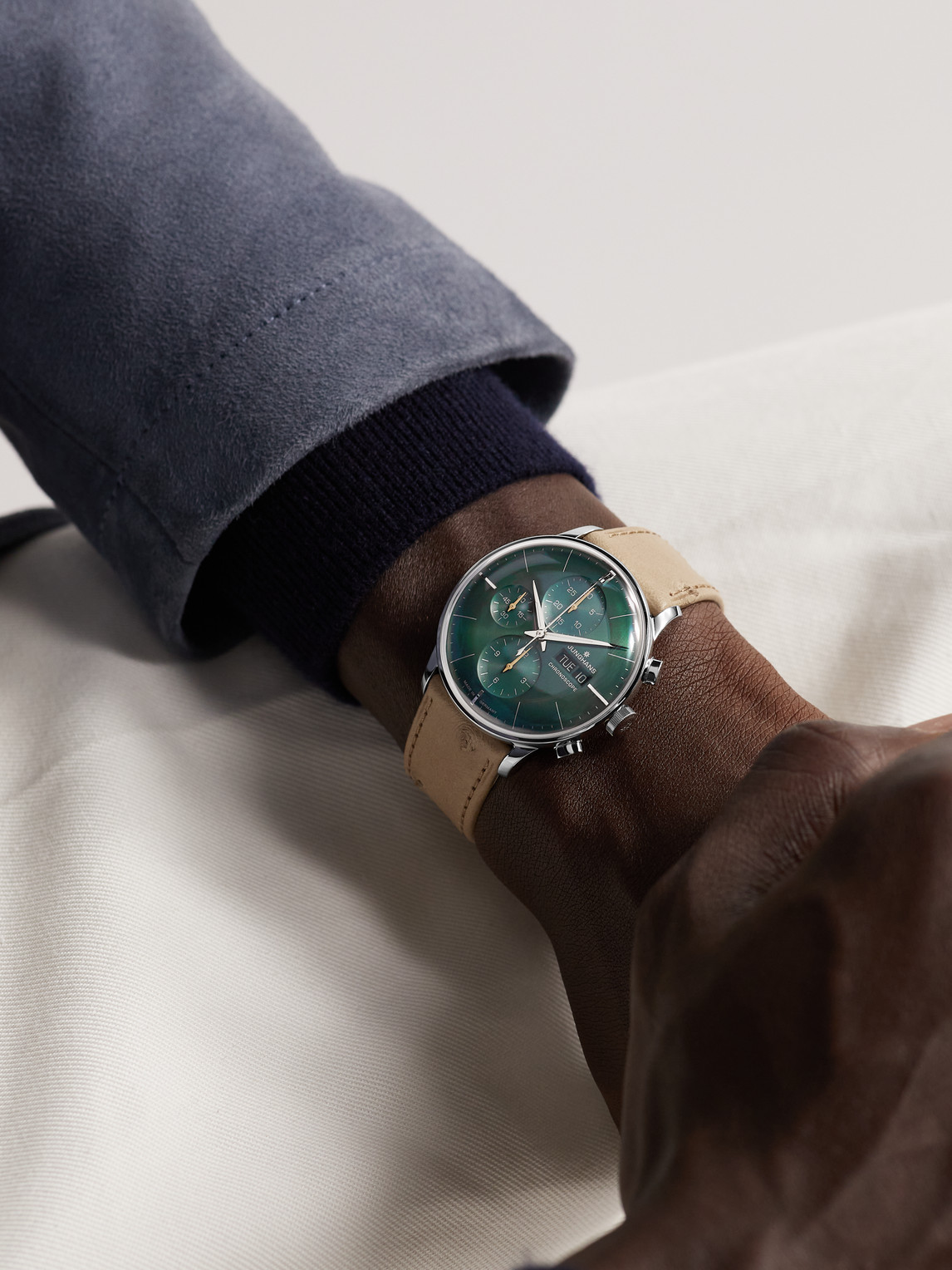 Why choose this watch?
With a minimalist design that effortlessly transcends the confines of time, the Junghans Meister Chronoscope embodies pure sophistication. This watch's timeless elegance will appeal to connoisseurs who appreciate classic refinement, and its versatile style ensures it complements any occasion with ease.
What features are included in this watch?
This model showcases a domed sapphire glass watch face, adding a touch of vintage style while bolstering the watch's durability. However, what truly distinguishes this timepiece is its Swiss-made automatic movement, ensuring precise and reliable timekeeping. Driven by the automatic calibre J880.1 movement, this elegant watch boasts an impressive power reserve of approximately 48 hours.
Furthermore, the Meister Chronoscope features a distinctive dial in a rich green hue reminiscent of the Black Forest's Fir trees. The beige leather strap thoughtfully complements the 40.7mm inox steel case, delivering both comfort and a touch of flair. Additionally, this model incorporates a chronograph function, ideal for accurately timing various activities. In essence, the Junghans Meister Chronoscope transcends being just a watch; it's an heirloom in the making and a tribute to authentic German craftsmanship.
2. Junghans Meister Worldtimer Automatic 40.4mm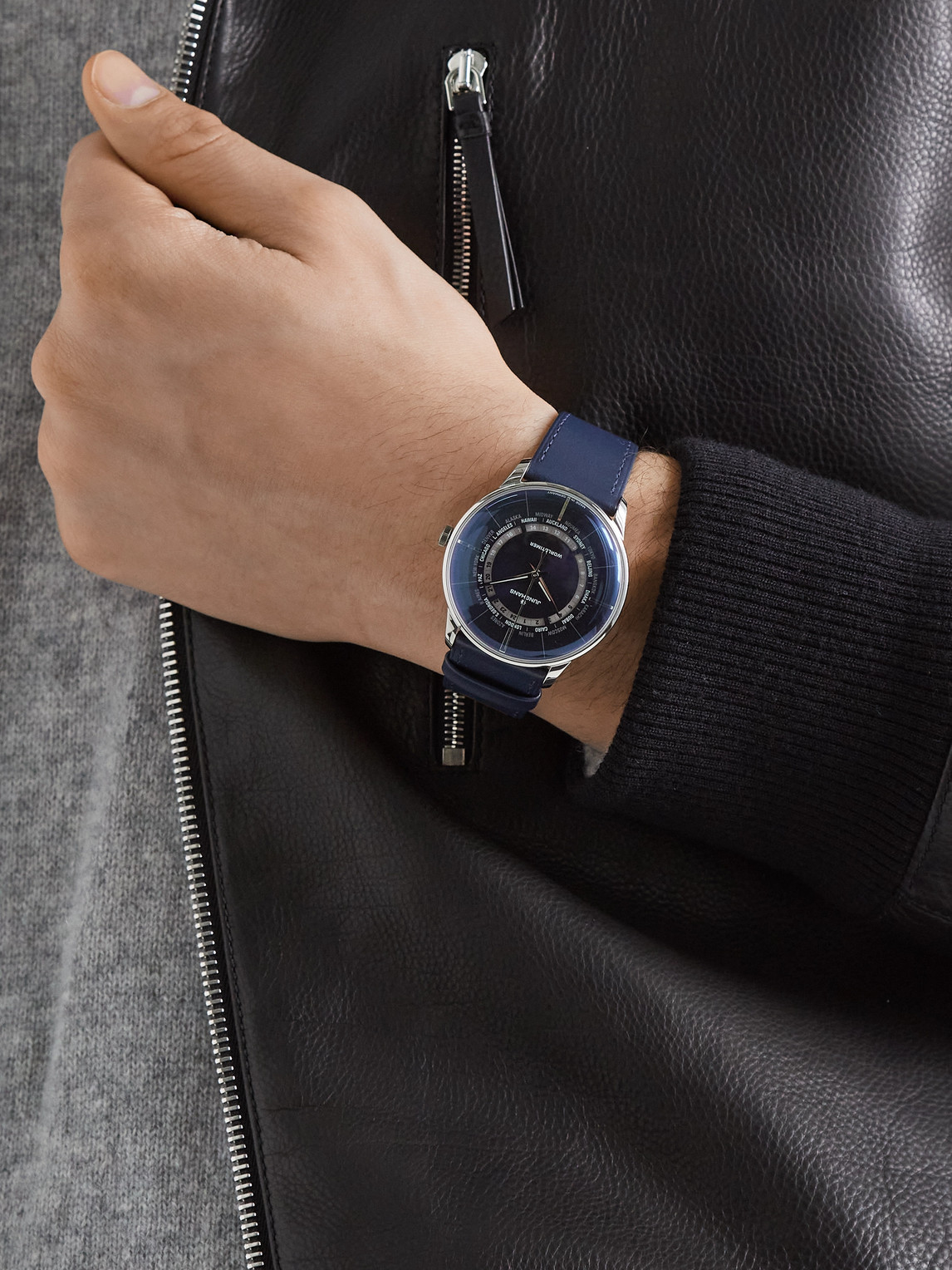 Why choose this watch?
For globetrotters and jet-setters, the Junghans Meister Worldtimer Automatic is the ultimate travel companion. Whether you're attending a business meeting, exploring new destinations, or simply enjoying a night out, the Junghans Meister Worldtimer will complement your style and enhance your timekeeping experience. It's the perfect fusion of fashion and function, making it a valuable addition to your watch collection.
What features are included with this model?
The watch has a 40.4mm stainless steel case that balances size and comfort. However, its most notable feature is the world time function, which makes it easy to keep track of time in different time zones. This makes the Meister Worldtimer a great option for travelers who frequently move across different time zones.
Powered by a Swiss-made automatic movement, this timepiece guarantees precise timekeeping wherever your adventures take you. It combines function with aesthetics, featuring a striking anthracite dial and luminous hands and indices for enhanced readability. The Meister Worldtimer is not just a travel essential. This model is a testament to Junghans's dedication to creating watches that meet the demands of modern explorers without compromising on style.
3. Junghans Meister Pilot 43.3mm
Why choose this watch?
The Junghans Meister Pilot is a bold and distinctive timepiece inspired by aviation aesthetics, perfect for both pilots and travel enthusiasts. Its versatility makes it a great option for both everyday and formal wear. In short, whether you're a seasoned aviator or simply an enthusiast of timeless style, the Meister Pilot is a timepiece that's ready for takeoff.
What features are included with this model?
With its 43.3mm stainless steel case, the Meister Pilot exudes a commanding presence on your wrist. The watch's design specifically pays homage to classic pilot watches, featuring large Arabic numerals and luminous hands for easy readability.
However, this watch offers more than just rugged good looks; it's a precision instrument powered by a Swiss-made calibre J880.1.6 automatic movement, providing up to 38 hours of functionality. Adding to this, the dark blue leather strap beautifully complements the vintage-inspired design, infusing it with a delightful touch of retro charm.
Furthermore, this model boasts a robust DLC-coated stainless-steel case with a bi-directional turning bezel for precise adjustments, held together by seven sturdy screws. The navy-blue lacquered dial is also adorned with large white numerals, reminiscent of cockpit controls, while the smaller sub dial and date window feature red accents for easy reading.
4. Junghans Meister Fein Signatur Automatic 39.5mm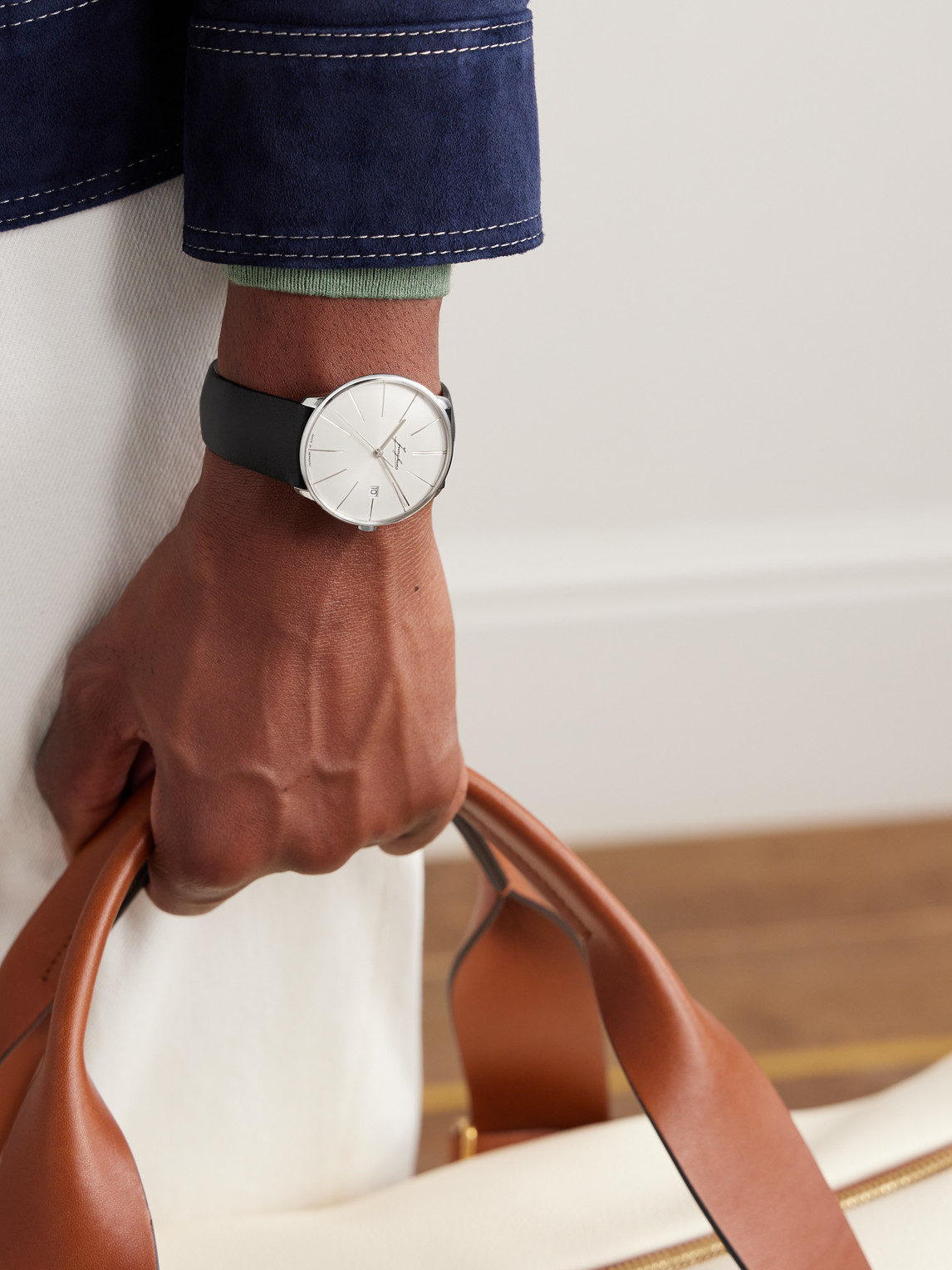 Why choose this watch?
The Junghans Meister Fein Signatur Automatic is a study in understated elegance. Its polished 39.5mm stainless steel case showcases Junghans's commitment to minimalist design. In truth, this watch's simplicity is its strength, making it an ideal accessory for both formal occasions and day-to-day wear!
What features are included with this model?
Under the hood of this model, you'll find a Swiss-made J800.1 automatic movement with a lengthy power reserve of 38 hours. The watch's clean light grey dial features slender indices and elegant dauphine hands, emphasizing its refined aesthetic. And, paired with a dark brown leather strap, this watch offers a timeless style that goes beyond fleeting trends.
The Junghans Meister Fein Signatur stands as a testament to Junghans's ability to craft watches that are simple yet undeniably sophisticated. It's a valuable addition to any serious watch collection!
5. Junghans Max Bill Chronoscope Automatic 40mm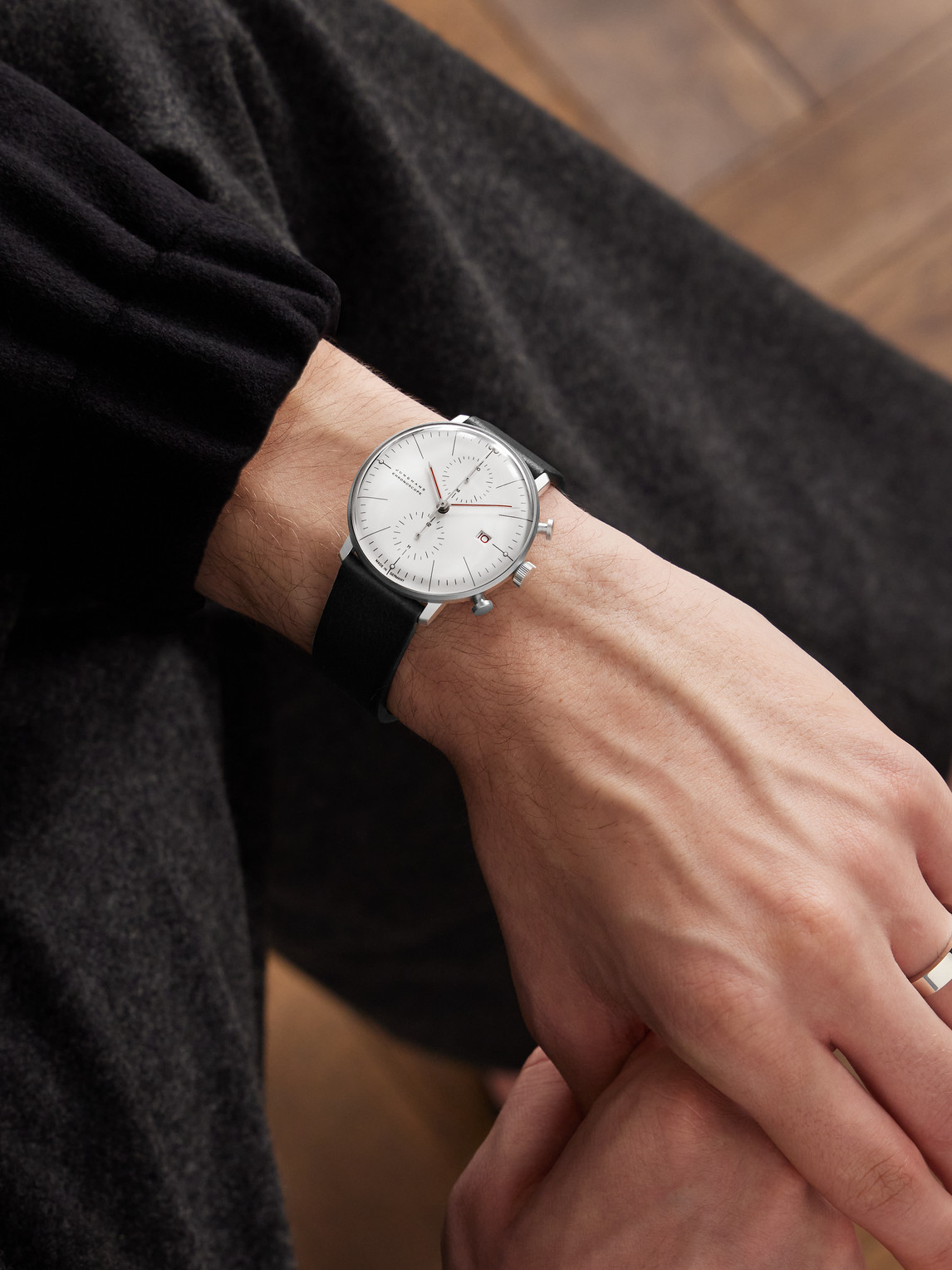 Why choose this watch?
Elegantly crafted, the Junghans Max Bill Chronoscope Automatic watch is a Bauhaus masterpiece, suitable for any occasion. Its classic design seamlessly transitions from formal events to everyday wear, making it the perfect accessory for those who appreciate artistry in both style and functionality.
What features are included with this model?
This watch features a 40mm stainless steel case that embodies the iconic principles of simplicity and functionality, paying homage to the Bauhaus movement. It's powered by a calibre J880.2 automatic movement, visible through the Bauhaus-inspired window-grid case back, and equipped with a chronograph featuring 30-minute and 12-hour counters.
Designed by the renowned artist and architect Max Bill, this watch is a work of art, with its minimalist white dial showcasing numerals and indices personally crafted by Max Bill himself. The inclusion of a chronograph function adds to its versatility.
Completing the ensemble is a dark brown leather strap that harmonizes with the watch's design, ensuring its suitability for any event. In essence, the Max Bill Chronoscope is more than just a watch, this is a piece of design history adorning your wrist.