The Tissot brand has stood for quality watches since the mid-1800s. Today, it still offers exceptional style, functionality, and reliability in its many collections. For men who enjoy an active lifestyle, these five Tissot dive watches offer all of this and more.
1. T-Sport Seastar 1000 Classic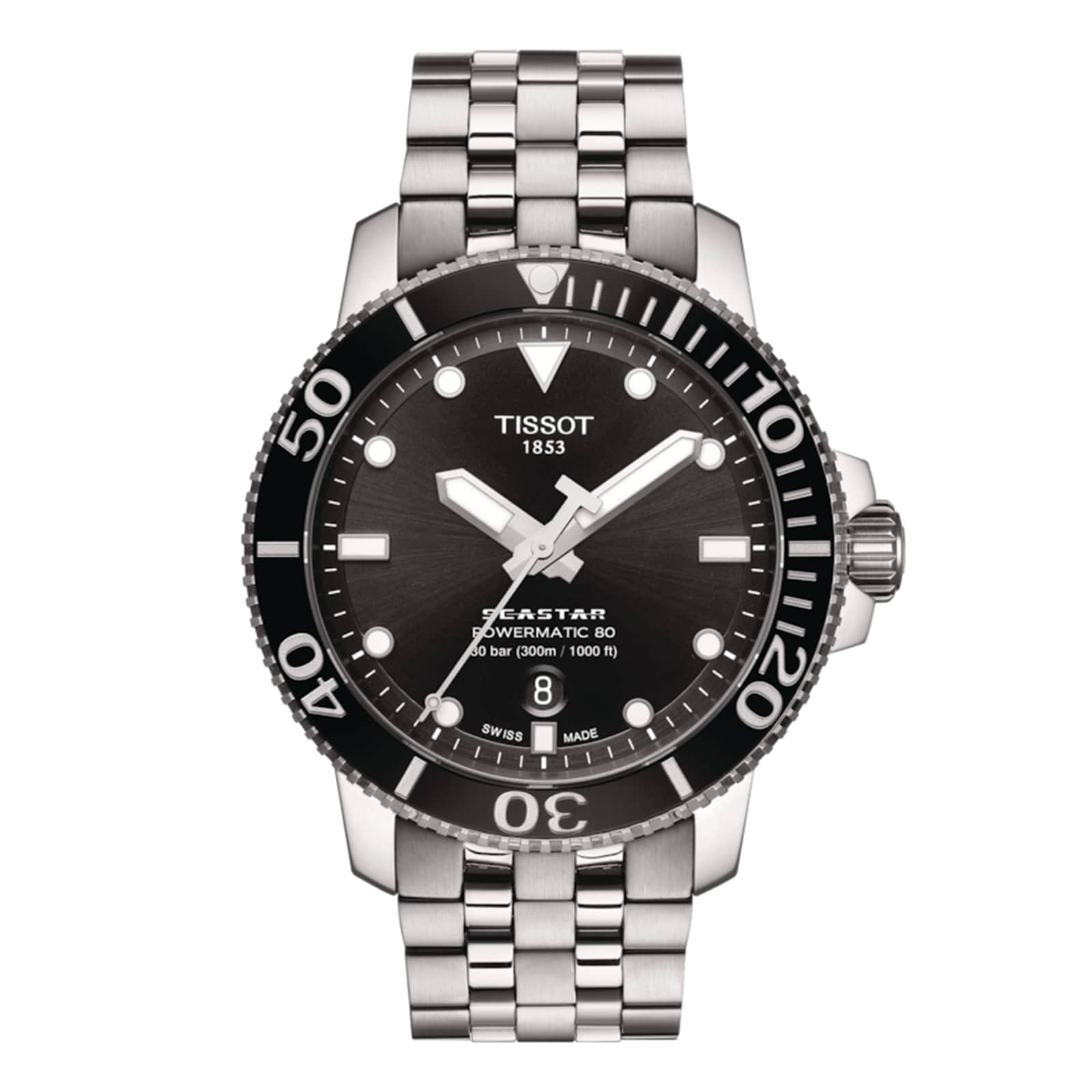 Why Choose This Watch?
The classic styling of this dive watch makes it suitable for everyday wear, underwater adventures, and even those times when you need to look your best. It has a stainless-steel case and bracelet with a secure triple safety clasp that offers comfort to any wearer. The 43 mm diameter offers a chunky and impressive look on your wrist. It is the fine details that make this T-Sport watch stand out from the others. The black dial sets off the steel hour markers and wide hands. They are all treated with luminous material for easy visibility.
Top Features:
The Tissot Seastar dive watch has all the underwater functions you should expect from a product with that title. It is water resistant up to 300 meters, focuses on visibility of time markers in any conditions, and has a one-directional rotating bezel for timing your dive or other activities. The accurate timekeeping uses the Powermatic 80 Swiss-made movement. It is self-winding with an 80-hour reserve of power. Altogether, this stylish dive watch others everything many men want for their stylish and active life.
2. Tissot Seastar 1000 Quartz Green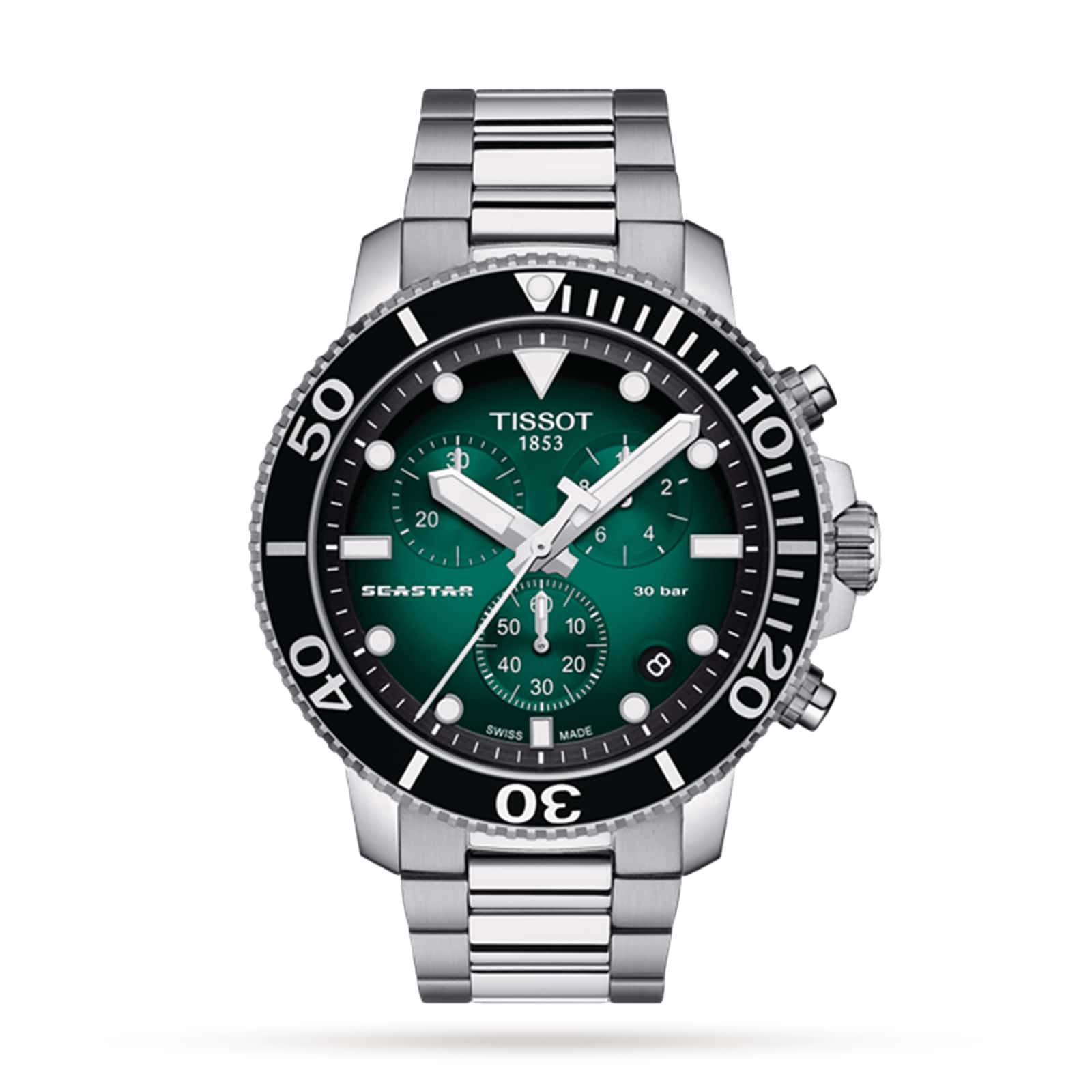 Why Choose This Watch?
Although very similar in form and function to the above-mentioned watch, this model adds a splash of colour that mimics the underwater world where you may wear it. The dial boasts a deep green gradient that darkens near the edge where it fades to black. Besides the luminous hour markers and sword-shaped hands, the Sea star 1000 also has three sub-dials giving you multiple timing instruments. It also has a date window that helps you keep track of your schedule. At 45.5 mm in diameter, this is a considerably larger watch than some may expect. It adds to the visibility and the style of the stainless steel case and bracelet.
Top Features:
This green dialed watch offers everything a man should expect from a high-quality dive watch. The timepiece is both functional and aesthetically pleasing. It can withstand depths up to 300 meters while maintaining its water resistance and accuracy. You never have to worry about the precision and reliability of the automatic movement that keeps the time accordingly. The rotating bezel is boldly marked with 10-minute intervals with extra lines between the first 24 more precise measurements. Every feature of the Seastar 1000 is exactly what you would expect from a respected brand like Tissot.
3. Tissot T-Sport Seastar 1000 Powermatic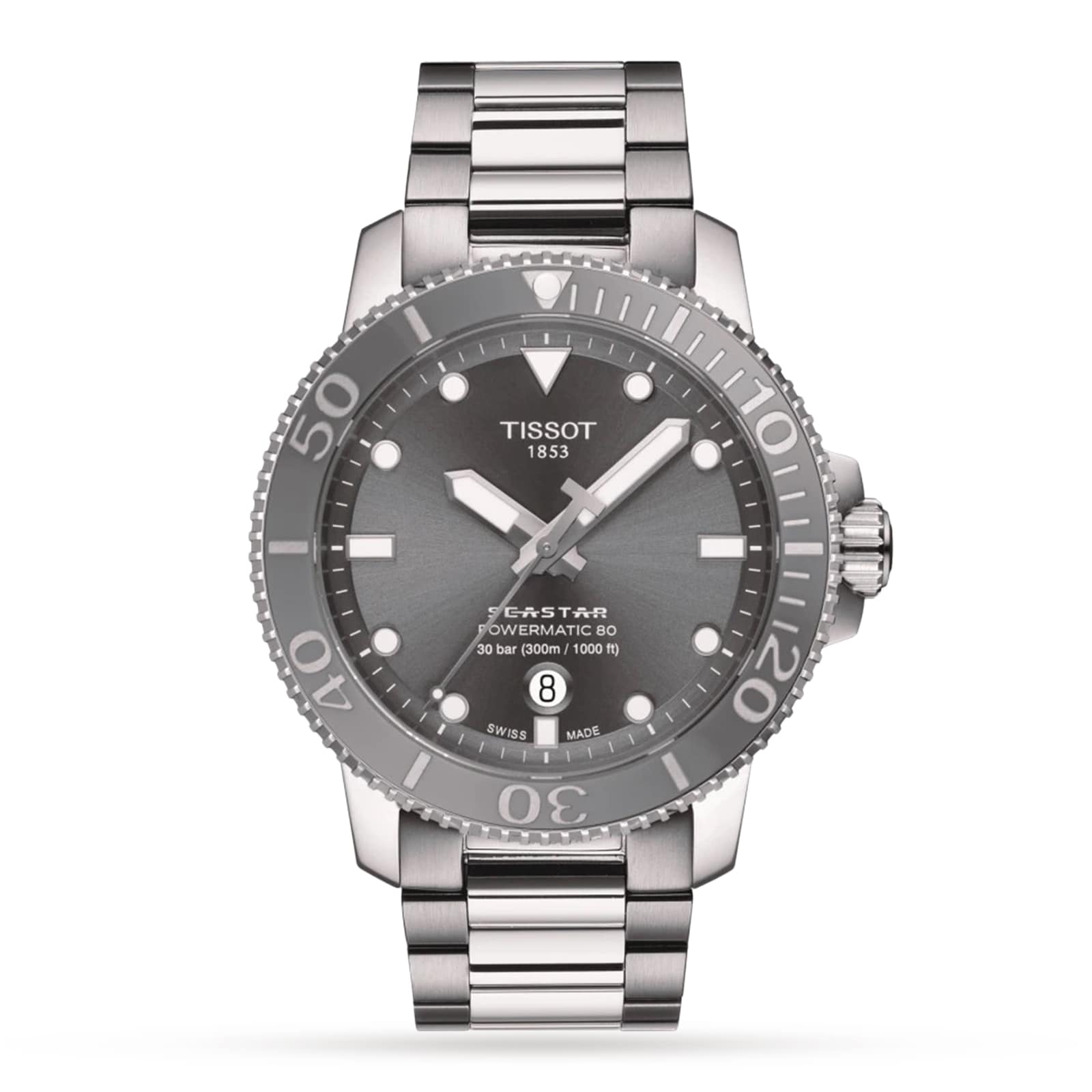 Why Choose This Watch?
Inspired by a long history of diving adventure, this T-Sport watch offers amazing style and function for active men who love swimming, snorkeling, scuba diving, surfing, and more. Despite its designation as a dive watch and all the essential features like a rotating bezel that go along with that, it also offers a sleek style that suits any day wear.
The case and bracelet with a triple security class are made from gleaming stainless steel. The dial and bezel match the great shade with a metallic gleam and subtle sunburst design. The hour markers, wide hands, and date window are all treated with SuperLuminova for maximum visibility even at depth.
Top Features:
Like all other top-rated Tissot dive watches, this model is water resistant up to 300 meters. It has been tested vigorously to ensure that the Powermatic 80, Swiss movement will not let you down no matter where you go or for how long. It also boasts an 80-hour power reserve. One interesting feature of this timepiece is the sapphire crystal case back, which allows you to view the movement before you extract the watch to your wrist and head out the door. The functionality of the one-direction rotating bezel helps you track your dive time. The ultimate style of the T-Sport Seastar design helps you look and feel your best every day.
4. Tissot Seastar 100 Unisex Watch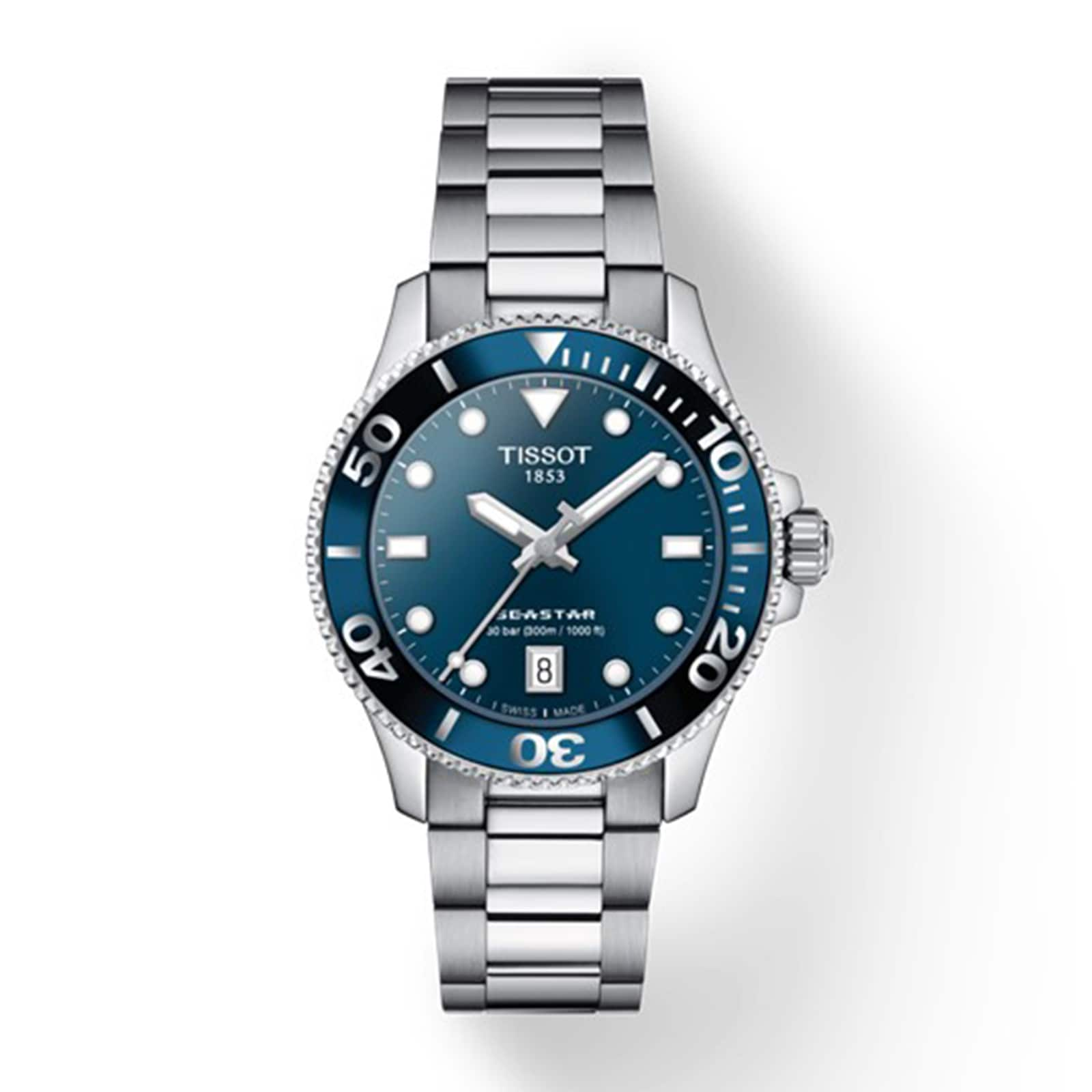 Why Choose This Watch?
The smaller diameter of this dive watch makes it a more reasonable choice for both men and women who prefer a more streamlined look. It shares the same stainless steel case and bracelet with the other models on this list, but also includes brilliant colour across the dial and wide bezel. The gradient teal blue mimics the underwater world where you can wear this timepiece for adventures while diving, swimming, and more. It is 36 mm in diameter, making it perfect for any wrist size. The steel hands and hour markers are treated with luminous materials, so they glow subtly in dim light. You also get a small date window near the 6 o'clock position.
Top Features:
Waterproof to 300 meters, this Tissot dive watch is highly usable in the underwater world. You do not have to worry about the moisture or pressure damaging the highly reliable Quartz movement or affecting the look and feel of the timepiece at all. The dial is protected with a scratch-resistant sapphire crystal that will not break, even if you accidentally run into something during your adventures beneath the waves. Professional and amateur divers can appreciate all the necessary dive watch features as well as the sleek and colourful design.
5. Tissot T-Sport 1000 Chronograph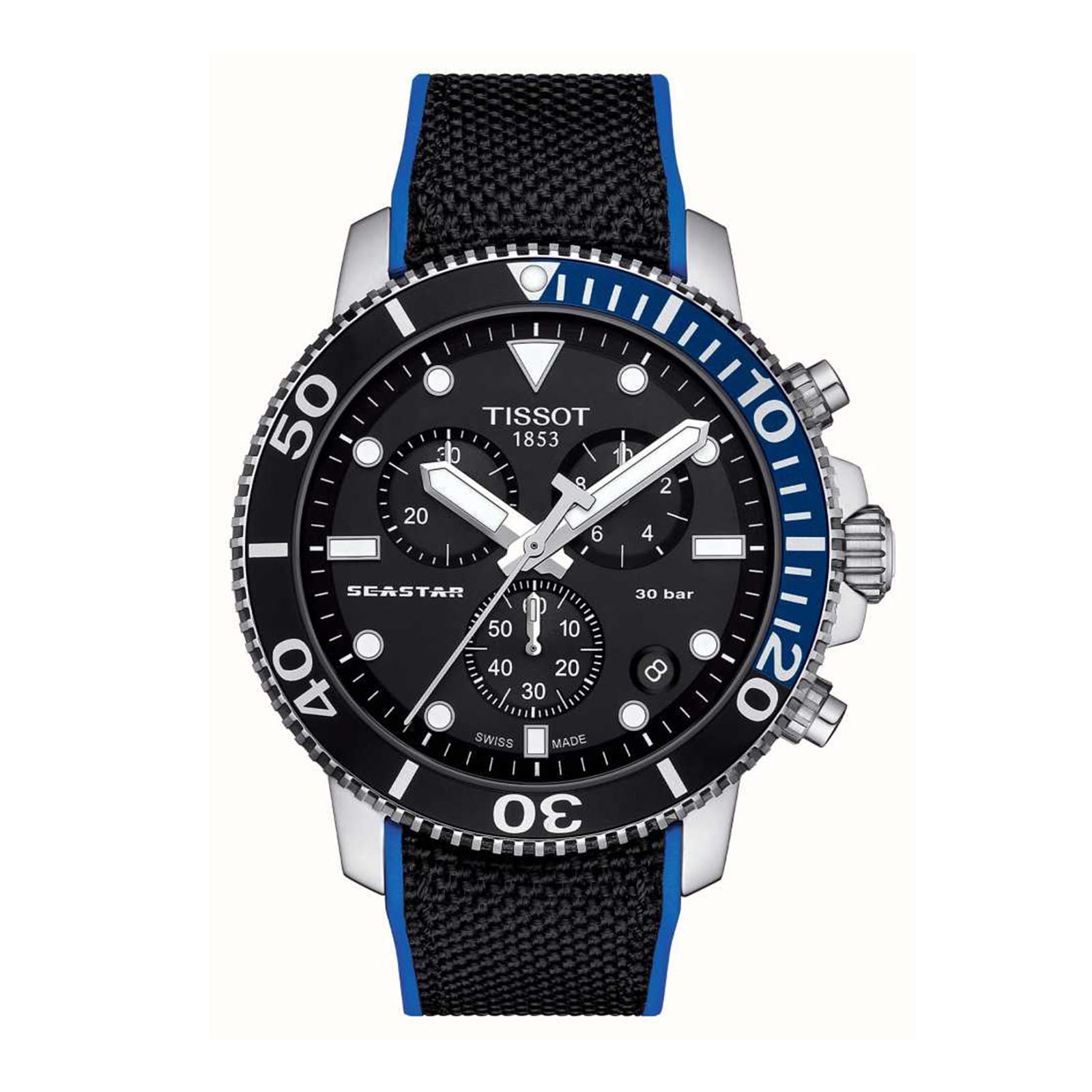 Why Choose This Watch?
For people who want a more rugged and sporty look when it comes to their favorite timepiece, the Tissot T-Sport 1000 with a fabric strap suits the bill. The large, 45.5 mm diameter watch makes a big impression on your wrist and means that all the dials and windows are highly visible as well. The luminous treatment of the hour and minute hands and time markers also help in this regard. The case is stainless steel and extends slightly beyond the rotating bezel to attach to the strap. Bright blue trims the edge and center of the black canvas and is also used for the hardware other than the brushed steel buckle itself.
Top Features:
Every watch allows you to tell the time, but this T-Sport 1000 dive watch also gives you three sub-dials of additional information boldly displayed on the large dial. These include quarter, 10-minute, and seconds to use with the stopwatch function. The mono-directional rotating bezel is not only an eye-catching accent, but also extremely helpful to time your dives. Three quarters of the aluminum bezel is black like the dial. The space between the zero and 20-minute marks is deep teal blue to match the accent on the band. Add in water resistance up to 300 meters, and you have another great dive watch option from Tissot.