Seiko have been providing the watch world with affordable yet high quality watches since they began their watchmaking journey. Through the use of great movements as well as robust and durable materials, you'd be a wise man to have one in your collection. They make for a good everyday watch, which can endure a variety of environments. And today, we're taking you through 5 of the best sustainable solar powered Seiko watches that you can buy.
1 – Seiko Prospex Solar Scuba Divers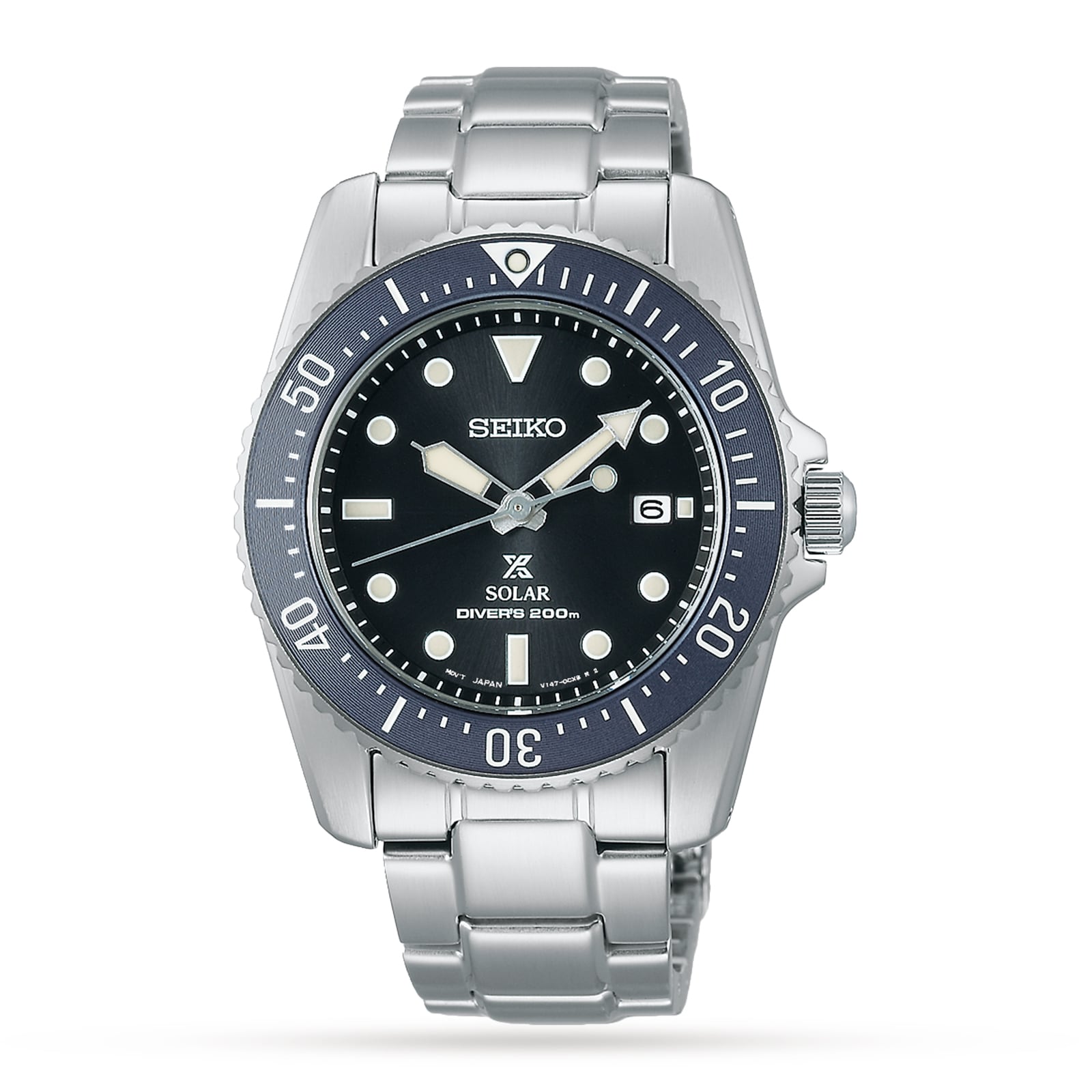 Why This Watch?
Classic styling meets sustainability with the Scuba Grey Divers watch from Seiko's Prospex line. This collection includes a variety of options that combine professionalism and specifications that deliver excellence at every moment. This watch has a chunky stainless steel band that flows seamlessly into the 38.5mm diameter case.
The grey colour scheme mimics the gradations of underwater light with a darker shade on the rotating bezel, and a deeper one still on the dial itself. You do not have to worry about visibility, however, as the bold hour markers and wide hour and minute hands have luminous accents.
Features To Appreciate:
For men who appreciate an eco-friendlier lifestyle, the sustainability factor of this stylish diver's watch offers something unique. It boasts solar powered movement that charges easily with natural or artificial light. You never have to worry about it letting you down no matter where you roam: business meeting to bottom of your favorite dive spot. The Prospex Solar Scuba is water resistant all the way down to 200 meters, and the mono-directional dial bezel make timing your adventures simple. Originally dedicated to the Japanese market, now men all over the world can enjoy its functionality and style.
2 – Seiko Speedtimer Solar 1969 Recreation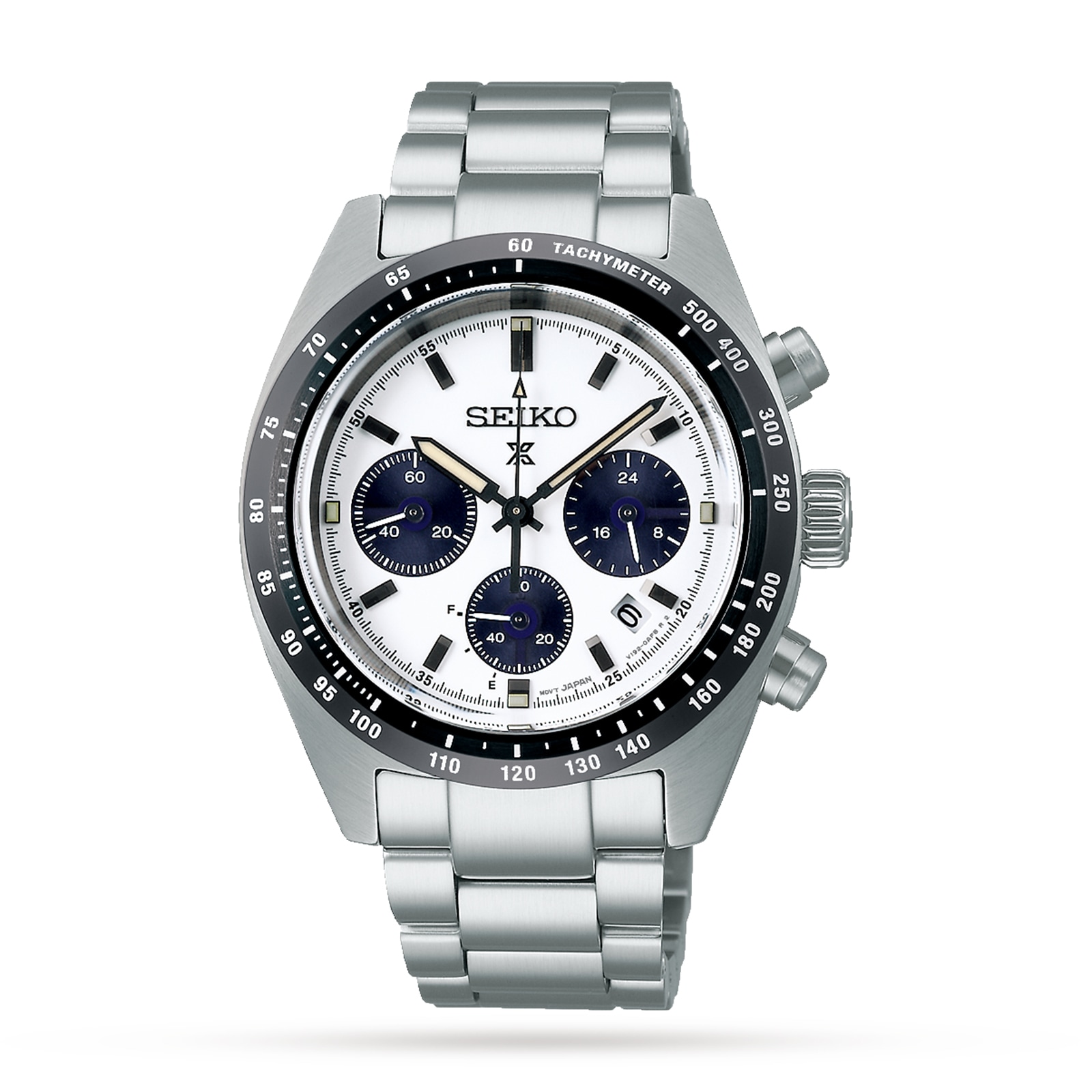 Why This Watch?
Another option from the popular Prospex line, this Seiko solar powered watch offers a lot of style in a 39 mm diameter size. The overall style of this timepiece was inspired by a classic 1969 automatic chronograph watch, which was the world's first. It harkens back to popular aesthetics in the mid-60s Tokyo sports world. The look is very sporty and masculine with a thick stainless-steel case, crown, and bracelet. The white dial offers a stark and stylish contrast to the black tachymeter bezel and the three sub-dials arranged symmetrically. With luminous hands and hour markers, this Seiko watch offers supreme usability alongside its stunning appearance.
Features To Appreciate:
As with all sustainable watches on this list, the Speedtimer is powered by solar movement, which also charges well with manufactured light. You never have to sit outside with your wrist exposed for a long time to ensure the continued function and accuracy of this well-designed timepiece. The overall look of a sporty and more casual watch matches the ruggedness of its construction and the extra features you would expect from a high-quality timepiece. It is water resistant to 100 meters, so you never have to worry about its safety and function when you are involved with your favorite active or outdoor activities.
3 – Seiko Tuna 'Arnie' Diver's Watch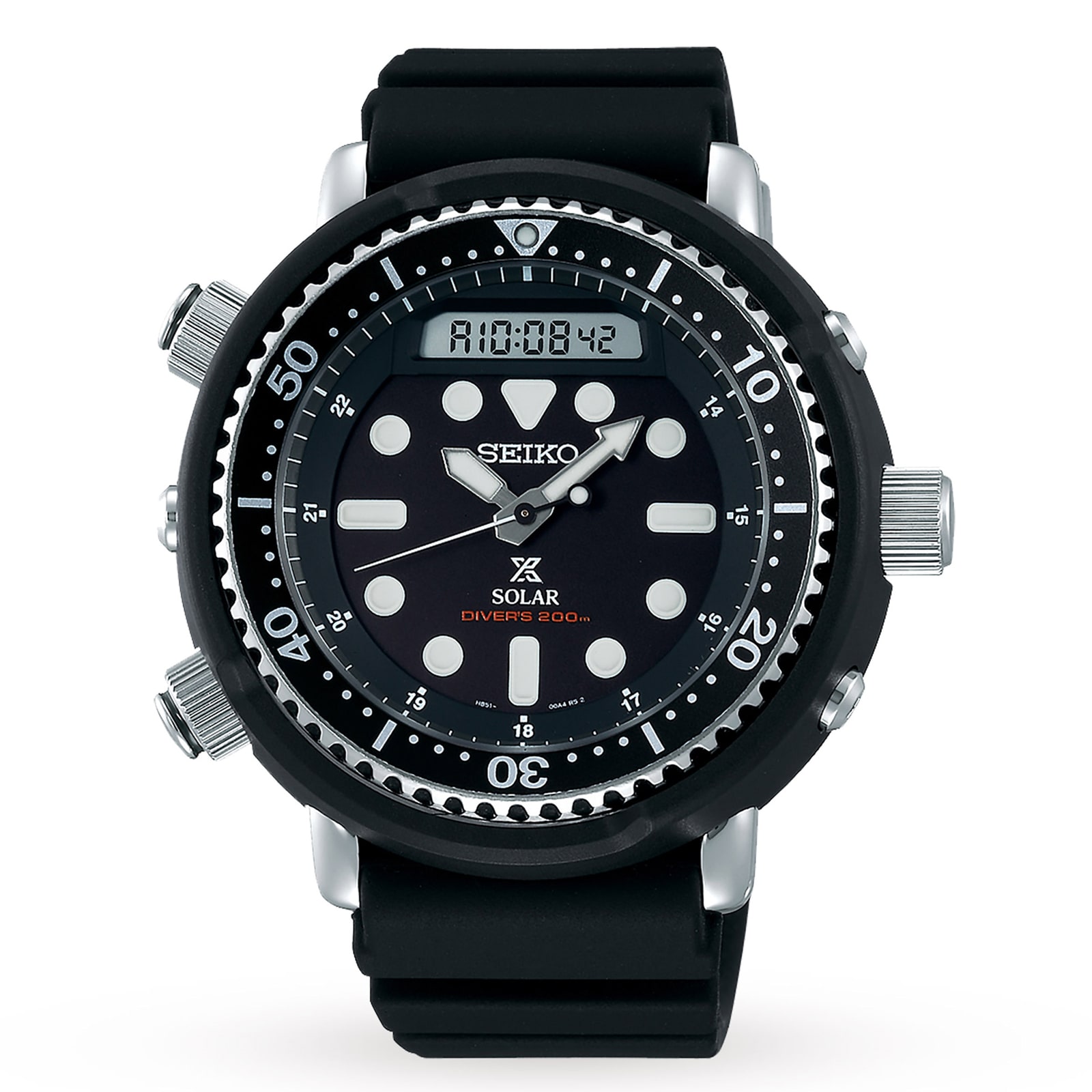 Why This Watch?
Seiko has long been in the business of creating exceptional diver's watches for men. What began in 1965 continued through the decades and now shares a new level of perfection. This hybrid diver option was released first in 1982, and it quickly became known as the Arnie after the actor Arnold Schwarzenegger who appeared in the "Commando" movie wearing this on his wrist. The 48 mm diameter stainless steel case is set off by black accents and a unique black rubber strap that adds an air of casual ruggedness. It is a large, thick watch that truly makes an impact when strapped to your wrist.
Features To Appreciate:
This sustainable, solar-powered watch is designed specifically for usability above all else. That does not mean you will not appreciate the amazing style offered by the Dots watchmakers.
This is a true divers watch with a mono-directional rotating bezel clearly marked with 10-minute increments to track your dive time, multiple crowns for adjustability and timing, and a water resistance up to 200 meters. One of the truly unique features of this option is that it boasts both a regular analog clock and a small digital insert so you can keep track of the time at a glance no matter what.
4 – Prospex Solar Diver by Seiko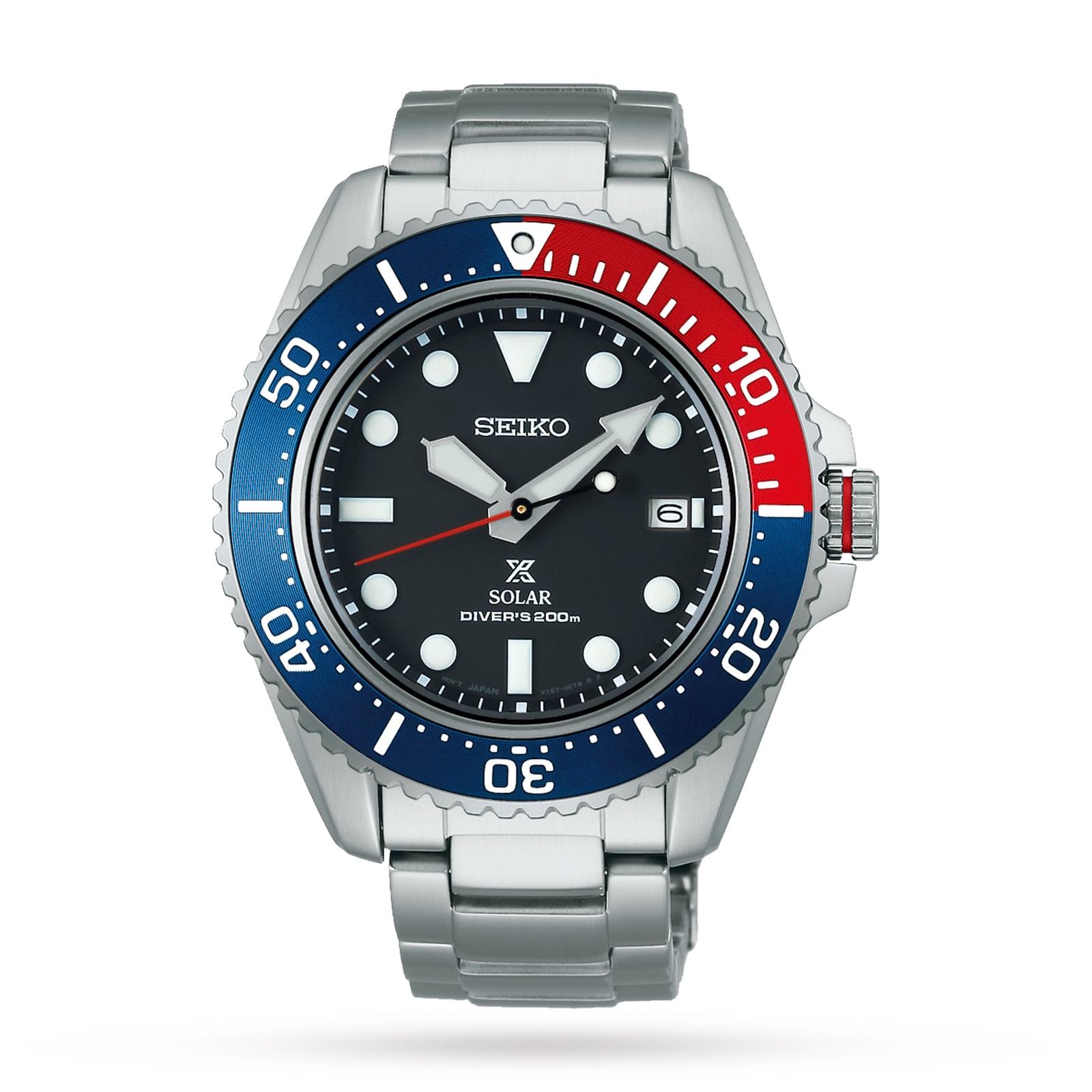 Why This Watch?
The Seiko Prospex Solar Diver watch offers everything you would expect from this popular, advanced brand with a unique style that focuses on sports and adventure rather than a sleek appearance. It is also one of the more affordable options on this list. The stainless-steel case takes a backseat to the boldly colored bevel, luminous hour and minute hands, and the thick steel bracelet that closes with a sturdy clasp. There is also a bright red line accenting the crown to add just another splash of colorful style to the overall look. The dial itself is black to offset the lighter time markers and hands perfectly.
Features To Appreciate:
As with all other diver's watches by popular brand Seiko, this one is water resistant up to 200 meters. Men who live active lifestyles and enjoy fishing, swimming, scuba diving, and more and greatly appreciate this level of security. Add in the fact that it operates on solar-powered movement, and you have a truly sustainable option for everyday or adventure wear.
Highly usable as well as stylish, the large, mono-directional rotating bezel is one of the standout features of this watch. The bold Arabic numerals marking 10-minute sections and the red-orange quarter only adds to the convenience. It also offers a date dial at the three-hour mark.
5 – Seiko Commander Arnie Hybrid Diver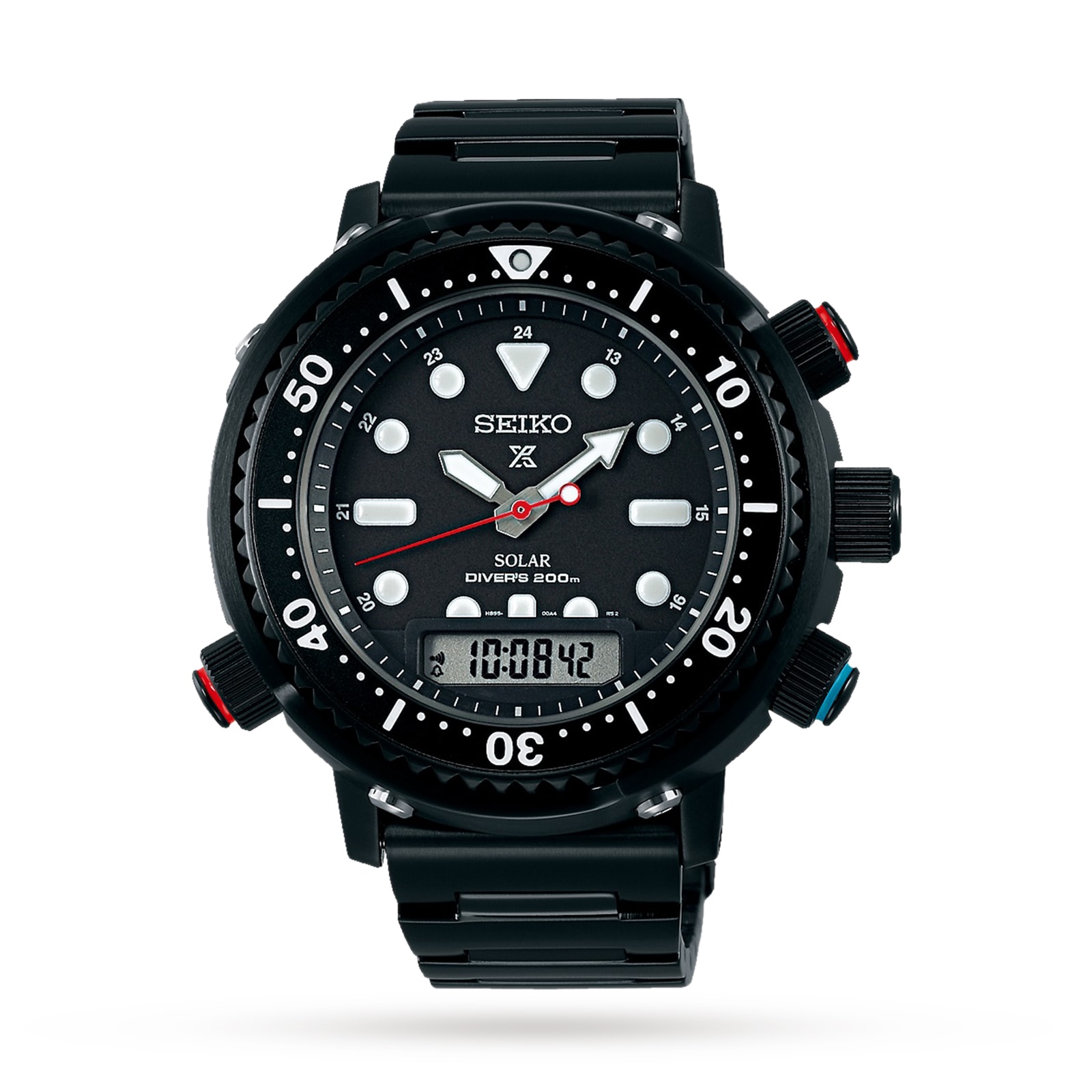 Why This Watch?
Around the 40th anniversary of Arnold Schwarzenegger's appearance with this watch in the movie "Commando," active men can now wear the look for themselves. This black version of the popular style is a limited-edition option with only 4000 total pieces available anywhere around the world. The case is stainless steel and PVD, which matches the same material bracelet secured with a strong clasp. Everything about this black watch looks rugged, high-tech, and masculine. The numbers on the bezel, our markings on the face, and luminous hands show up in bold white to make reading it easy.
Features To Appreciate:
Appearance means a lot when it comes to choosing a watch you love, but functions standout for many men who want a true diver's watch and one that can take them on many adventures. This hybrid choice fits the bill. It boasts both analog and digital timekeepers on the face, color-designated buttons and crowns, and a rotating bezel that is perfect for tracking dive time or other activities. You can also find a diving log, depth meters, and temperature functions to keep track of all the information you need on your next scuba adventure.