Even if your lifestyle does not include frequent underwater adventures, these five Seiko dive watches allow you to experience the feeling of treasure at your fingertips. These top picks all feature the expected rotating bezel marker to track dive time, but also come with sufficient style for everyday wear. For durability, waterproof use, and aesthetics, consider one of these timepieces that combine the form and function you expect from this respected brand.
1. Seiko 'Blueberry' GMT Men's Watch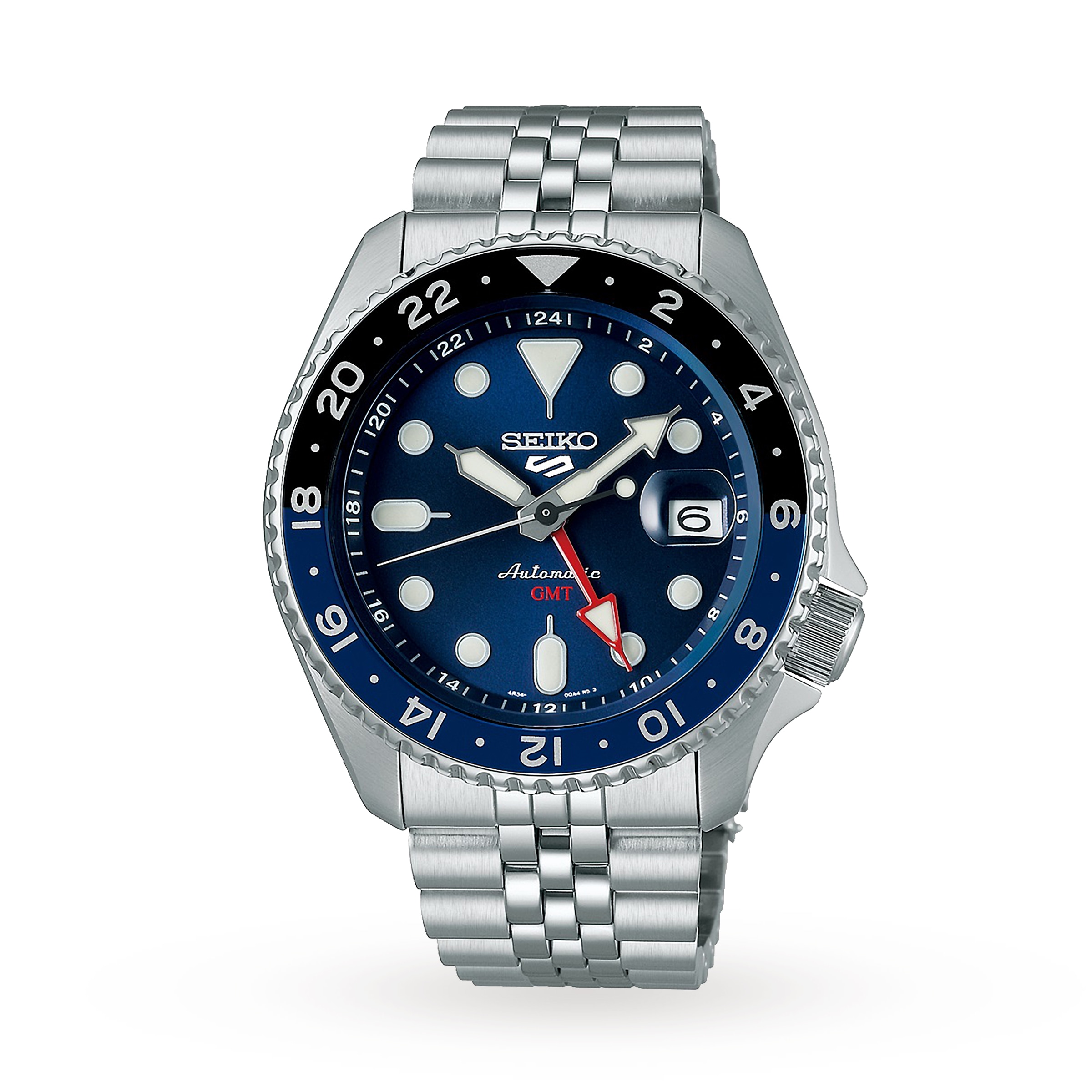 Why This Watch?
From the Seiko 5 Sports collection, the descriptively named 'Blueberry' watch's dial matches the fruit or the deep blue waters of ocean or lake where wearers dive. This option offers classy styling that mimics a daily timepiece for business or casual dress more than one dedicated to outdoor adventure. This range originally came out in the 1960s, was reimagined in the 1990s, and still holds up today as some of the most popular sport designs for men. The flexible, stainless-steel bracelet adds comfort and durability to the overall design.
Features included with this model:
While appearance matters for the discerning wearer, function must hold up to the Seiko brand promise. This dive watch ensures durability in every detail from the Hardlex-coated bezel to the strengthened crystals inside. As a dive watch, it functions well with water resistance up to 100 meters and suitably bright and legible hour markers with 24-hour timekeeping and LumiBright fluorescent hands. The etched rotating bezel helps you mark dive time with ease, a feature that improves recreational utility of this timepiece considerably.
2. Seiko Prospex – 'Captain Willard' Style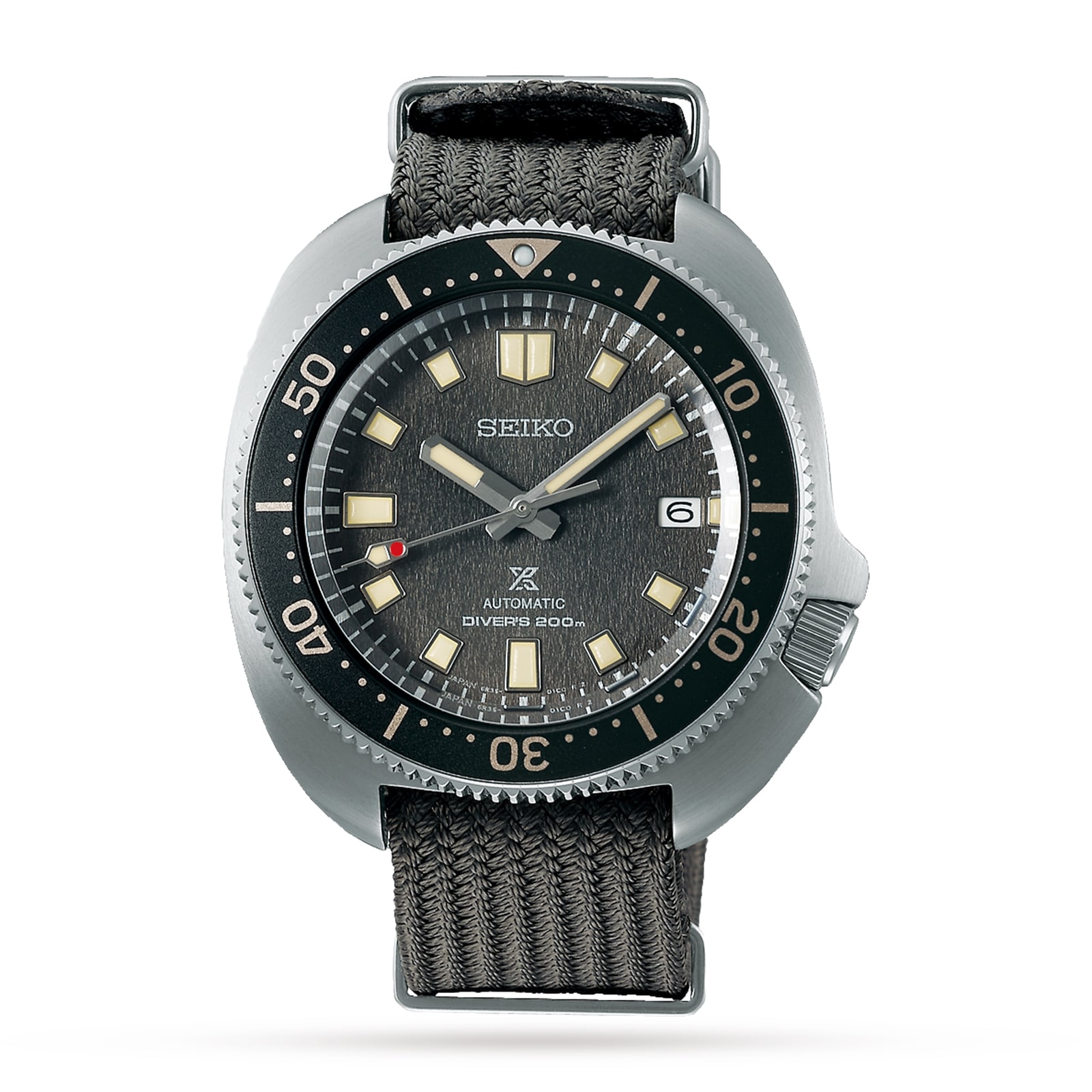 Why This Watch?
The brand 'Prospex' combines two elements you expect from Seiko watches: professional style and robust specifications. This unique dive watch is the first offered with an original nylon strap, which gives it a markedly more casual air than others on this list. Modelled after the 1970s Diver's timepiece preferred by mountain-climbing master Naomi Uemura, it also claimed Hollywood fame on the write of Martin Sheen in 'Apocalypse Now.'
Features included with this model:
More than popularity pushes the Prospex onto this list of top dive watches, however. This 2020 upgrade offers more modern functions and now comes in a variety of different models. The sleek steel and charcoal colors, rugged nylon band, and bold black bezel help it match your personal style. The 46.6mm diameter watch suits wearers who prefer a chunkier look and feel.
Seiko's calibre 6R35 automatic movement provides high performance and accuracy within a 30-second span, while the 70-hour power reserve ensures continuous function on even your longest outings. It is water resistant up to 200 meters and ISO-certified for shock resistance, legibility, indicators, and more.
3. Seiko Prospex – Antarctica Monster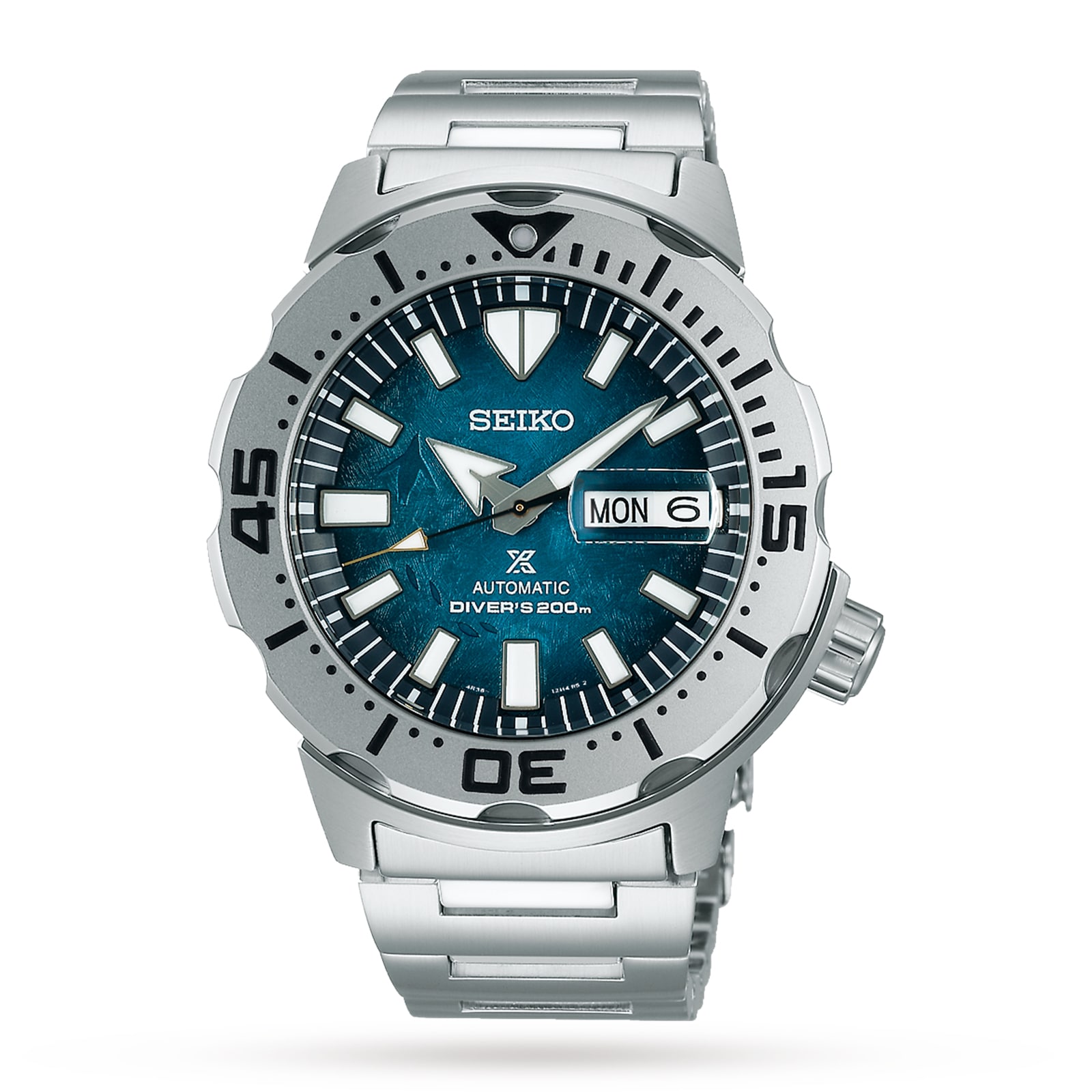 Why This Watch?
Inspired by the awe-inspiring oceans surrounding Antarctica, this 'Save the Ocean' timepiece from Seiko and watchmaker Batons also comes from the Prospex brand collection. The stainless-steel bracelet, clasp, and case are offset by the truly unique, teal blue face that features minute images of swimming penguins. The 'monster' moniker comes from the chunky bezel shape and hour markers, which resemble the gaping maw of some deep-sea creature. The style matches a diver's love of adventure and intense drama while still maintaining a highly professional air suitable for daily use.
Top Features Included:
The Antarctica Monster has all the functional excellence you have come to expect from Seiko dive watches. It offers water resistance up to 200 meters, a notched bezel for easy dive-time marking, and a thick crown for easy winding and adjustment. Despite its creative style and high function, this is one of the less costly timepieces on this list of top five options.
4. Seiko Black Series – 1965 Recreation Limited Edition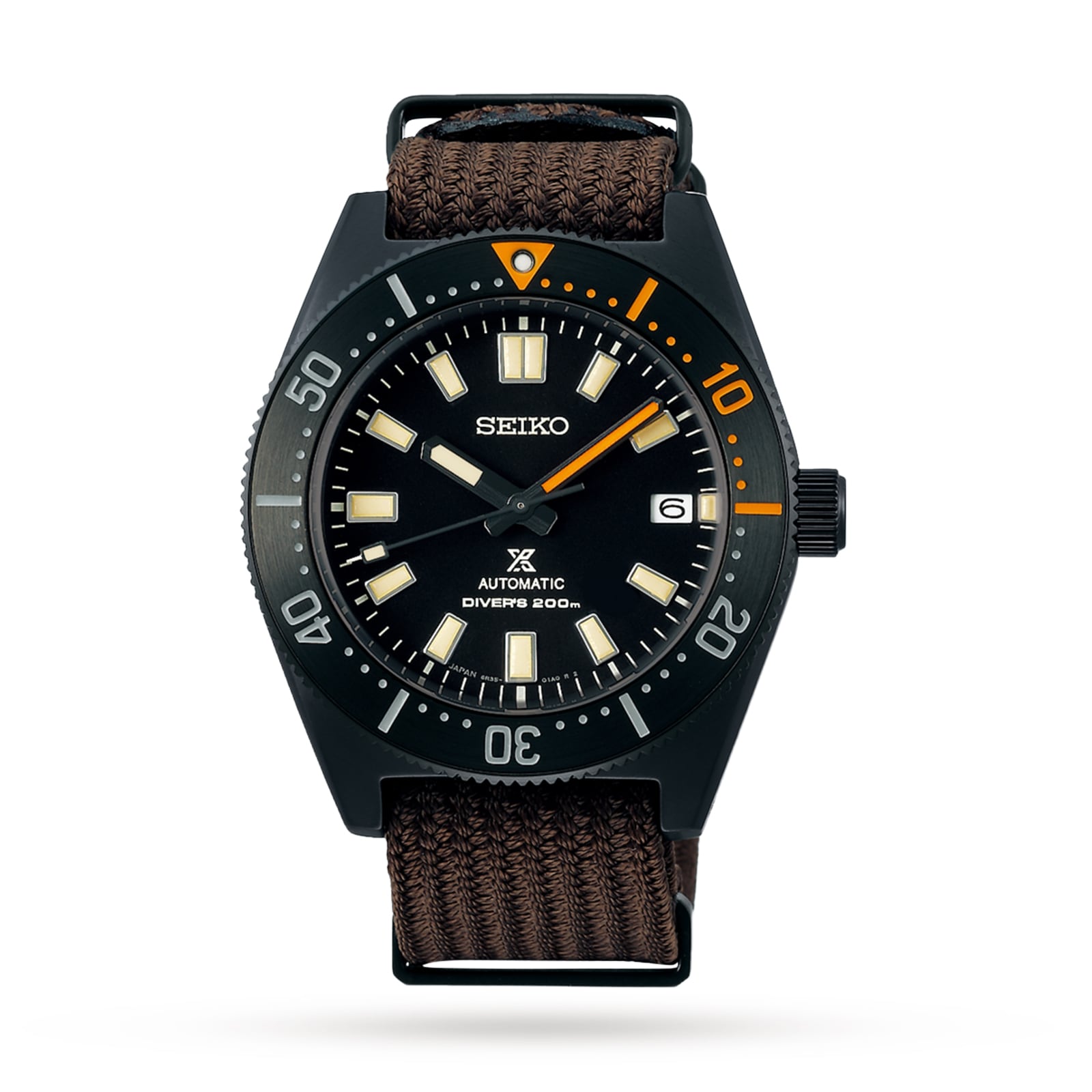 Why This Watch?
With just 5,500 watches made in the 2022 Black Series, it represents a highly sought-after option for dive watches from Seiko Prospex. The most recent iteration takes design inspiration from the 1965 original, which was used in Japan's Antarctic expeditions in the following years. Today, many enjoy this timepiece as both the ultimate night-diving watch and a fashionable accessory in its own right. The face is just 40.5mm in diameter for a sleeker silhouette. The band is dark brown nylon with an unobtrusive black metal buckle closure. Combined with the black color and smoothly integrated band, this watch offers more subtle style than some of the others.
Features included with this model:
As with most other Seiko dive watches, this model is also water resistant up to 200 meters, which makes it highly functional for snorkeling, diving, and other water recreation activities. While style inspiration comes from night dives, it also functions very well under challenging conditions with the bright orange markers on the bezel and minute hand and the luminous treatment of other elements. Besides the nylon pattern reminiscent of kimono belts, the Black Series timepiece comes with an optional silicone band for more flexibility.
5. Seiko Tuna Arnie Diver – Analog and Digital Mix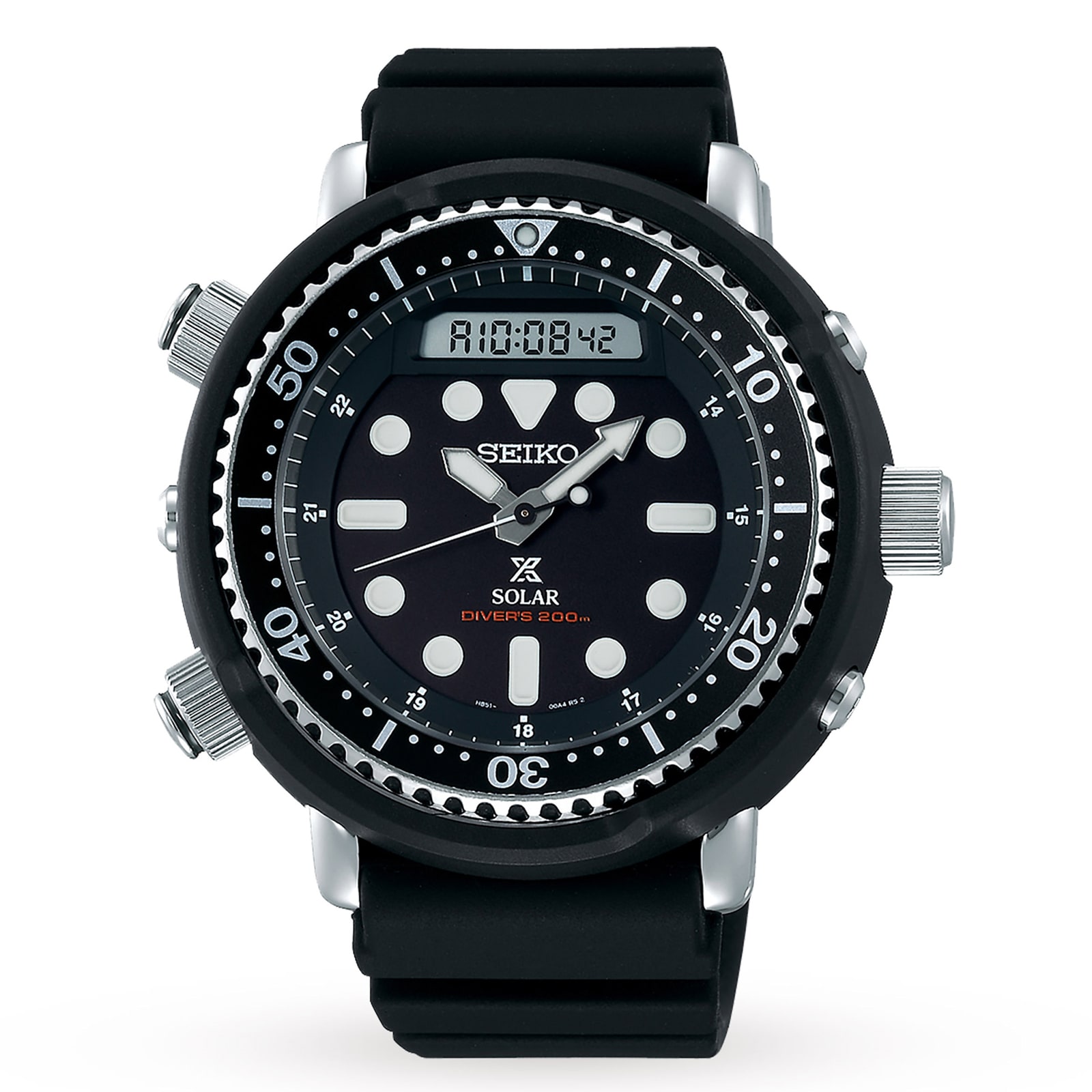 Why This Watch?
A big, bold appearance, black and steel color scheme, and functional materials all combine to create a popular dive watch from the Seiko Prospex brand. This timepiece has two unofficial names. The first is 'Arnie,' which comes from the popular actor, Arnold Schwarzenegger, who wore it in 'Commando,' and 'Tuna' for its shapely resemblance to canned fish. While rugged, there is nothing fishy about the long-term popularity of this dive watch style.
Features included with this model:
Unlike other watches on this list, the Tuna Arnie model is controlled by solar-powered movement, so there is no need to change a battery. When fully charged, the power lasts up to six months, although outdoor enthusiasts undoubtedly find many opportunities to wear it in the sunlight between dives. Another unique feature is the hybrid time-keeping option with both analog and digital display. Standard ISO compliance, 200-meter water resistance, mono-directional rotating dive-time bezel, and illuminated hour markers and hands combine for an easy-to-use diving experience from this casual yet stylish watch.
Seiko offers a wide selection of dive watches that combine classic style, modern upgrades, and high-tech function. These five represent our top picks from this well-trusted and loved brand.