For more than 100 years, Citizen has been a trusted brand in watchmaking around the world. Not only do they create products with style and precision, but the company also has a firm commitment to sustainable design and manufacturing. For men who enjoy underwater adventure, this list of the top five Citizen dive watches is sure to impress.
1. Citizen Promaster Diver – Green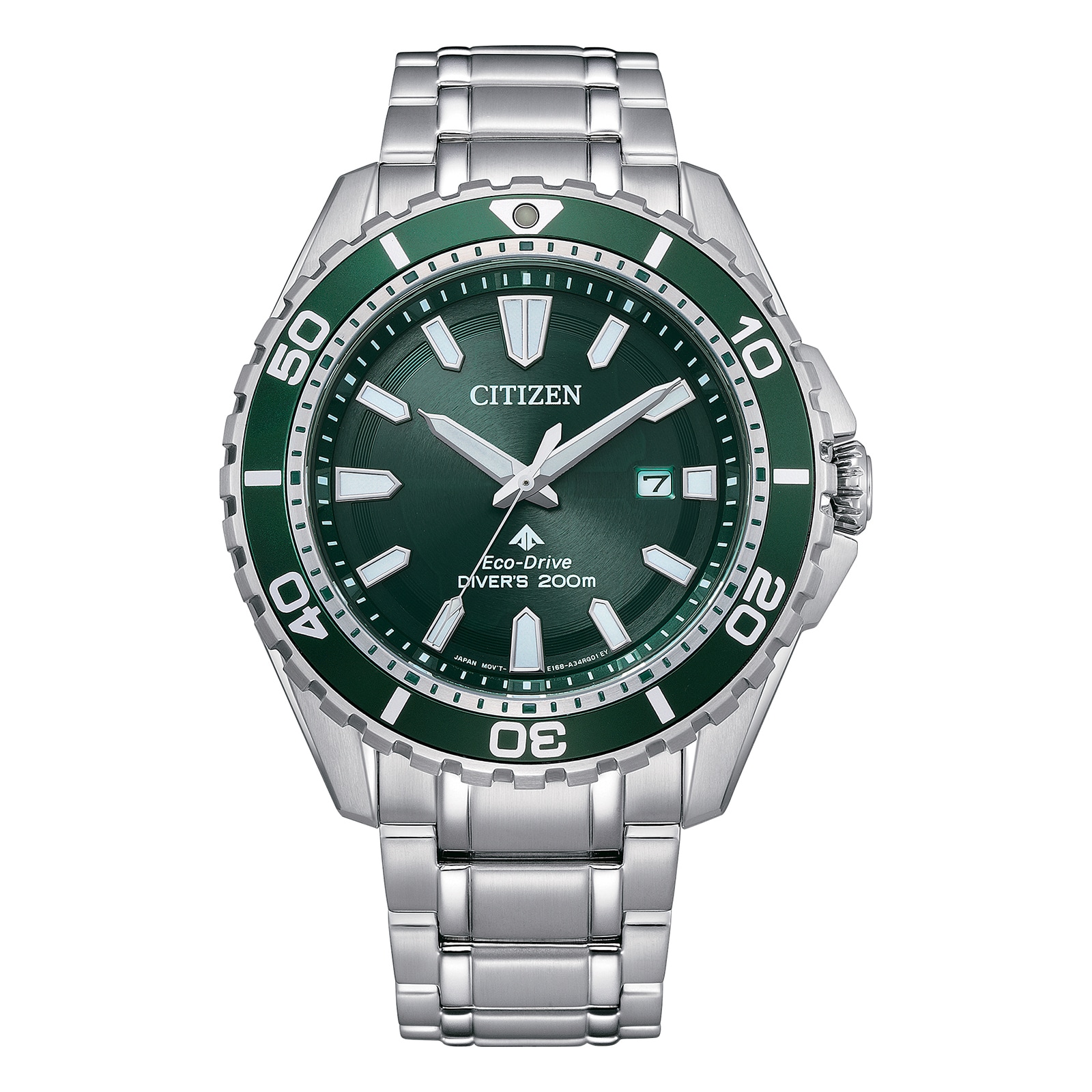 Why Choose This Watch?
Many dive watches from top brands boast a blue dial that brings to mind the colour of the ocean waves and other underwater settings. This option from Citizen offers something a bit different. The dial and mono-directional rotating bezel are both deep emerald green. The dial itself has a unique concentric circle design with a slight texture underneath the hour markers. Both these baton shapes and the wide hour and minute hands have luminous coating for easy viewing in any conditions. The case is 45 mm in diameter, and it is made from stainless steel. The bracelet is also polished steel with a triple secure clasp, so you never have to risk losing it on your next adventure.
Top Features:
The bold timekeeping elements and the small date window near the 3 o'clock position offer a high degree of usability for this green divers' watch. The bezel helps you keep track of dive time with large 10-minute markers. This watch is ISO compliant with water resistance up to 200 meters. The case back and crown offer screw down security to add even more protection to the watch when you are going about your active lifestyle. It is also a highly sustainable option with Eco-Drive technology that uses "solar" powered energy from either natural or synthetic light.
2. Citizen Promaster Diver Super Titanium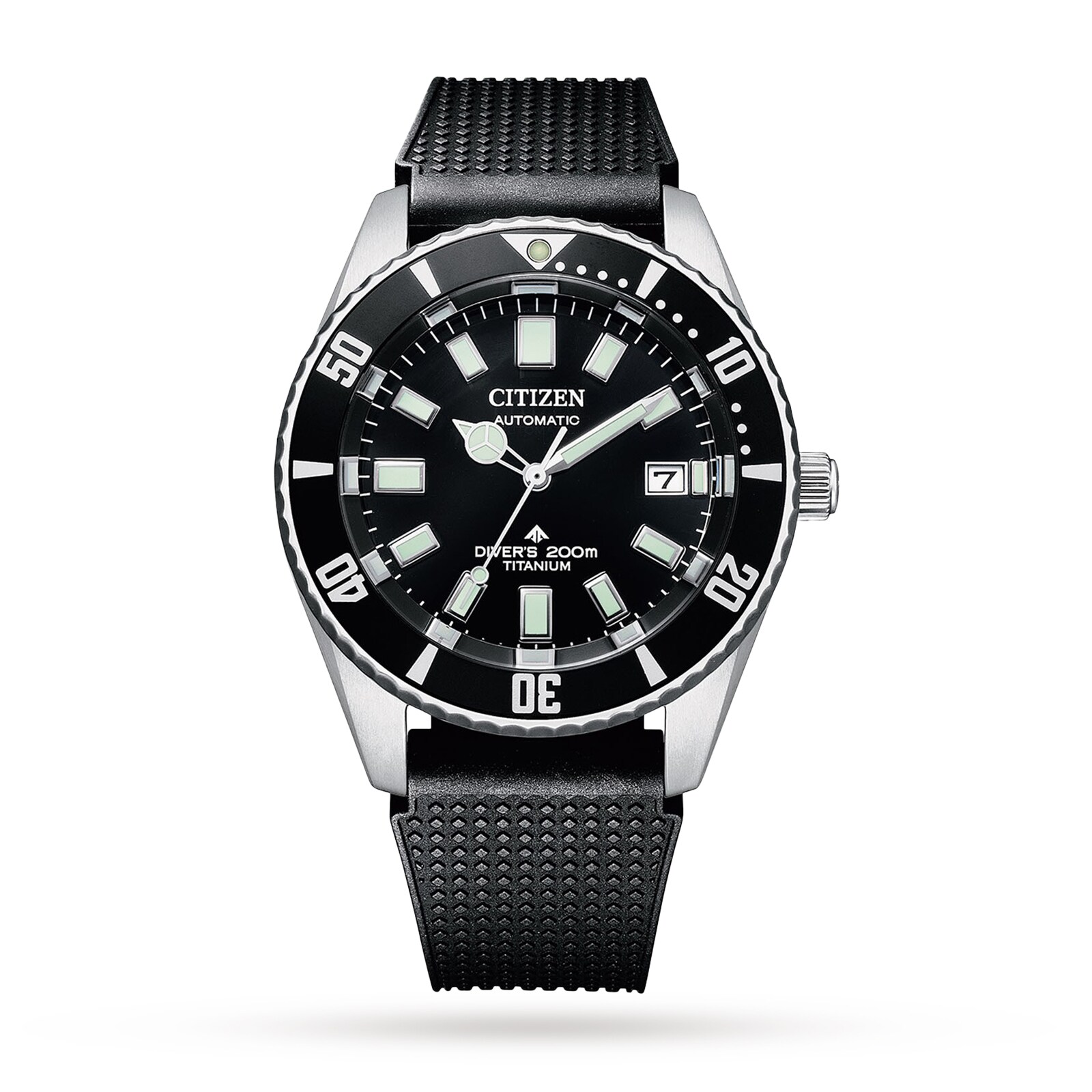 Why Choose This Watch?
The name of this Citizen brand watch says it all. As part of the Promaster Diver collection, it takes its design inspiration from the 1977 Challenge diver. It features a 41 mm diameter case made of super titanium and a very comfortable and long-lasting black rubber strap. The dial and bezel are matte black which is echoed in the colour of the textured rubber strap. The hour markers and uniquely shaped hands all have luminous treatment for maximum visibility.
Top Features:
One of the most important features of any dive watch is the one-directional rotating bezel. The Super Titanium model has this with a gently grooved outer edge to make gripping it easy. The stretch between zero and 15 minutes has additional minute markers for increased precision. Highly accurate to within 20 seconds, the automatic movement will not let you down. It comes standard with a five-year guarantee. However, the chance of needing it is quite slim. A Challenge Diver washed up on the shore in Australia after five years at sea and still worked. With water resistance up to 200 meters, the Promaster promises not to let you down either.
3. Citizen Series 8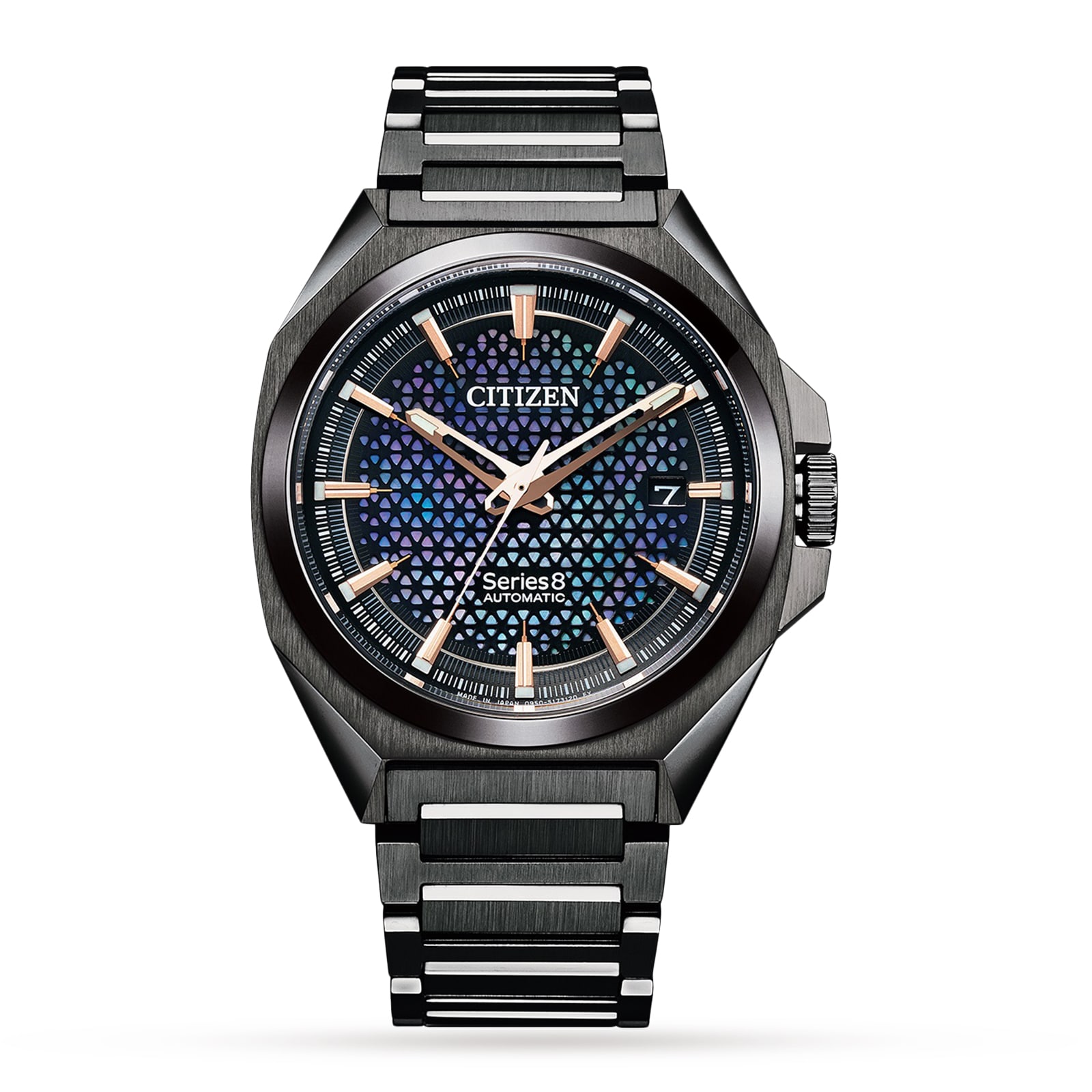 Why Choose This Watch?
The 41 mm diameter case is an average sized dive watch watch in our list of top 5. However, nothing else about it could be considered average. The Series 8 relaunch boasts an octagonal case shape and a simpler, cleaner aesthetic for the dial. This one comes in a colour-shifting mother-of-pearl design that offsets the black titanium case and band perfectly. The black design overlaying the pearlescent dial brings the whole aesthetic together. The unique usage of rose gold hour markers and hands also add a touch of luminosity to this timepiece.
Top Features:
This uniquely stylish watch from Citizen is water resistant up to 100 meters. While it is not an official dive watch, this level of protection and the long-lasting materials used in its construction do make it a great choice for active men. It uses innovative automatic Anti-magnetic 16,000 movement and boasts a 42-hour power reserve. While it does harken back to the design of the 830 and 831 models from the Series 8 collection, the modern interpretation adds something extra.
4. Citizen Eco-Drive CORSO Watch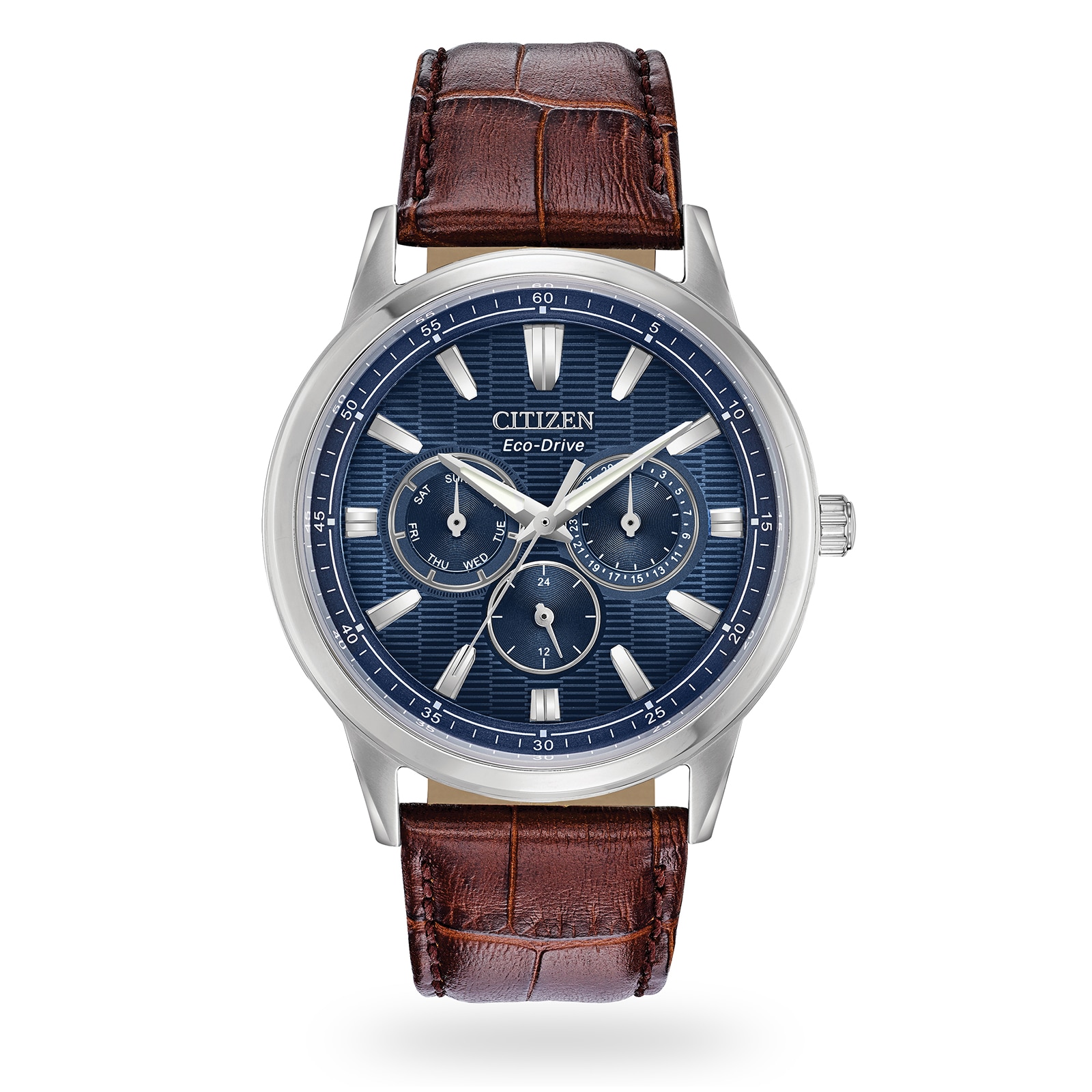 Why Choose This Watch?
If you are a man who likes classic style and a hint of vintage flair, this Citizen watch may suit your tastes perfectly. It is quite large with a 47 mm diameter case of gleaming stainless steel. The strap is rich brown leather with matching stitches. One unique design element that adds a touch of the unexpected is the deep, navy blue dial with unique brick design. The same colour is seen on the narrow bezel with 60 second marks surrounding it. Three additional dials are added. The bold hour markers and luminous hands complete the sleek yet highly functional look.
Top Features:
Hidden below the sapphire crystal glass covering the dial, you will find highly reliable and accurate Eco-Drive movement. This is one of the most sustainable Citizen watches on the list. Instead of batteries or the usual mechanical movement, this one represents a bold step forward in quartz technology. It is also water resistant up to 100 meters. Altogether, the form and features of the CORSO classic watch create an impressive option for men who want to combine the style of a pocket watch with the capabilities of timekeeping innovation.
5. Citizen Chronograph – PVD Gold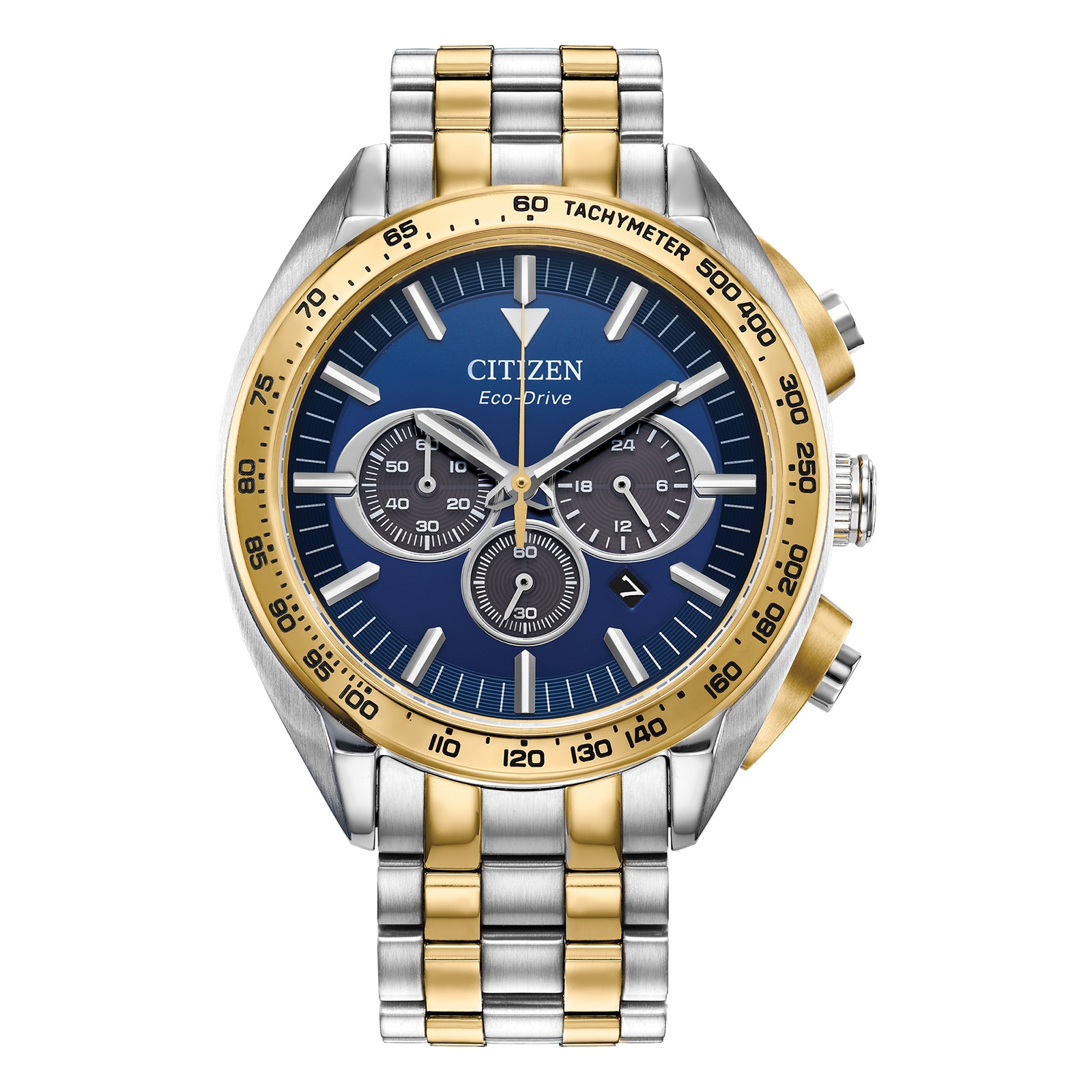 Why Choose This Watch?
This is the only watch on our list of top five from popular brand Citizen that has a goal-tone finish. If you are one of the men who prefer a warm metal, you can appreciate the shiny finish of the stainless steel case and bracelet. It includes an easy fold clasp, push button stopwatch and setting capabilities, and built-in timer dials, date window, and tachymeter around the graduated bezel. Alongside the gold-toned surface, another stylish feature is the deep forest green dial with circular groove decoration behind the minute markers.
Top Features:
This is another Citizen watch that is powered by Eco-Drive technology. It does not have a battery to change. Instead, it is powered by light from the sun or electrical sources. This level of sustainability in their everyday accessories. The accuracy and reliability are not affected at all. The watch is water resistant up to 100 meters, which makes it a great option for active lifestyles. One unique feature of this gold watch is the ability to use either 12- or 24-hour time to keep track of your schedule. It truly combines modern capabilities with a classic look that many men appreciate.