Although luxury chronograph watches are usually associated with a high price tag, there are still plenty of excellent options available for those with a budget under £5,000. In this carefully curated list, we'll explore five remarkable luxury chronograph watches that offer exceptional craftsmanship, stunning design, and affordability.
Best Luxury Chronograph Watches Under  £5,000:
1. Massena Lab Uni-Racer Limited Edition Chronograph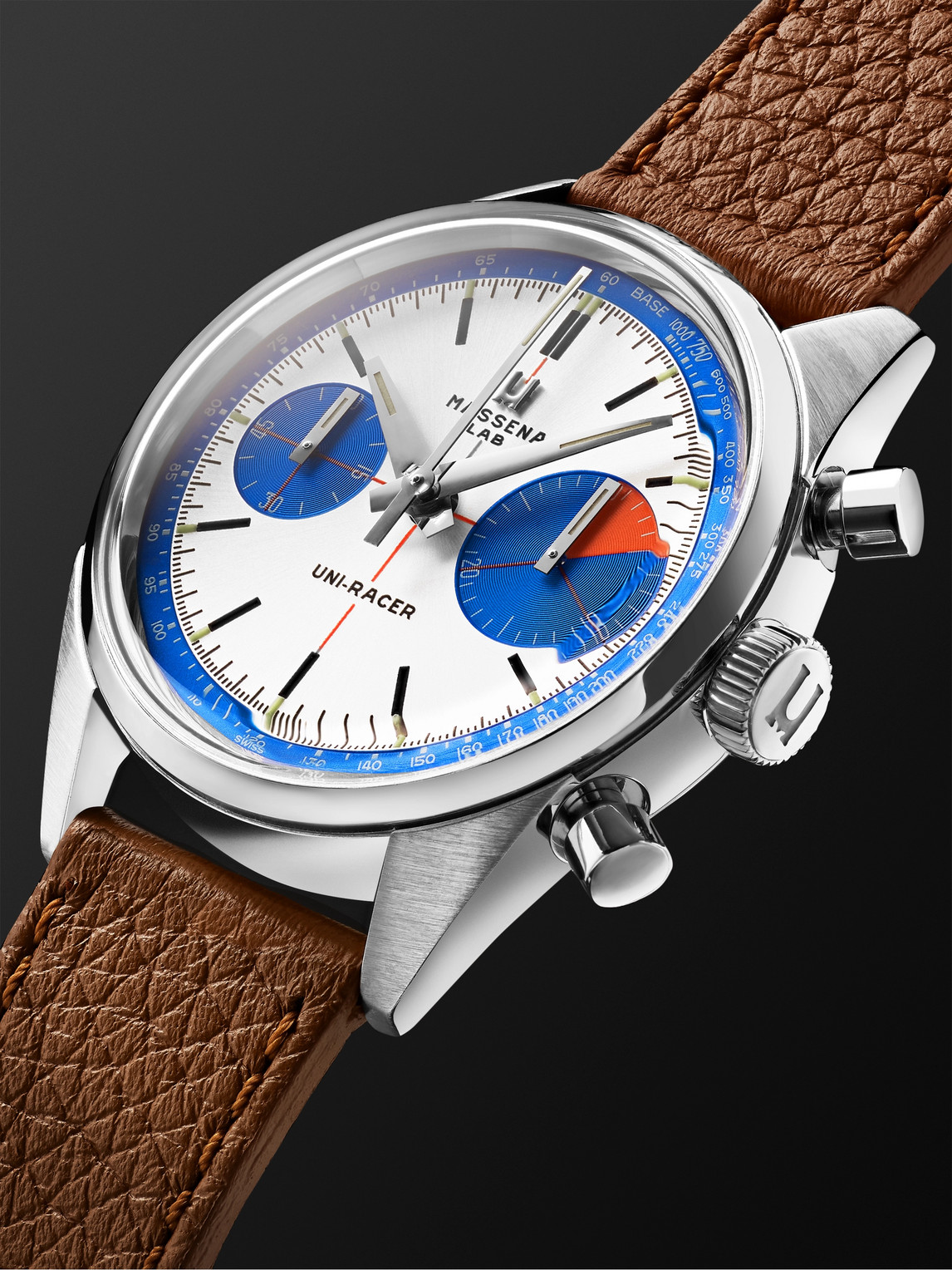 Why choose this watch?
Massena Lab may be a newcomer in the world of watchmaking, but it has rapidly made its mark with the Uni-Racer Hand-Wound Chronograph. Painstakingly crafted over an extensive three-year period, the Uni-Racer combines vintage aesthetics with state-of-the-art functionality.
This timepiece is perfect for any occasion and adapts easily to your attire and setting. Whether you're going to a formal gathering, a pivotal business meeting, or a relaxed casual outing, the Uni Racer's enduring look ensures that it will remain a classic watch choice for years to come!
What features are included in this model?
Inspired by the 1960s Universal Genève Uni-Compax, this Uni Racer model combines durability with an updated design. It features a 39mm stainless steel case, acrylic crystal glass face, full-grain leather strap, and a hand-wound chronograph movement with a Swiss-made calibre Sellita SW510 BH M Elaboré, boasting a 58-hour power reserve.
One of the standout features is the vintage-inspired hand-wound chronograph movement, which pays homage to horological traditions but still ensures precision. We also like the minimalist dial as it offers a clutter-free interface for easy reading of chronograph functions. However, what truly makes the Massena Uni-Racer special is its limited-edition status.
This collector's item is a great entry point into luxury chronographs. And, with only a small number available, owning the Massena Uni-Racer allows you to join an exclusive horological community!
2. Junghans Meister Driver Chronoscope Automatic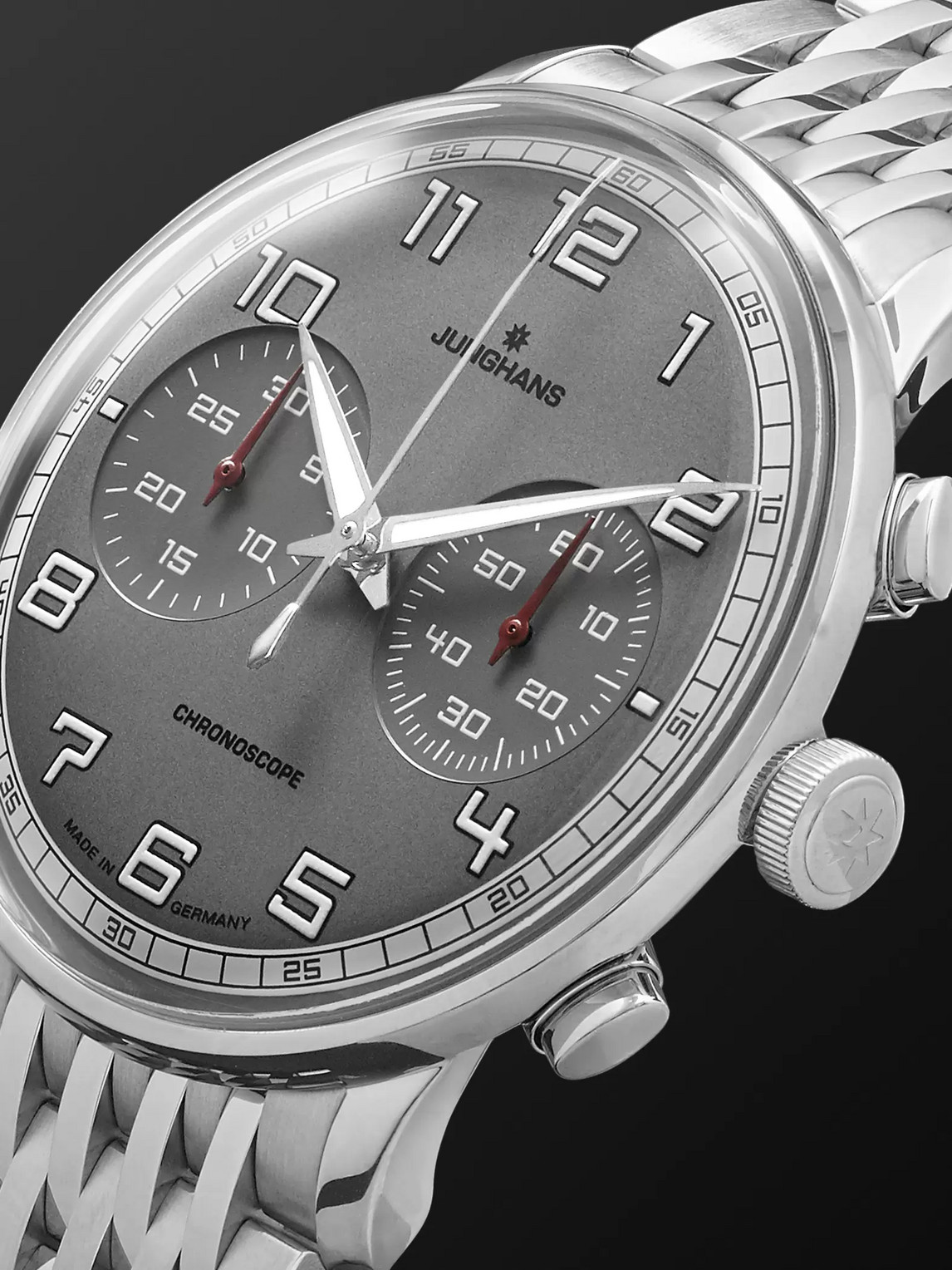 Why choose this watch?
Junghans is a German watchmaker renowned for its precision and innovative design philosophy. The Meister Driver Chronoscope Automatic exemplifies these qualities, and at £2,070, we think it's an excellent choice for those seeking a luxury chronograph on a budget.
With its domed SICRALAN-coated plexiglass lens and robust build, this model is made to withstand all of life's challenges. So, whether you're heading to an important meeting or going on an outdoor adventure, the Meister Driver will keep up with your busy life!
What features are included in this model?
The Junghans Meister Driver Chronoscope Automatic channels the early years of modern motor technology. Crafted from tough stainless steel, this timepiece is driven by the precise J880.3 automatic movement and adorned with a tasteful grey lacquered dial.
The strap, made from steel, is a great water-resistant alternative to traditional leather and has a feather-light touch on your wrist. Encased in a 40mm stainless steel casing, this watch boasts a simple but timeless style. The automatic movement operates the chronograph functions, giving you the ability to time accurately. The distinctive sub-dials and vintage-inspired hands infuse character into the timepiece, while the practical date display at 3 o'clock enhances its utility.
On the whole, Junghans Meister Driver Chronoscope Automatic showcases the brand's commitment to craftsmanship and affordability, making it another great choice for watch enthusiasts.
3. Breitling Navitimer 8 Automatic Chronograph
Why choose this watch?
The Navitimer 8, encased in a striking 43 mm steel housing, stands out with its eye-catching blue dial. This watch is not only visually appealing but also highly precise, boasting three chronograph counters that enhance its performance. Secured firmly with a substantial dark-brown leather strap, the Navitimer 8 complements both suits and semi-formal attire, adding a touch of sophistication to any ensemble you choose!
What features are included in this model?
Beneath its impeccable exterior lies a Swiss-made calibre with the Breitling 13 automatic chronograph movement, ensuring exceptional timekeeping. Additionally, the Navitimer 8's luminous hands and sturdy crystal further boost its readability and durability. And, with an impressive 42-hour power reserve, the Navitimer 8 is prepared to accompany you through your hectic schedule without missing a beat!
Yet, what truly distinguishes the Navitimer 8 is its rich aviation heritage, paying homage to cockpit instruments through its design, this is an enticing choice for anyone who appreciates aviation-inspired timepieces. Whether you're a pilot or simply an enthusiast of finely crafted watches, the Navitimer 8 is a testament to precision engineering making it a standout addition to your collection.
4. Montblanc Star Legacy 42mm Chronograph Limited Edition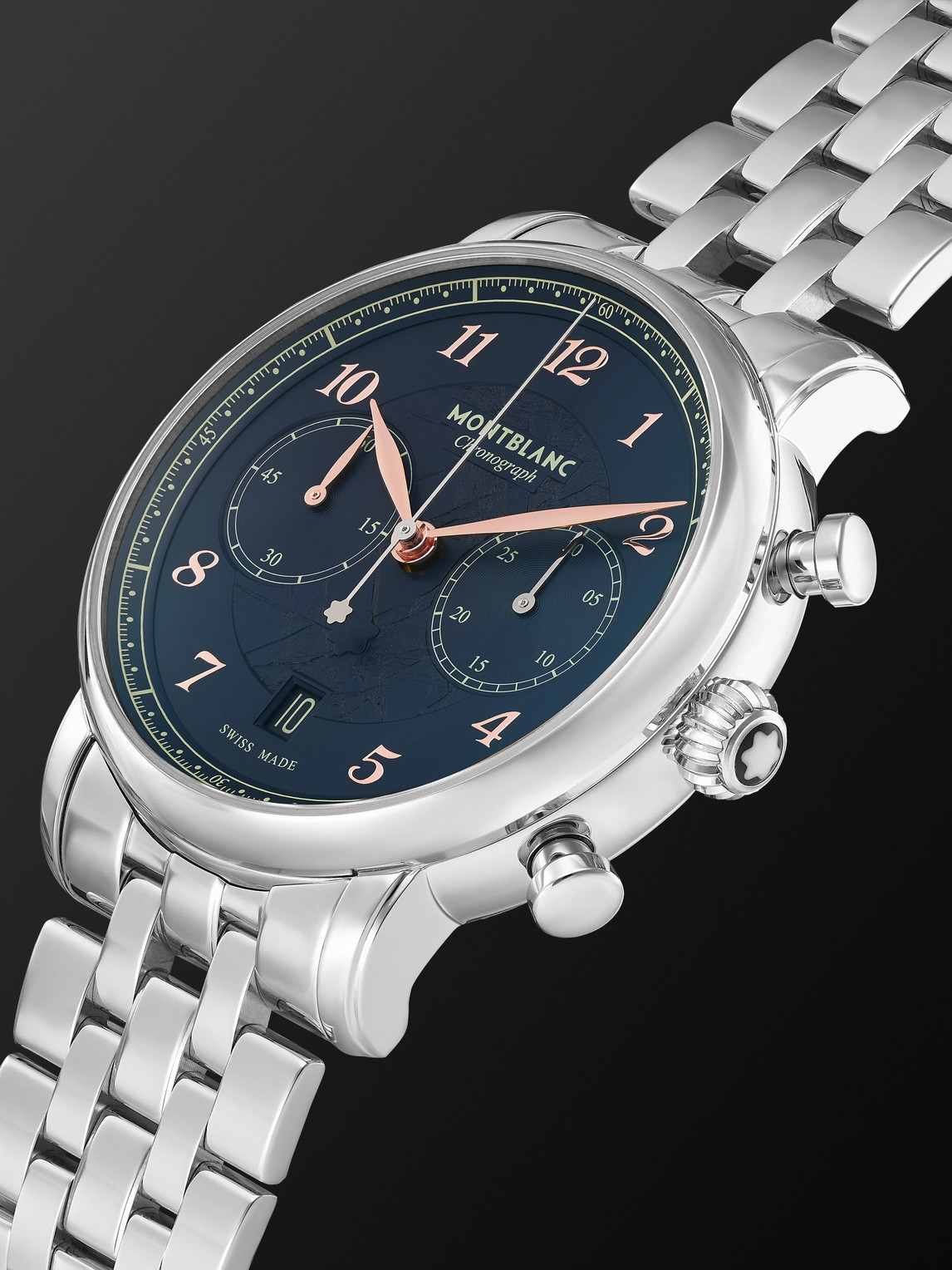 Why choose this watch?
The Star Legacy Chronograph by Montblanc is another example of excellent craftsmanship and watch design. This particular model pays tribute to the 'blue hour,' a moment when the moon appears over Mont-Blanc and casts a dark shade on the Mer de Glace glacier, which is famously connected with Jacques Balmat's 1786 summit.
The watch boasts a stunning deep blue dial that perfectly captures this celestial event, making it a versatile accessory suitable for both casual and formal occasions. Priced at £2,940, it is a great way to experience the lavish world of Montblanc, combining luxury, style, and heritage into one elegant package.
What features are included in this model?
This Swiss-made timepiece boasts a high-precision MB 25.13 automatic movement, offering up to 56 hours of uninterrupted power. Set in a polished 42mm stainless steel case and complemented by a matching steel bracelet, it features a protective domed sapphire glass crystal that enhances the watch's longevity. The chronograph function, equipped with rhodium-plated baton hands, includes a 30-minute subdial and a convenient date window, located in the 6 o, clock position .
With only 1786 of these watches crafted to commemorate a significant year in Montblanc's history, this limited edition model stands as a testament to both the heritage and innovation of the brand. Given the stunning array of features, we definitely recommend looking into this exclusive timepiece.
5. Bell & Ross BR V2-94 Bellytanker El Mirage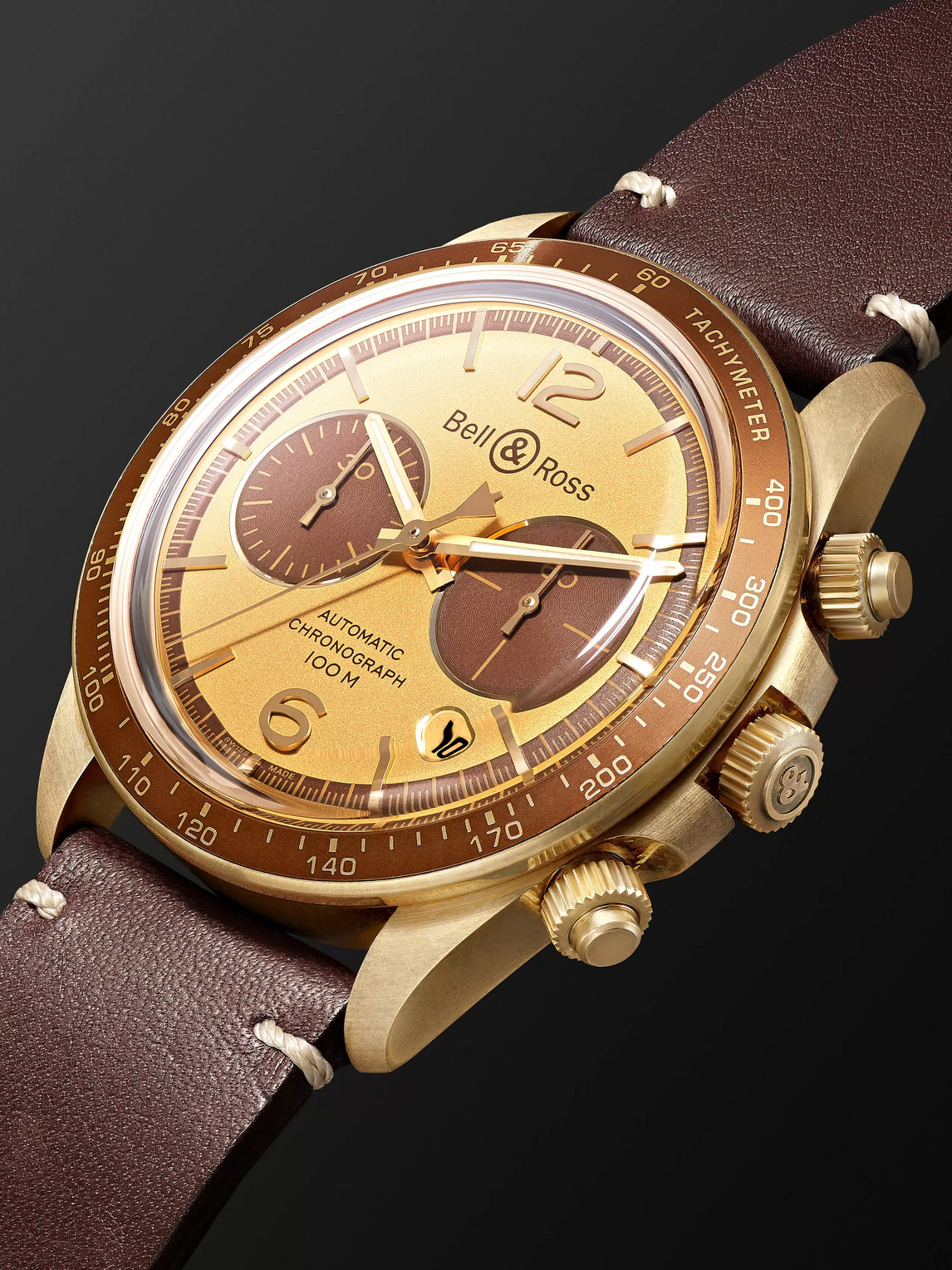 Why choose this watch?
The BR V2-94 Bellytanker El Mirage by Bell & Ross is a testament to the brand's reputation for bold and distinctive timepieces, making it a fitting conclusion to our list of luxury chronographs. Created from a collaboration between Bell & Ross and watchmaking authorities the Revolution this model pays homage to the daredevils of yesteryears who modified aircraft drop tanks and placed them in racing cars.
This unique timepiece not only exudes character but also captures the spirit of speed and adventure, making it a remarkable addition to any watch enthusiast's collection.
What features are included in this model?
This model has a captivating gold dial with brown subdials that give it a luxurious look. The anti-reflective sapphire glass case ensures clarity and durability. The brown leather strap fits perfectly with the racing theme of the BR V2-94 and is easy to wear with its secure clasp.
The watch also features a 41mm bronze case that ages beautifully with time and houses a Swiss-made calibre BR-CAL.301 automatic chronograph movement. With a 42-hour power reserve, it is reliable and perfect for any occasion. Additionally, a discreet date window adds another layer of usefulness to its remarkable design.