The elegance and style of blue dial watches have made them a popular option for men and women with discerning tastes. The popular Oris brand, which began in Switzerland in 1904, has long been a source of timepieces that combine quality function and an amazing sense of style. Today, they continue to use the trusted Swiss movement with new technologically enhanced precision and features that modern wearers want. These five best blue dial Oris watches will make great additions to your accessory collection.
1. Oris Big Crown Men's Watch – Blue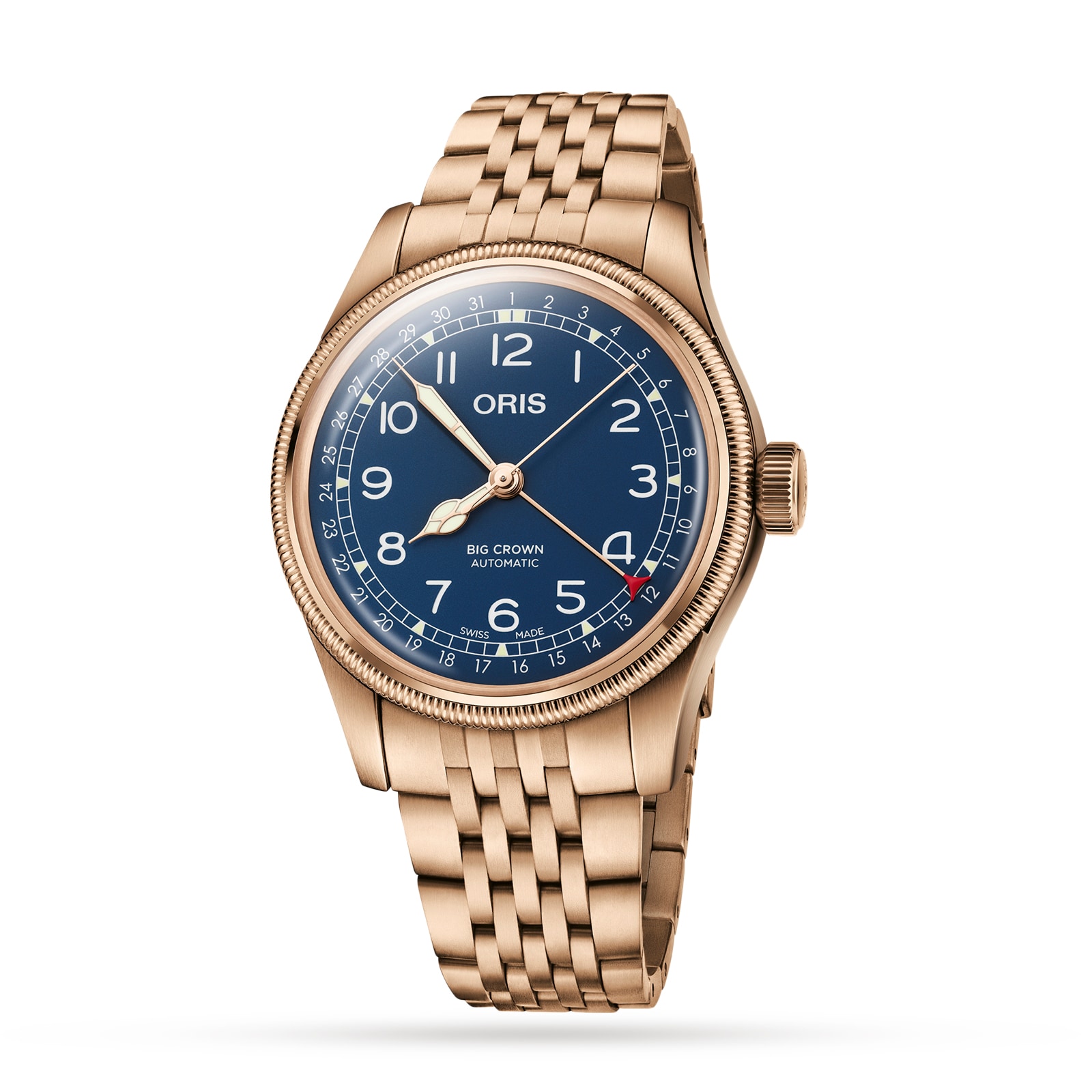 Why Choose This Watch?
When it comes to classic Oris watches, this model is one of the classics. It has been in continuous production for nearly 100 years. Since 1938, the Big Crown timepiece has enticed men who want something classic and sleek on their wrists. The case is interestingly crafted from bronze, which also makes up part of the pebbled bracelet. The rest of the structure is stainless steel including the frame of the backing around the crystal that allows you to see the inner workings of this precision timepiece. The dial is a deep, solid blue that is accented beautifully with the stylish white numerals and luminous hands.
Top Features:
Besides the ageless design, the outstanding automatic movement offers the type of functionality that men expect from quality watches. It is 40 mm in diameter. Although an iconic part of the Oris collection for decades, this is the first time the watch has been released in bronze. Although we mentioned the blue dial here, it is also available in brown, green, and Bordeaux.
2. Oris Big Crown X Cervo Volante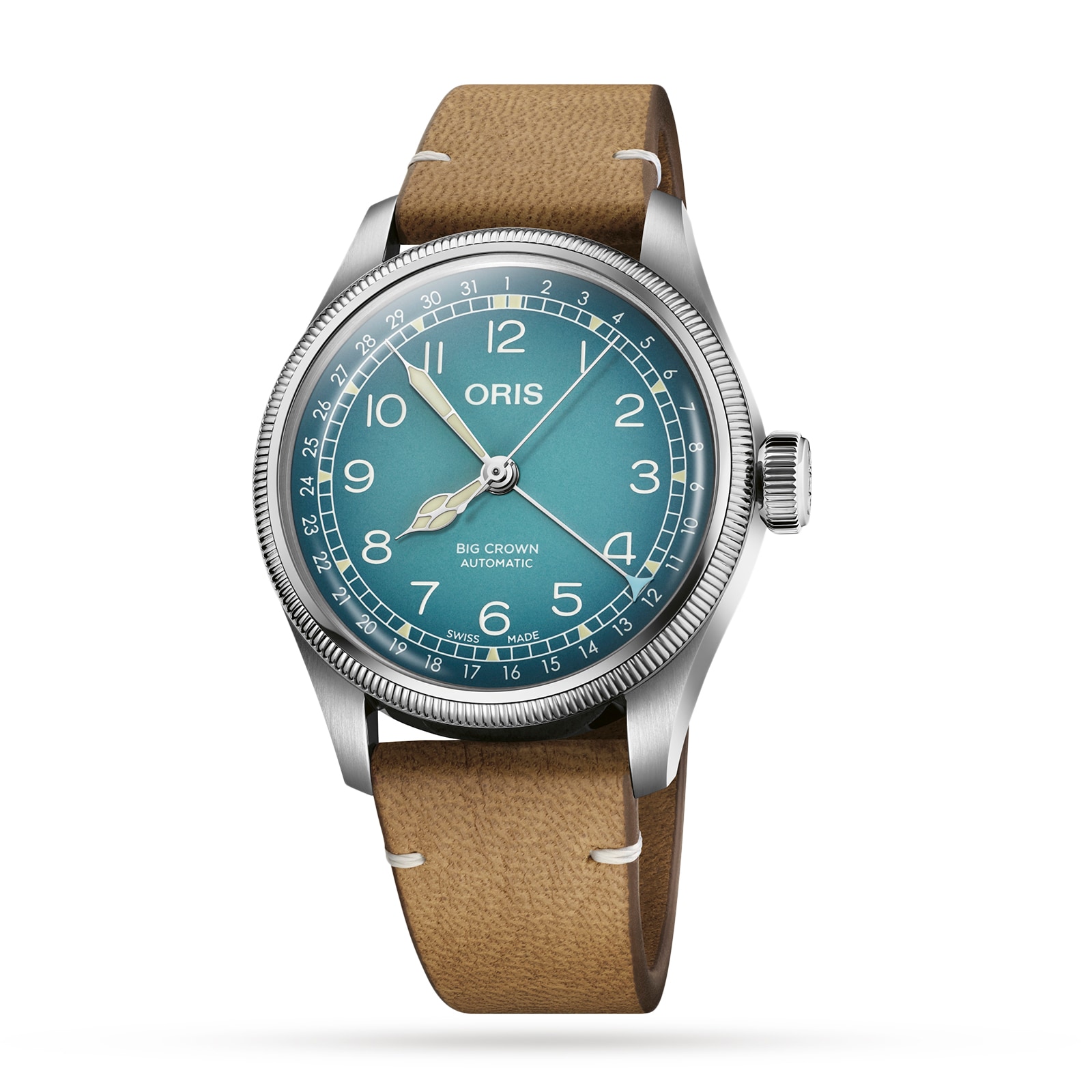 Why Choose This Watch?
Reminiscent of classic pilot watches from years gone by, the Big Crown model shown here offers a vintage look combined with modern capabilities. The rough, medium brown leather strap is held to the stainless steel case with neat white thread stitching. Oris offers this watch with different shades of leather to suit your particular tastes.
The real eye-catching part of this timepiece, however, is the brilliant teal blue face. Bright yet classy, the colour is set off by silver-toned numerals, along with the date being displayed around the outer dial, and elegant hour and minute hands. These are treated with luminous materials for easy viewing at night. Altogether, this Cervo Volante watch offers many good reasons why it should be your next choice.
Top Features:
With a 38 mm diameter case, this high quality watch from Oris offers a prominent yet not overpowering look on a man's wrist. It keeps highly accurate time with automatic Swiss movement, which anyone would expect from such a reputable brand. This model presents a more casual aesthetic than some of the other options on this list. As it is water resistant to 50 meters, it can serve well as an everyday accessory even when your life takes you on an adventure.
3. Divers Sixty-Five Cotton Candy Sky Blue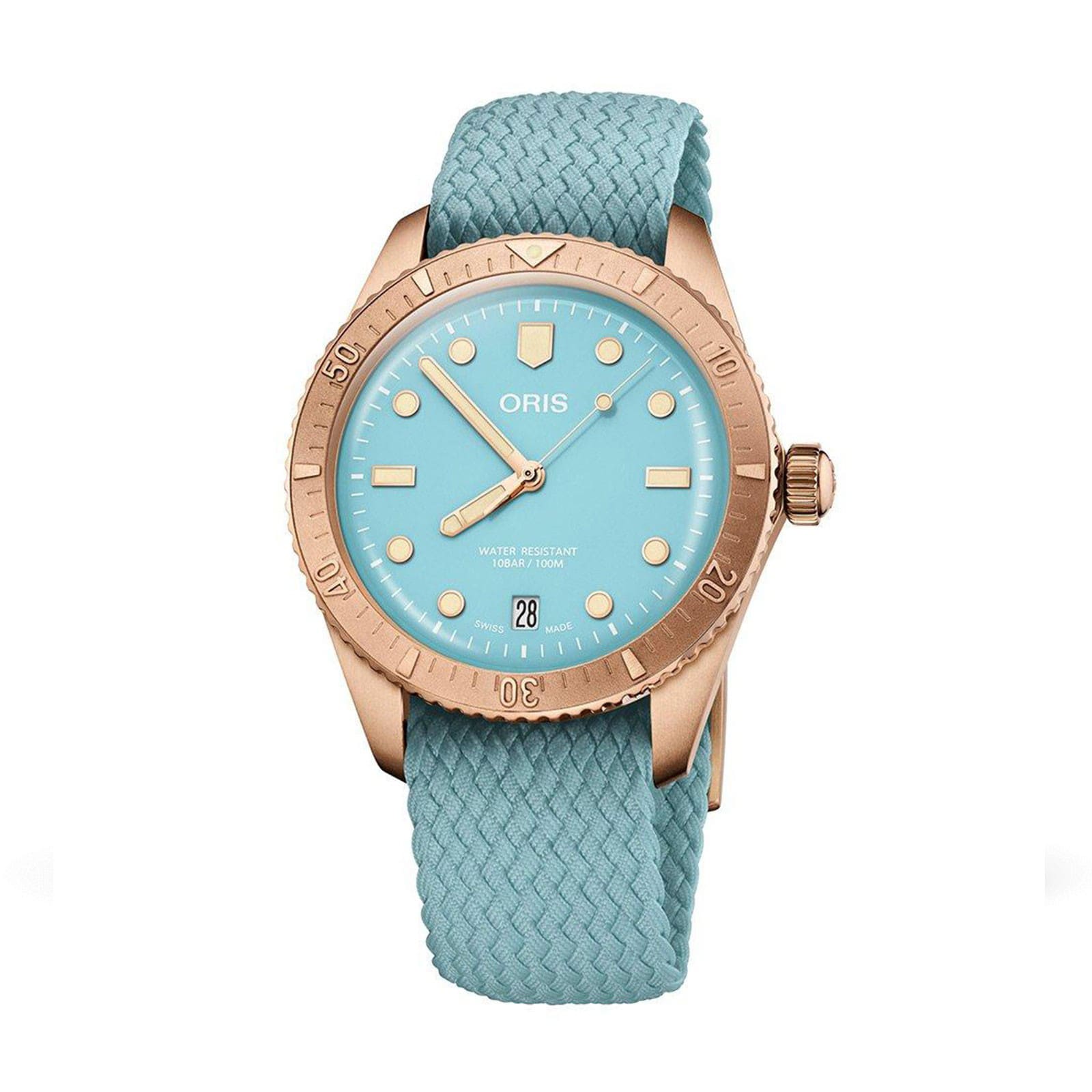 Why Choose This Watch?
The one unisex watch on this list has a 38 mm diameter case, which makes it one of the smaller options from the Oris brand. Despite its sweet name, it does present a sufficiently masculine aesthetic that would make it a perfect option for spring and summer. The dial and woven fabric band are a gentle sky-blue. This shade offsets the warm bronze case and clasp perfectly. The Sixty-Five model also comes with stainless steel and with a green or pink watch dial and strap for a completely different look. The hour markings and hands are treated with SuperLuminova for easy visibility anytime of the day or night.
Top Features:
It's perfect for swimming and diving, the Cotton Candy blue dial watch is considered a diverse watch. It is water resistant up to 100 meters and boasts a measured rotating bezel to track dive time. It uses a modern, Swiss Made automatic movement for the active person along with the movement being reliable. Although the style harkens back to the iconic 1965 design, everything below the domed sapphire crystal is purely up to date.
4. Aquis Men's Watch by Oris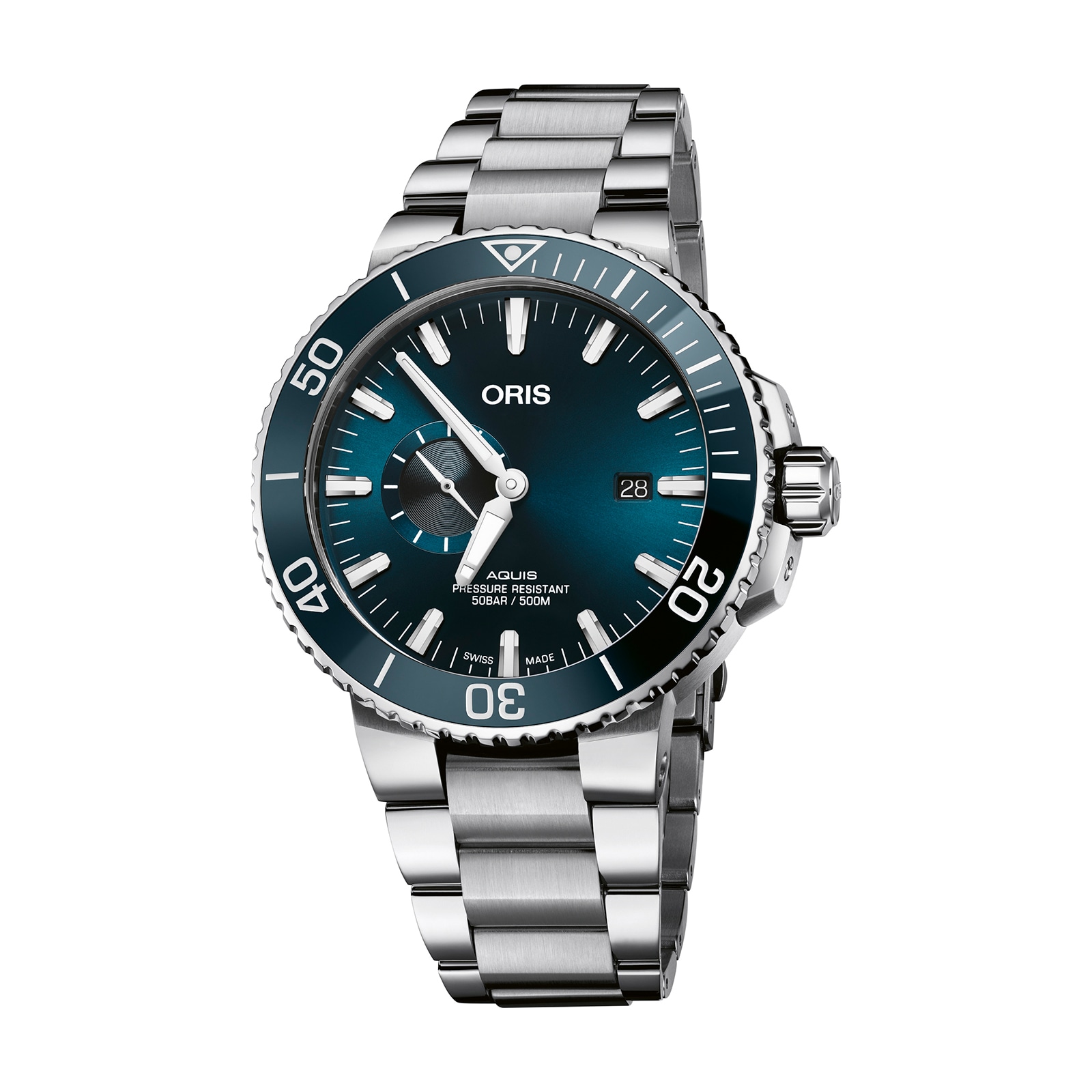 Why Choose This Watch?
This selection on the Oris blue dial top five list comes from the popular Aquis brand collection. The case and bracelet are made from gleaming stainless steel polished to a high shine. The crown and bezel are grooved for easy handling even when you are involved with activities. The deep blue dial shares a shade with the rotating bezel around the edge. This not only brings a high sense of style to the timepiece but also mimics the deep ocean water, which is a sitting setting for this dive watch.
Top Features:
The one-directional bezel features 10-minute interval markers with large Arabic numerals and smaller minute lines between the zero- and 15-minute marks. The hour markers on the dial and seconds hands are treated with luminous materials to make it easy to tell the time no matter where you are. It uses a Swiss automatic movement for accurate timekeeping. One of the standout features of this Oris men's watch is that it is water resistant up to 500 meters. While stylish in a sleek and rugged way, it is also extremely useful as a dive watch for swimmers and scuba divers alike.
5 – Oris Aviation Men's Watch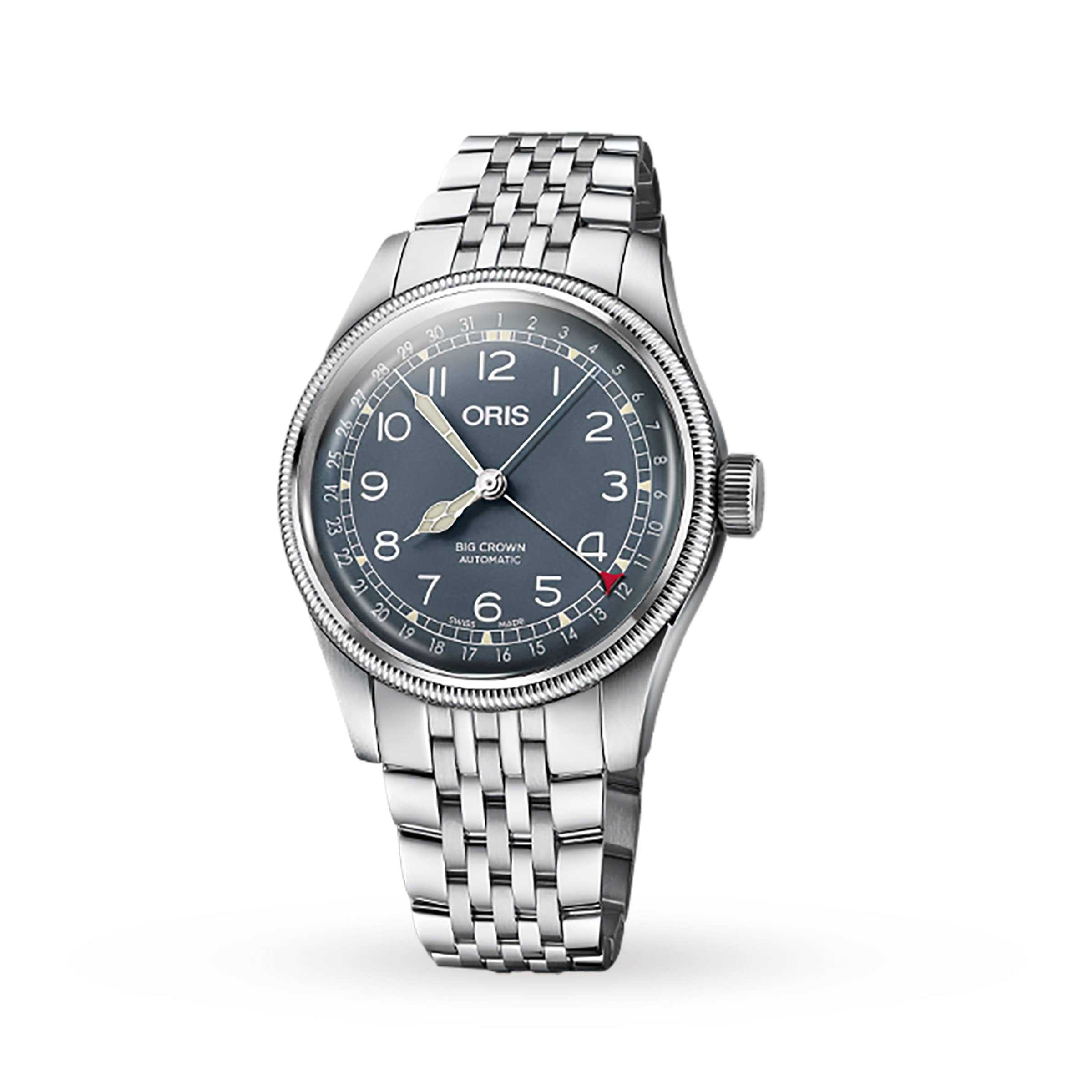 Why Choose This Watch?
The last watch on the Oris list combines the classic look of stainless steel with a very deep, navy-blue dial that offers a subtle bit of style that elevates it beyond the ordinary. This design choice gives a nod to the rich history of the Oris watch making brand. As the name "Aviation" suggests, the aesthetics harkens back to classic pilot watches from decades past. The steel bracelet has a flexible pebbled design with a flat clasp for extra security. Classic Arabic numerals and luminous hour and minute hands make keeping track of time a breeze.
Top Features:
As with all timepieces in this popular and well-respected brand, the Aviation men's watch uses a Swiss-made automatic movement. Peer through the strong sapphire crystal on the back of the caseback to watch the inner workings function with high precision. The watch is 40 mm in diameter, and it is water resistant up to 100 meters. Although this is not a dive watch, you do not have to worry about removing it even when you headed to the shore.