Looking to add an automatic watch to your collection? Then, you're in luck! In this post, we'll delve into the top five automatic watches priced under £500. Although luxury watches can be quite expensive, there are many affordable options that offer an equal level of quality. We'll take a look at each of these automatic watches under £500, highlighting their unique features and appeal.
Top 5 Automatic Watches Under £500:
1. Accurist Dive Blue Stainless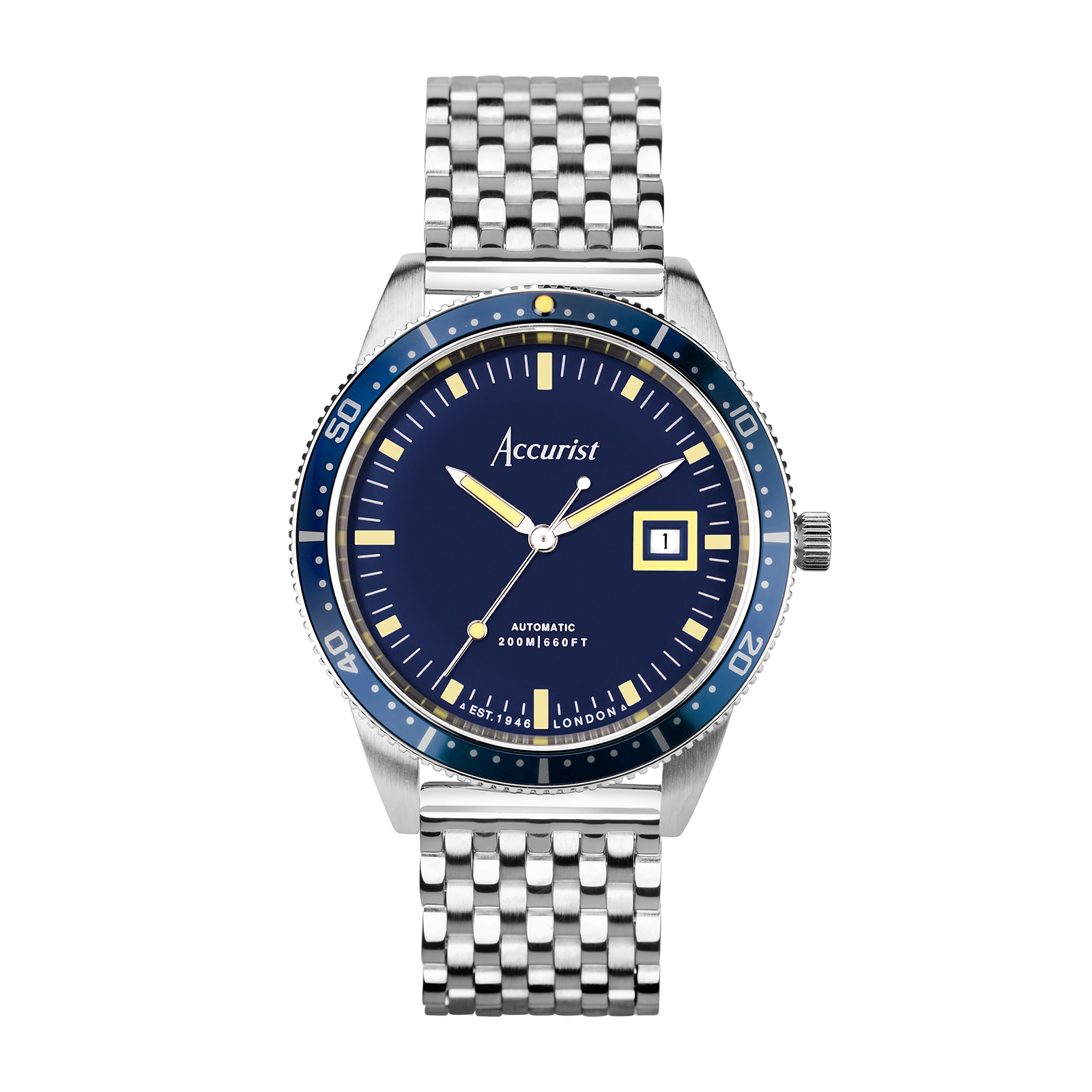 Why this watch?
Whether you're diving into the depths of the ocean or attending a business meeting, The Accurist Dive Blue is a must-have model for those who appreciate utility and reliability. Designed for adventurers and watch enthusiasts alike, this versatile timepiece is ready to take on all of life's challenges!
The features included:
The Accurist Dive Blue's striking blue dial and 42 mm stainless steel case make it a standout accessory that adds sophistication to your wrist no matter where you are. Powered by a Japanese Miyota 8215 automatic movement, this Accurist watch boasts an array of impressive features.
It's water-resistant up to 200 meters, making it suitable for swimming, diving, and other high-intensity water sports. And, the luminous hands and markers enhance readability in low-light conditions, which is a crucial feature for divers. The date display is another nice touch that adds a layer of usability to this model.
Overall, this watch is a fashionable yet highly robust model. With its durable stainless steel case and scratch-resistant sapphire crystal, the Accurist Dive Blue is a statement piece that's ready for adventure.
2. Seiko 5 Sport SKX Midi Black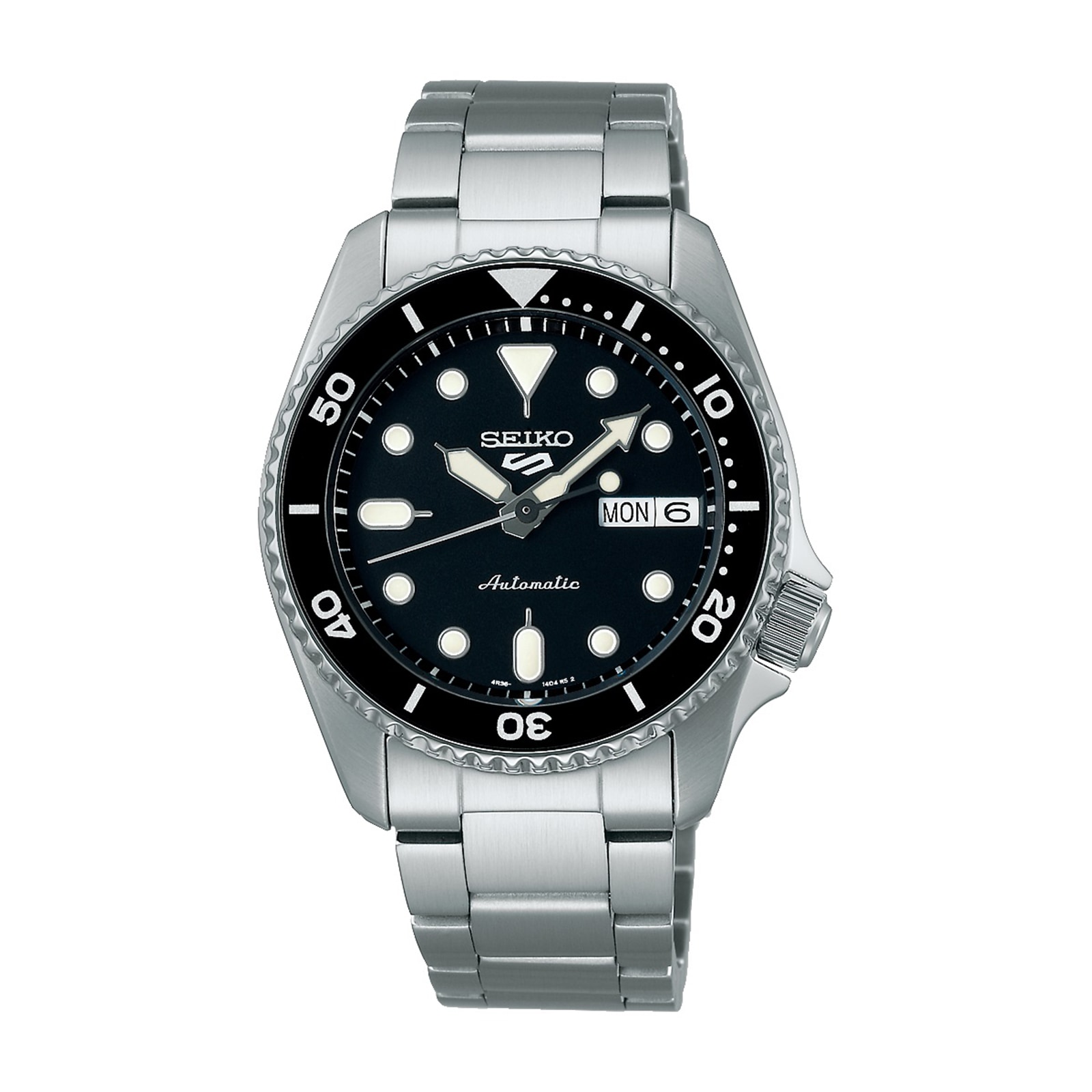 Why this watch?
Elegance meets adaptability with this next automatic watch. Featuring a classic black dial and complemented by a stainless steel case, the timeless aesthetics of the Seiko 5 Sport SKX Midi Black make it a fitting choice for virtually any event or occasion. Its sleek design, in particular, caters to those who appreciate a subtle and refined appearance for their everyday attire.
Overall, Seiko's reputation for delivering quality yet affordable products shines through in this timepiece, making it an excellent choice for those seeking a dependable automatic watch under £500.
The features included:
The Seiko 5 Sport SKX Midi Black holds an impressive power reserve of 41 hours and uses an automatic movement. This feature ensures that the watch keeps ticking, eliminating the need for frequent winding or battery replacements. Also created with practicality in mind, the bright hands and markers on this model ensure easy readability, while the comfortable black rubber strap creates a secure fit.
This practicality extends even further with the Seiko 5 Sport's water resistance rating of 100 meters, making it suitable for various activities, from water sports to everyday wear. The Seiko 5 even incorporates a unidirectional rotating bezel, which is a valuable tool for timing activities like diving or cooking.
3. Seiko Presage Style 60s 'Ruby'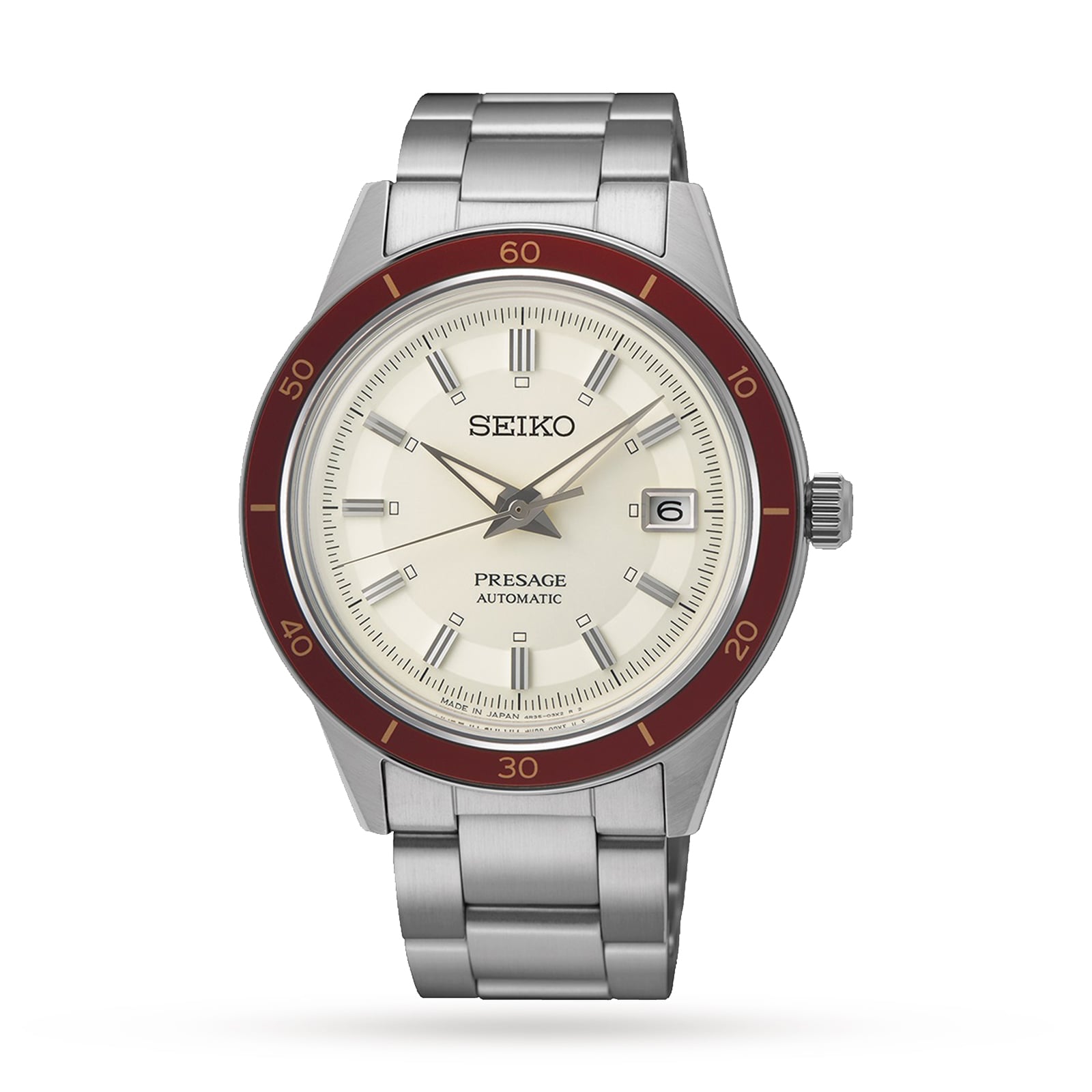 Why this watch?
Also crafted by Seiko, the Presage 'Ruby' is a classic timepiece that pays homage to watches from the 1960s. It's a perfect choice for anyone who appreciates vintage-inspired designs and meticulous craftsmanship. The striking deep red dial, adorned with gold-tone accents, adds a distinctive charm and old-time aesthetic to this model, which makes it an ideal watch for formal events and business meetings.
The features included:
The Seiko Presage 'Ruby' watch has a range of great features, including a date function and a transparent case back that allows you to admire the intricate movement of the watch. Additionally, the genuine leather strap adds a hint of luxury which completes the overall look of the timepiece!
In summary, we highly recommend the Seiko Presage 'Ruby' for those seeking a modern timepiece with great vintage aesthetics. This watch offers both style and substance, especially with its scratch-resistant Hardlex crystal and tough 40.88 mm stainless steel build.
Beyond its sensible features, though, owning the Seiko Presage 'Ruby' is akin to possessing a slice of horological history. The smooth automatic movement of this watch not only emphasizes the reliability of this product but also stands as a proud testament to Seiko's revered watchmaking heritage.
4. Tissot T Classic Automatics 39mm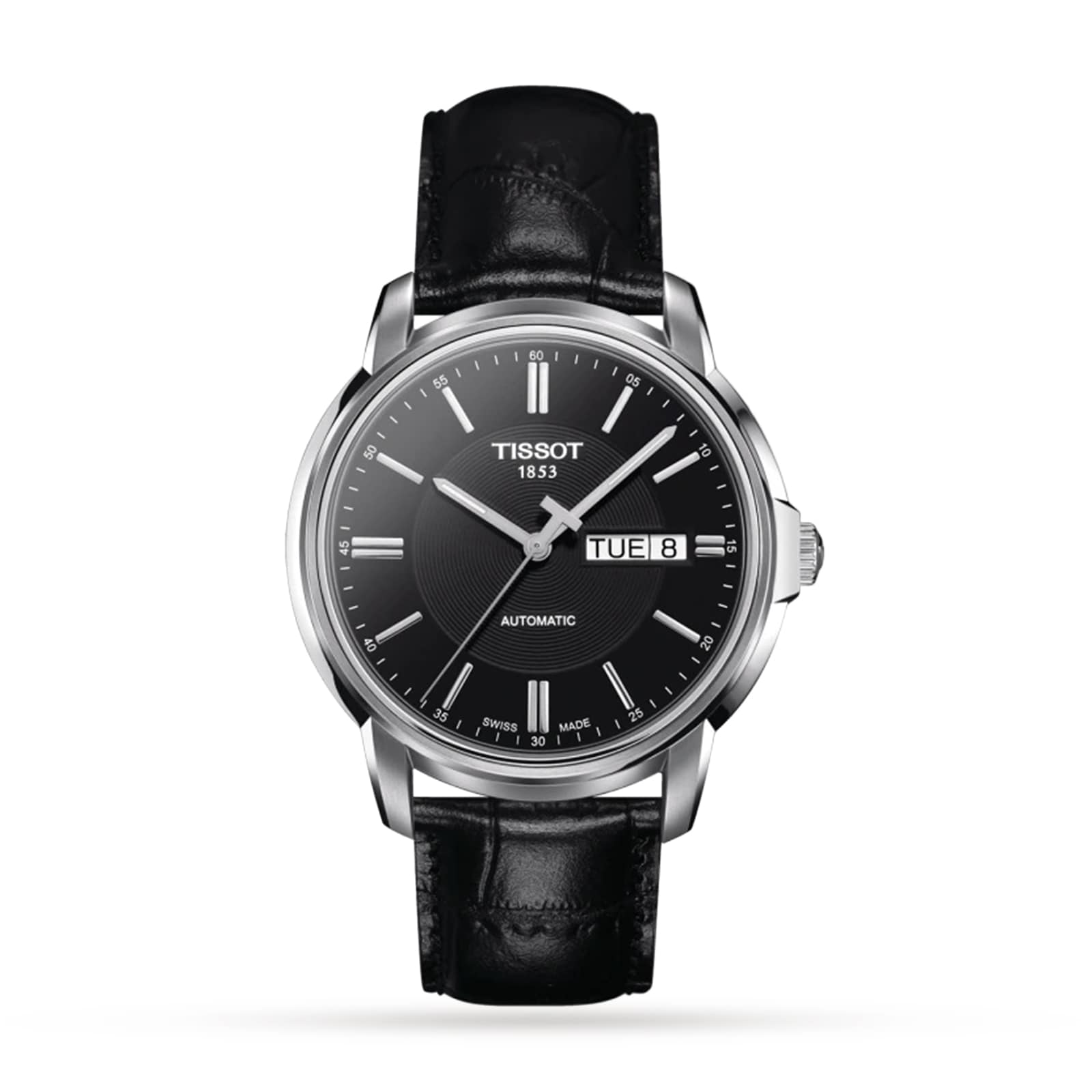 Why this watch?
Priced just slightly above the £500 mark, the Tissot T Classic Automatics 39mm offers undeniable value for your money. Tissot, renowned for its watchmaking mastery, displays the enduring allure of Swiss craftsmanship with this model. The elegance of the Tissot T Classic along with its clean and minimalist dial makes it suitable for both formal and casual outings.
The features included:
Inside the 39 mm case, you'll find a high-quality automatic movement with precise timekeeping and up to 38 hours of power. The watch also features a date complication and a stainless steel case that gives this model a durable and polished look, while the sapphire crystal protects the watch's face from any damage.
With a water resistance of 30 meters, the Tissot can handle splashes and small amounts of time underwater. But, what we really like about this model is the eye-catching black alligator-style leather strap. Secured with a butterfly clasp you can confidently wear this watch and boost your style.
5. Certina DS 2 Precidrive Quartz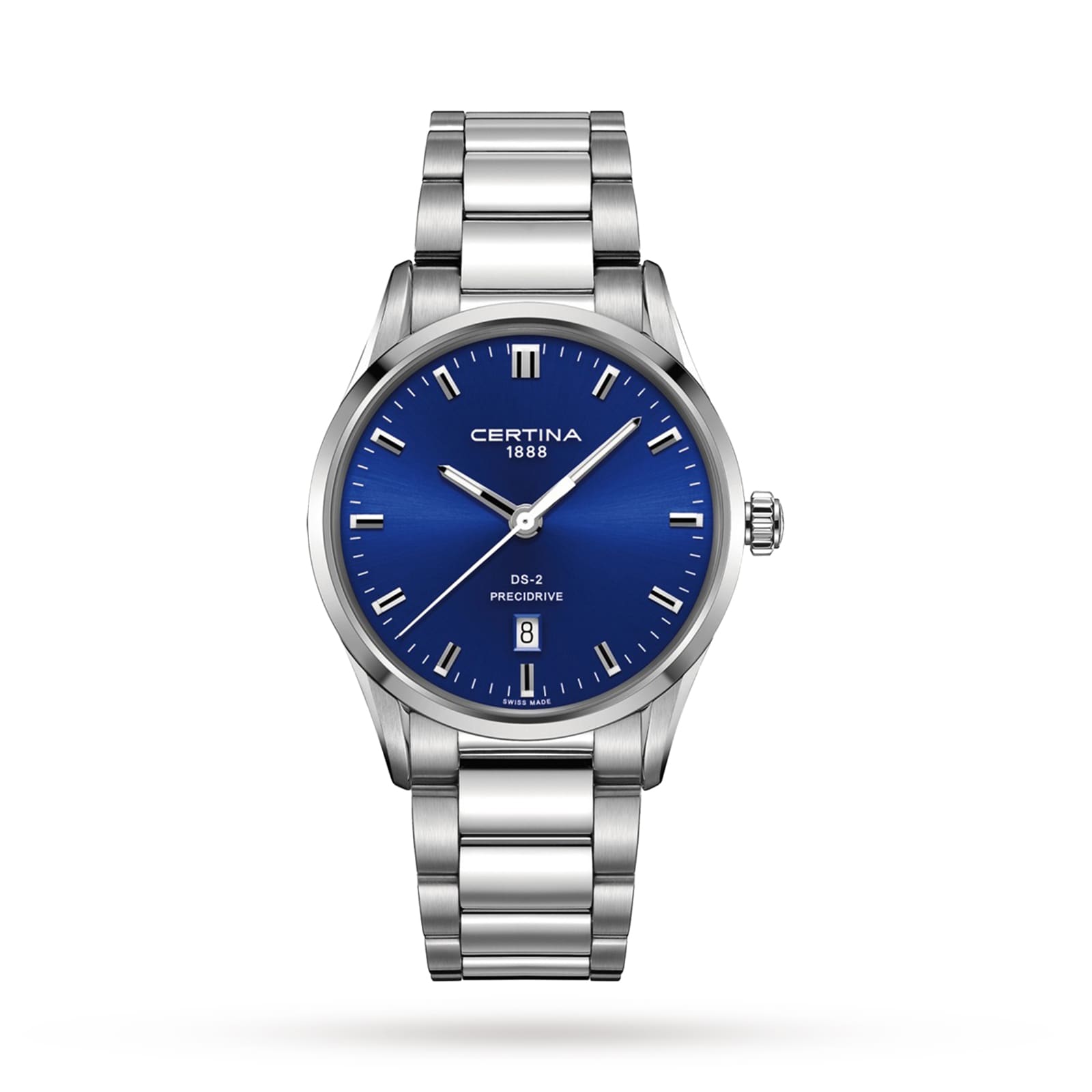 Why this watch?
For the final automatic watch on this list, we suggest looking into the Certina DS 2 Precidrive Quartz Watch. Regardless of whether you're dressing up for a formal occasion or opting for a more laid-back look, this watch will adapt and improve your chosen attire. Its classic design and striking blue dial are suitable for boardroom meetings, dinner dates, and even your weekend getaways, making it a reliable choice for various events in your life!
The features included:
The main feature of this model is the automatic movement. Like the other watches on this list, Certina is renowned for its accurate and dependable watches that don't require a battery or constant winding. Instead, you can trust that your timepiece will keep time impeccably with minimal maintenance. Watch wearers can also keep track of important appointments and events with the date function.
Aside from these remarkable main functions, the Certina DS 2 Precidrive also works alongside your active lifestyle. This sports watch has 100-meter water resistance, a strong 40 mm steel case, and is made with domed sapphire crystal to prevent scratches and dents. In short, the Certina DS 2 Precidrive can reliably accompany you throughout your busy day, which makes it a standout piece for any watch collection!