Are you looking for a blue dial Longines timepiece? Well, we at Lux Horology have provided you with 5 of the best blue dial Longines watches that may or may not tempt you to add one to your own collection. Highlighting key information surrounding each Longines watch, giving you details on the features as well as why the watch might be a suitable fit for your collection, depending on factors such as your lifestyle, personal qualities and anything and everything in between. So take a look, and see if any of these blue dial Longines watches tick your boxes.
1. Longines Spirit Flyback Watch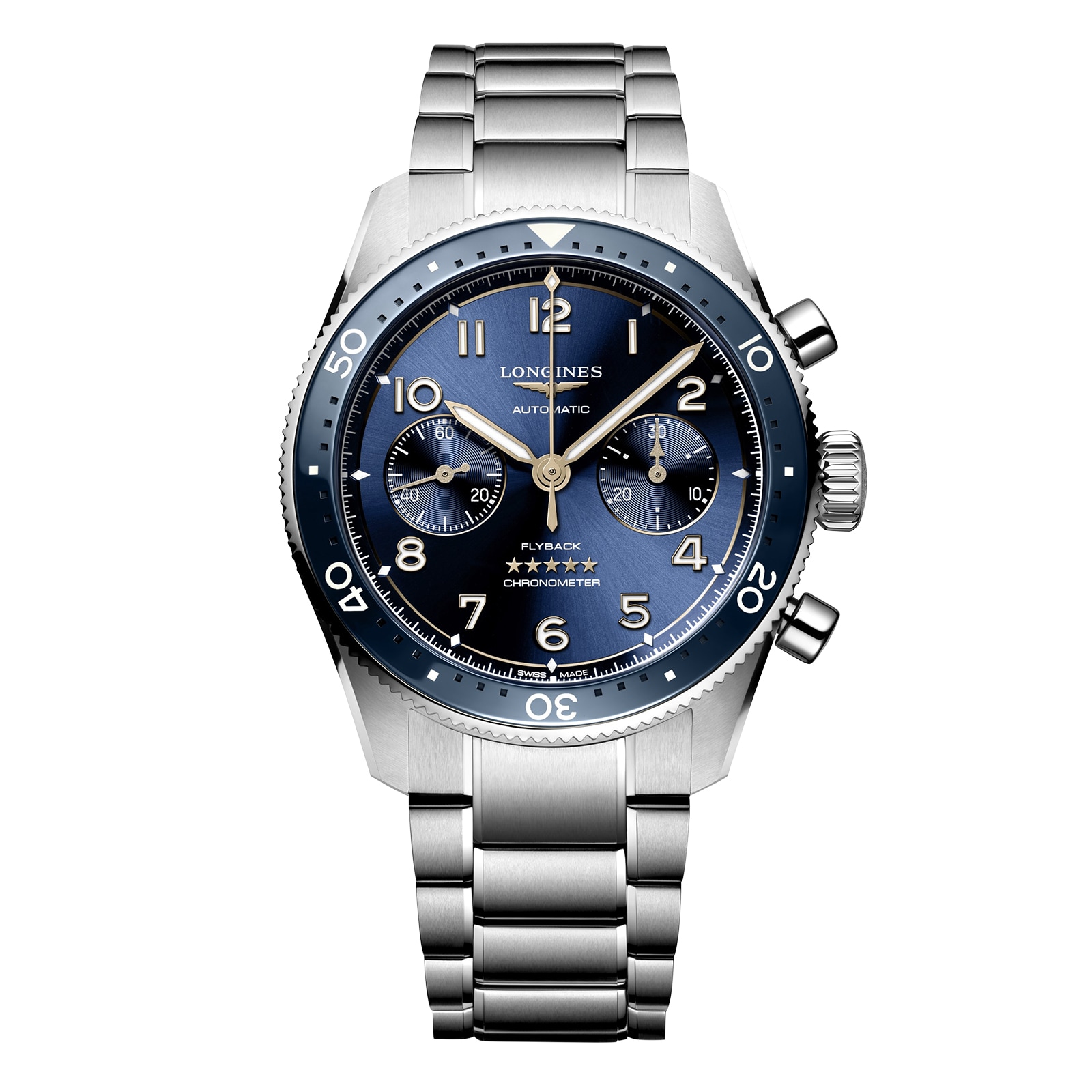 Why this watch?
Everything about the blue face Spirit Flyback design combines traditional style with modern innovation. The wide 42mm case and linked bracelet are fashioned from gleaming stainless steel. Coupled with the dark blue bezel and face, the overall look is polished and masculine. The subtle aviation logo and the illuminated, easy-to-read numbers and hands make this a highly functional timepiece as well. The attention to aesthetic detail shines in in the blue watch face. It boasts a brushed, subtle sunray motif that catches the light but never reflects garishly.
The features included:
As sleek and stylish as the Longines Spirit Flyback watch looks, it hides a lot of power and precision under the stainless-steel case. The bezel is bi-directional, and the dial also offers sub-dials for even more information at your fingertips. Automatic L791 caliber movement keeps it ticking with astonishing accuracy. You never have to worry about losing time with the 68-hour power reserve. View the inner workings through the transparent case back or simply let it work as you go about your day always knowing that you have a timeless watch on hand.
2. Longines Master Collection Sunray Blue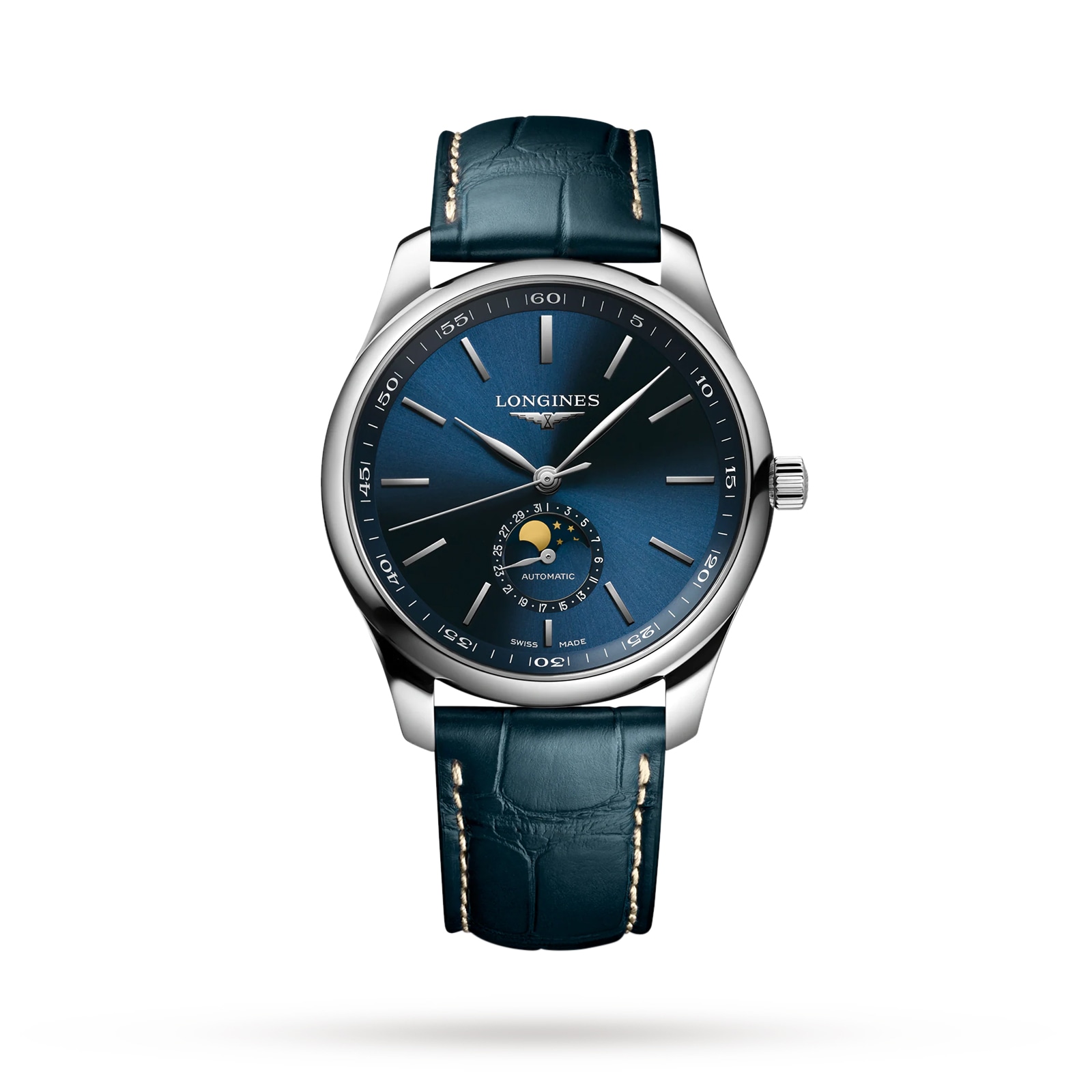 Why this watch?
For men who enjoy a splash of subtle color in their accessory wardrobe, the Master Collection watch may be the perfect fit. Not only does it boast a rich, teal-blue face with subtle sunray design, but the strap also comes in a matching shade. It is made from premium-quality alligator leather with neat white stitching and a natural brown backing. The watch dial deserves most of the attention, however. The sleek and simple stainless-steel case matches the modern hour markers and slim hands. A date and time dial complete with moonphase elements finishes out the amazing style.
The features included:
As men have long come to expect from the Longines brand, this Sunray Blue watch offers top-level precision and longevity. From watchmakers Batons, it uses automatic movement to maintain the high degree of to-the-second accuracy you can rely on. Although it is not recommended to wear leather strap watches under water, this model does offer water resistance to 30 meters. You do not have to worry about occasional or accidental dunks or splashes. Altogether, this stunning, blue-dialed watch offers the type of reliability that makes this brand a top choice for discerning men.
3. Longines Legend Diver Watch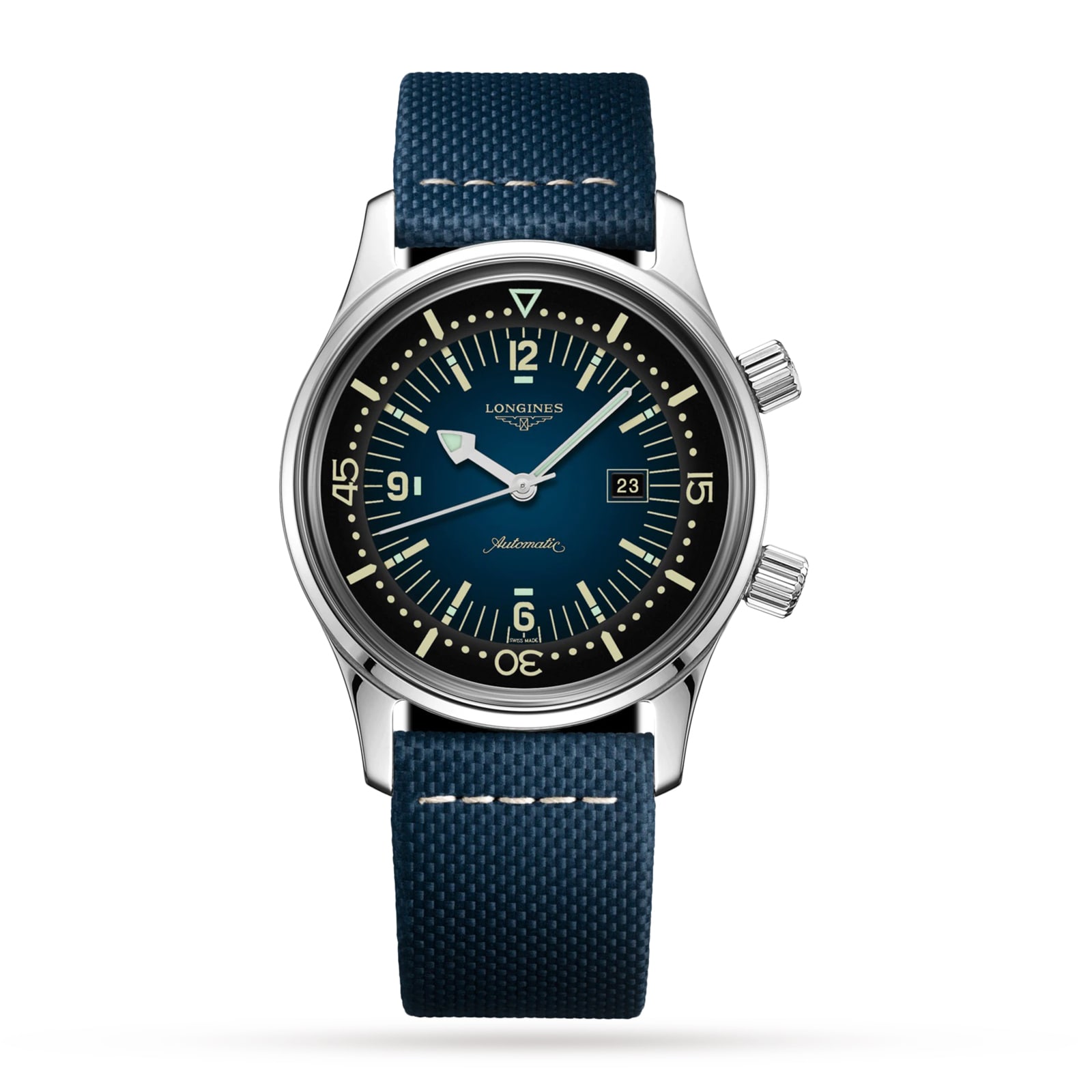 Why this watch?
When this similar style first emerged in the 1960s, it instantly became a favorite for fashionable men who wanted quality at their fingertips. The Legend Diver reimagines the earlier designs for a new millennium and now claims its rightful spot as a favourite in the Longines Heritage collection. The deep blue dial mimics the dark water of deep-sea waves, and the textured fabric straps bring to mind sails and lines seen on an ocean voyage. Every element of this stainless-steel case watch brings to mind the very things that make men seek out divers' watches to wear every day.
The features included:
Style along cannot make a divers' watch the perfect option for men of action. Inside the sleek, classic package lies exceptionally high-quality mechanics that will stand the test of time. The up-to-date features include automatic movement, water resistance up to 300 meters, and reliable accuracy with every tick of the second hand. Although this timepiece lacks a mono-directional rotating bezel often seen on official divers' watches, the function, style, and spear fisherman design on the case back make it a great choice.
4. Longines Avigation Big Eye Watch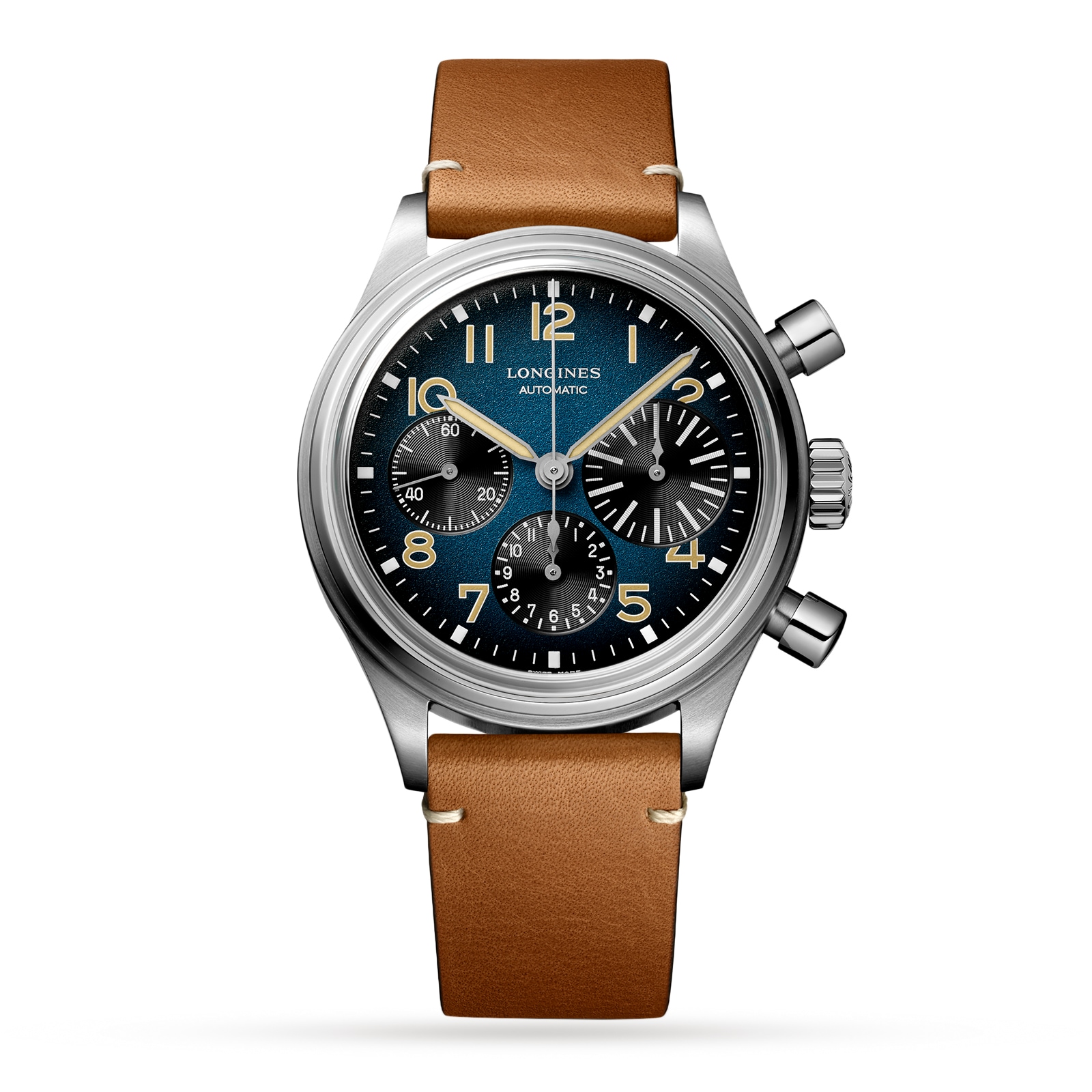 Why this watch?
The Longines brand has long been associated with the world of aviation and historic flight. Nothing matches that focus more than a stylish Aviation watch with a deep blue dial that brings the soaring heavens down to Earth on your wrist. The color is a deep, petroleum blue that gets brighter in the center where the illuminated hands emerge from. Ranging across the face lies three precision dials for hour, second, and more. Besides a classic and sturdy titanium case, the style of the Big Eye watch is complete with a light brown, leather strap subtly stitched in white. The whole look combines a nod to historical fashion with a sleek modernity that suits any personal style.
Top Features
Although inspired by aviation watches of nearly a century ago, this Longines watch includes all modern technology and precision movement that men should expect from this respected brand. The 41mm diameter case holds the exclusive branded L688 caliber movement that is fully automatic for reliable and hands-off accuracy. This comes from an internal column wheel mechanism. While the features of this timepiece are considerable, it offers similar advantages to other Longines blue-dial watches on the list. The vintage style, however, is all its own.
5. Longines Record Blue Sunray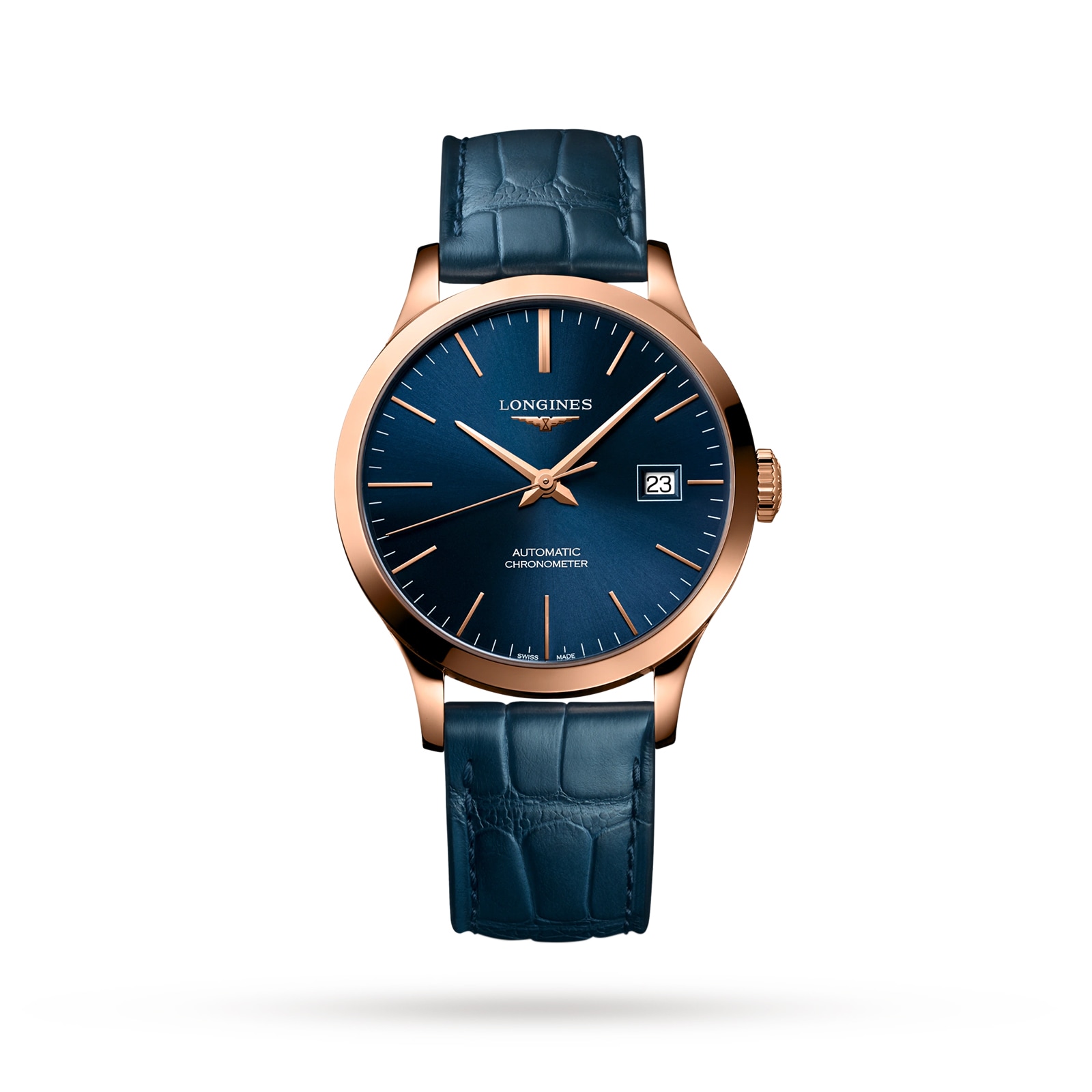 Why this watch?
Sheer excellence in functionality, elegant yet surprising style, and recognition as a certified 'chronometer' by the Swiss Official Chronometer Testing Institute (COSC) combine to create an unforgettable watch in the Record Blue Sunray. The brushed and smooth blue dial colour is echoed in the dyed alligator leather of the neatly stitched strap. The real stunning difference in this timepiece, however, is the use of 18ct rose gold for the case, hour markers, hands, crown, and iconic Longines flying hourglass icon. Sleek and classic, this watch never-the-less surprises with a subtle touch of color.
The features included:
Highly accurate timekeeping and a subtle date display on the face of this watch are controlled precisely by the automatic movement within. This uniquely designed watch uses a single crystal balance spring of pure silicon to help create the type of reliability and seamless function men have come to expect from the Longines brand and Batons watchmakers. As mentioned above, this model and all Record collection watches are certified by the COSC. Fewer than 6% of all timepieces earn this designation annually as it requires rigorous testing. When you wear a Record Sunray Blue watch, you know you are wearing the best.