Step outside the ordinary while still maintaining a strong sense of traditional style when you opt for a green dial watch from Seiko. The rich pine or forest green tones add a spark of color that gets attention but never overwhelms. These five green dial Seiko watches offer more than an appearance boost, however. Their features make wearing a quality timepiece practical at the same time. Highly accurate, automatic movements, sturdy and hard-wearing materials, ultimate precision, water resistance, and amazing style are the hallmarks of the Seiko brand and these unique green dial options.
1. Seiko Alpinist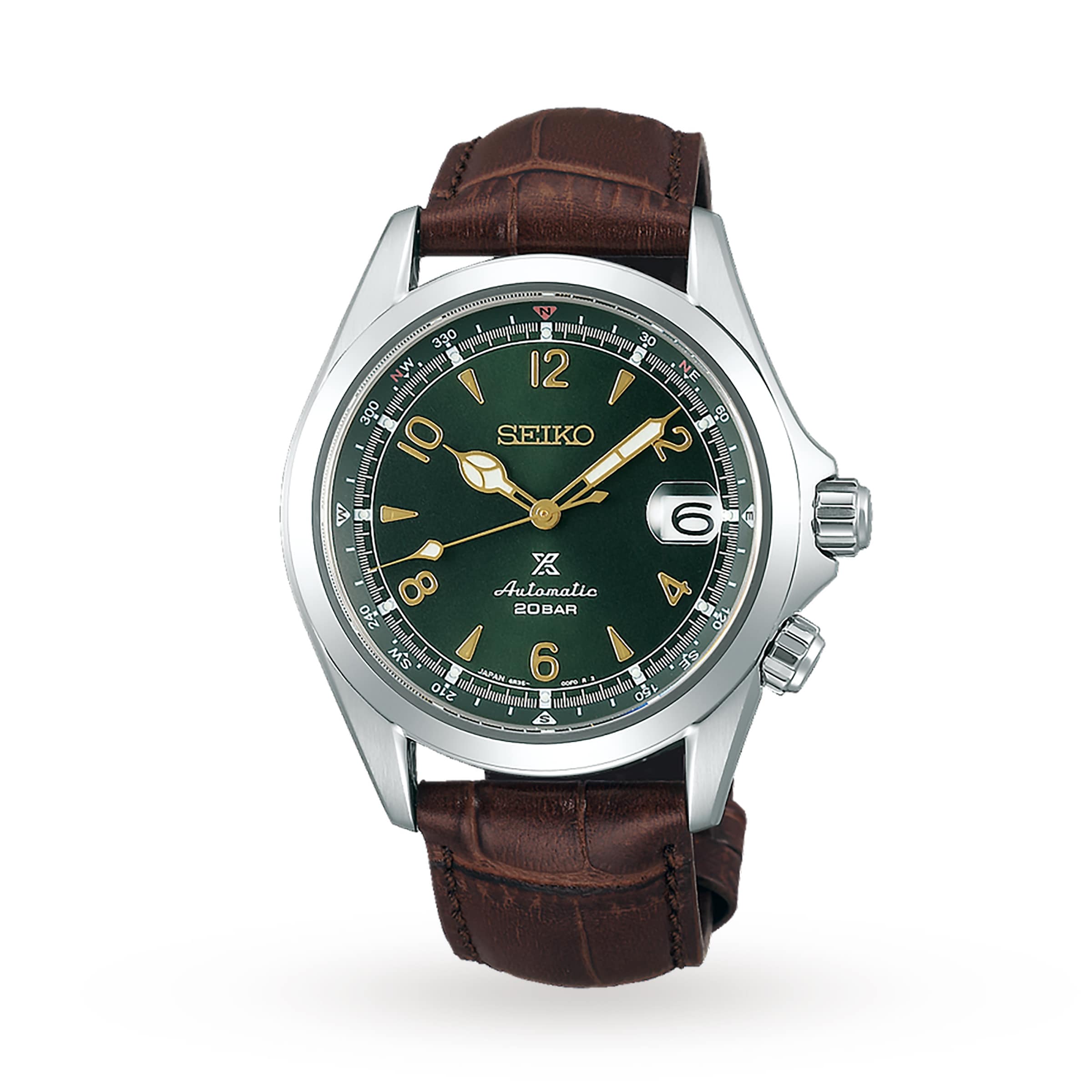 Why this watch?
From the towering terrain of Japan to the modern boardroom, the Seiko Alpinist watch combines rugged style with pure class. This model originally hit the market in 1959 to target the mountain men, or Yama-otoko' in that Asian country. The deep green dial mimics towering pine trees and other foliage. The gold-hued numbers and hands combine quality and easy viewing with a touch of luminosity. The Alpinist continues the rugged, outdoorsy theme with a textured brown leather band that brings to mind tree bark.
The features included:
Despite all this Seiko watch's aesthetic nods to nature, high-tech excellence lurks beneath the surface. The rotating directional bezel may help you navigate in the wilds, and the 70-hour power reserve will not let you down on even the longest excursion. Allow it to handle time automatically or opt for manual winding and date correction. Other stellar features include water resistance up to 200 meters, magnified, scratch resistant Sapphire crystal glass, and stainless-steel buckle for long-wearing style.
2. Seiko Compact Solar Scuba Diver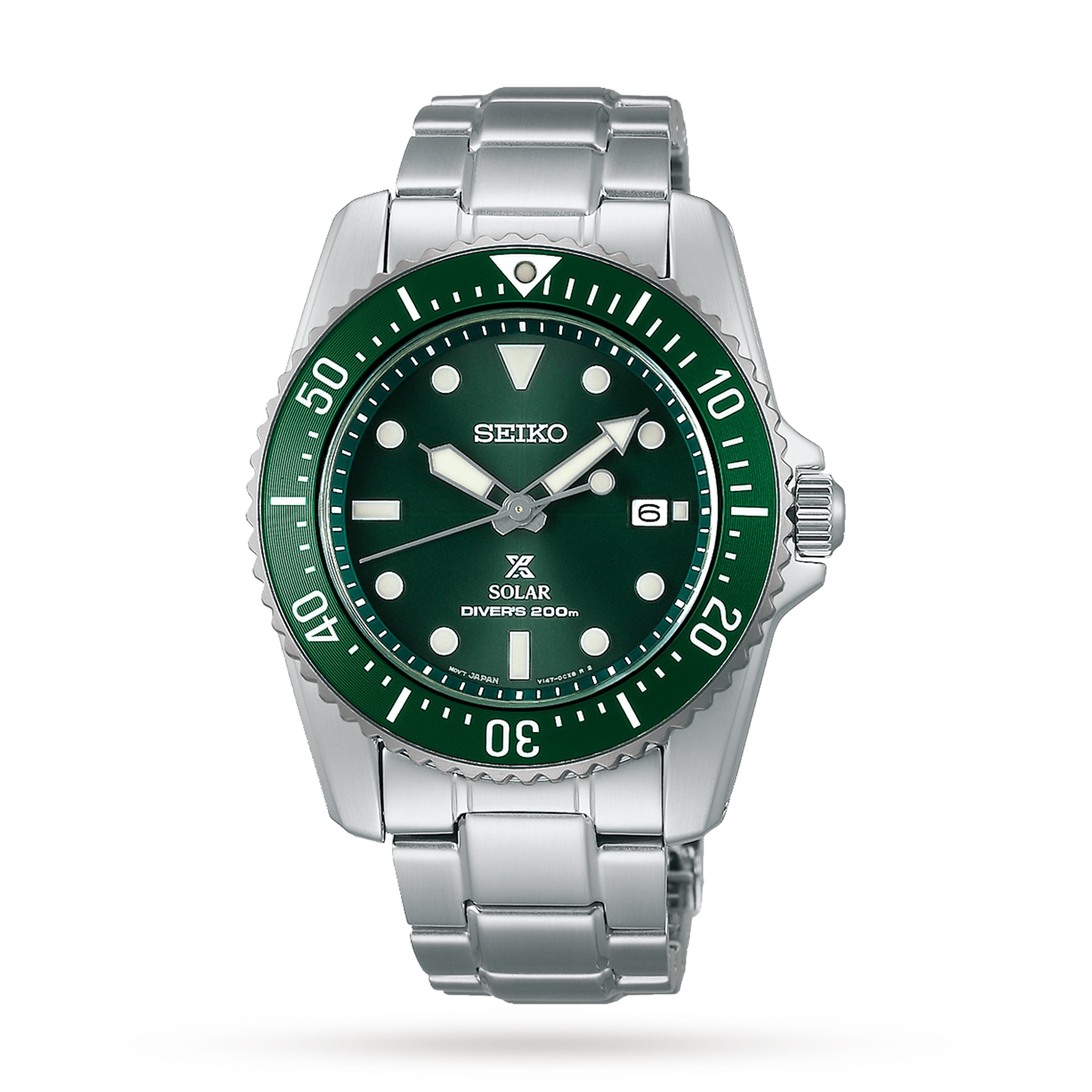 Why this watch?
As part of the Seiko Prospex brand, this stylish dive watch combines professionalism and amazing specifications to bring you pure timepiece excellence. It has everything a man expects from a dive watch but with a unique brilliant green dial and bezel. This unexpected colour adds a pop of personal style that still blends well with any outfit: wetsuit or business suit. The chunky stainless-steel band, buckle, and case makes a statement without overwhelming your wrist.
The features included:
Like all Seiko Prospex dive watches, this model from Dots & Batons watchmakers is water resistant to 200 meters. It also includes the necessary rotating bezel with markers to track dive time or other activities. One of the unique features of this watch is the fact that it is solar powered with either natural sunlight or electric light. You never have to worry about it running out of steam wherever you go in your everyday life or on your next adventure. Many men opt to wear dive watches for their aesthetics even if they never venture near the water. Experience all the outstanding features you expect from the Seiko brand with a unique deep green dial on the Solar Scuba watch.
3. Seiko Sports Masked Rider Watch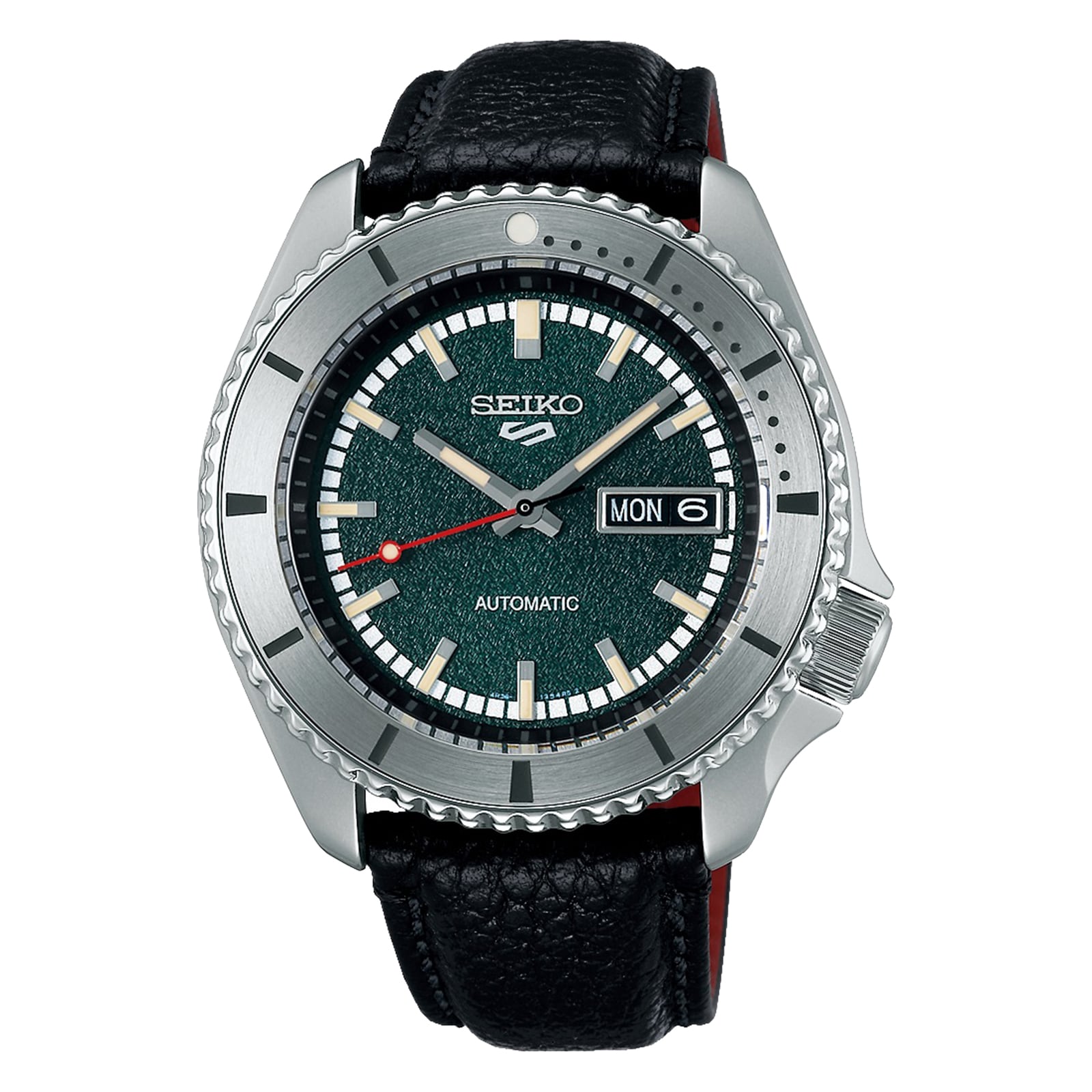 Why this watch?
The name of this limited-edition watch, 'Masked Rider,' brings to mind mystery and intrigue. It is named after a Japanese anime TV series with the same name. In this show, the main character Takeshi Hongo wears a similar 1968 watch. Today, Seiko recreated the style for a new millennium. You do not need to be a fan of the vintage series to appreciate the style of this unique timepiece. With the textured green face, luminous dial markers and hands, and black leather band with red backing, it combines classic style with a unique touch that can express your personality.
The features included:
One of the larger green dial watches on this list, the Masked Rider comes in at 42.5mm in diameter. The case and strap hardware are stainless steel, as is the bezel and thick case. Enjoy 100 meters of water resistance, automatic caliber movement, and easy-to-read day and date display. The aesthetic features of this watch all point to the popular manga and include details like the Tachibana racing club logo inscribed on the back, but what is on the inside matters just as much.
4. Seiko Presage – 60s Style Green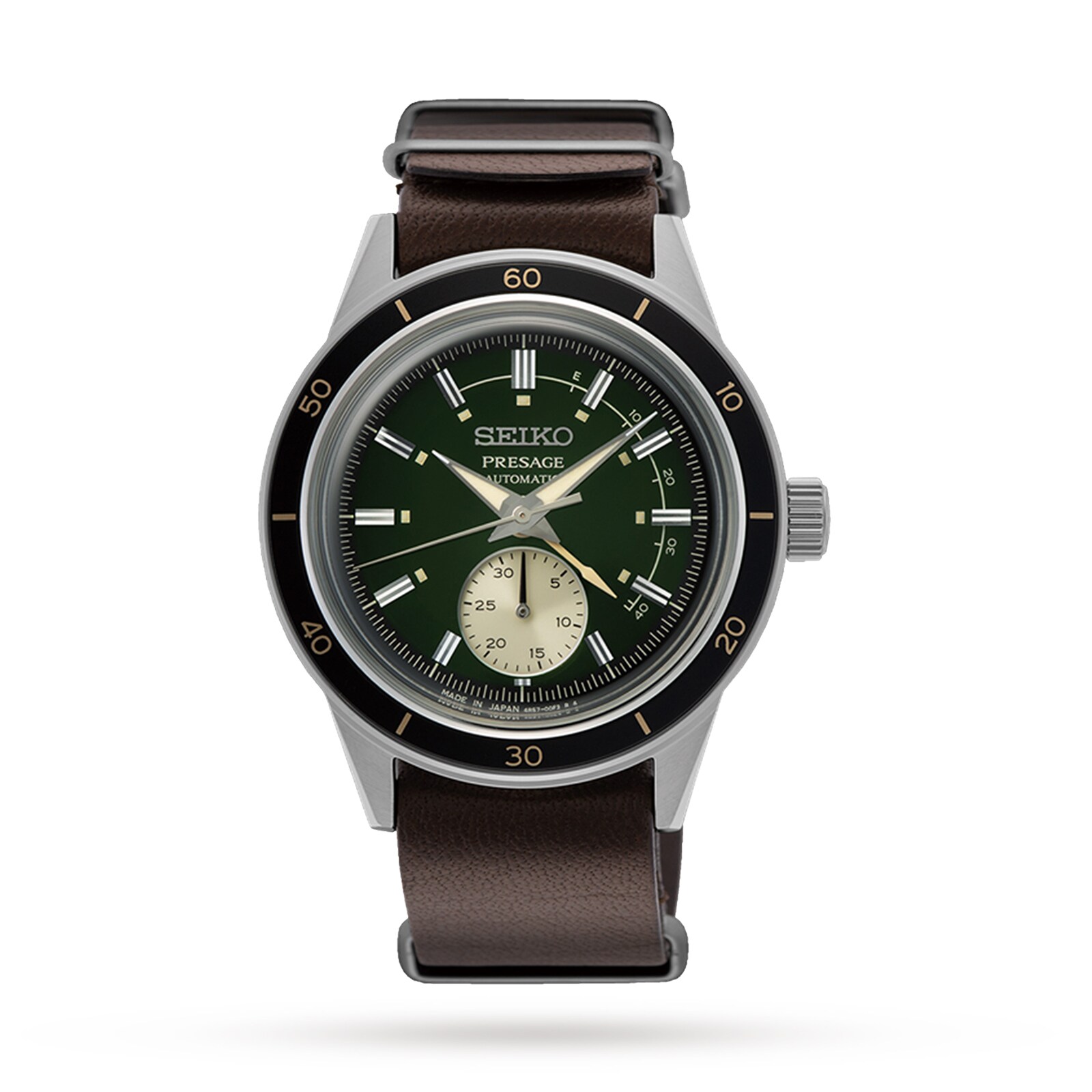 Why this watch?
For men who love a vintage yet timeless look, the Presage Style 60s watch offers everything you may want from your everyday timepiece. Every detail of this watch offers another unique design element to enjoy. The rich, chocolate leather band is set off by stainless steel hardware. The sleek case hosts a black bezel with gold-tone numbers. The deep, forest green watch face holds luminous hands, precise time markers, and a separate second's dial for stopwatch purposes. It combines elegance with a vintage flair that makes for a timeless style to go with any outfit.
The features included:
This 41mm diameter watch offers reliable power below the glass. It is water resistant up to 50 meters, which helps with inclement weather even if it is not a designated dive watch or suitable for regular swimming. Although modeled after 1960s Tokyo sporting event styles, there is nothing old-fashioned about the precise, automatic, 4R57 movement, longevity, or accuracy.
5. Seiko Kelly Green Flieger Suit Style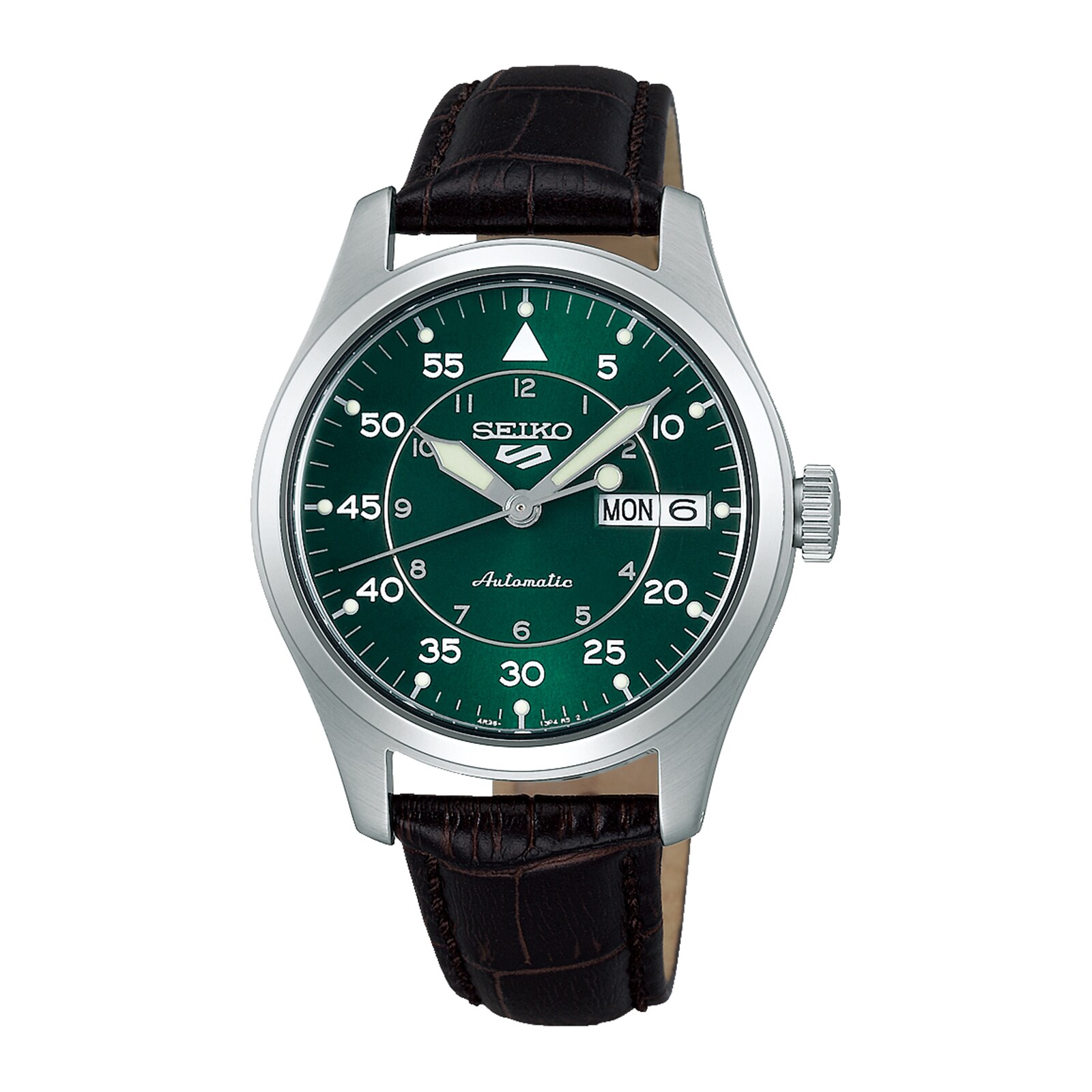 Why this watch?
The Seiko 5 Sports collection of men's watches offers casual styling with a traditional air that suits many tastes and situations. It can go from a casual outing to a business meeting without missing a beat, and many men opt for this type of watch as their everyday option. The Flieger suit style boasts easy readability with brilliant white numerals, luminous hands, and an inset day and date dial. The classy, emerald green face adds a splash of unexpected color, while the dark calf leather strap provides a classy twist.
The features included:
With a 36mm diameter case, the Green Flieger Suit style watch is one of the smaller options on this list. It still offers all the features that make up the classic Seiko 5. These include automatic movement for reliable timekeeping, a clear day and date display, water resistance up to 100 meters, a recessed crown for smooth wearing, and a high rate of durability throughout. Originally influenced by easy-to-read military watches, the Flieger Seiko watch focuses on blending simplicity with sleek styling that provides a high degree of both form and function for discerning men.